Advisories and observations are being posted intermittently, as warranted by conditions, due to the thin snowpack that has not been conducive to backcountry travel by ski.  Make sure to follow our social media (Instagram and Facebook) for additional updates.
White Heat Tracks Project seeks your input:
The aim of the White Heat Project is to generate new and usable knowledge on risk-taking behavior, and on factors behind decision errors in avalanche terrain in particular. The White Heat Tracks project is an extension to the previous "SkiTracks" project, and is a collaboration between a group of researchers at UiT The Arctic University of Norway, in Tromsø; Montana State University, in Bozeman, USA; and Umeå University, in Umeå, Sweden. We are asking people to complete a decision-making survey: (
click here
) and if they have time and energy, also submit GPX tracks of their backcountry trips to "
tracks@montana.edu
." 
Click here for more information,
and here.
_______________
The Anchorage Avalanche Center is seeking input from those interested in, or concerned with, the project to provide a sustainable backcountry snow safety program for Chugach State Park.  For more details, read the document linked here.  Questions and comments can be sent to info@anchorageavalanchecenter.org
Anchorage Avalanche Center mission: increase the safety, awareness, and recreational enjoyment of visitors to Anchorage's backyard mountain playground (Chugach State Park) through avalanche advisories, backcountry observations, accident investigations, winter backcountry education, and community events.
Anchorage Avalanche Center vision: comprehensive avalanche information and education for backcountry recreation in Chugach State Park.
Advisories: danger updates and weekend avalanche outlooks
Observations: recreational conditions in Chugach State Park
Education: statewide learning opportunities and online resources for getting "avy savvy"
We encourage you to submit observations in regard to Chugach State Park recreation conditions: trail reports (hiking, fat biking, skiing), climbing reports (ice conditions, creek access), and snow reports (surface conditions, snowpack).

This is the Anchorage Avalanche Center's sixth season of providing a grassroots, volunteer organized backcountry safety program for Chugach State Park.  However, its sustainability is up to you!  If you value this resource: volunteer, donate, and encourage others to support an organized avalanche information and education program for Anchorage's backyard mountain playground.
Please consider soliciting support from government representatives (Municipality of Anchorage and state level), the Department of Natural Resources (Alaska State Parks and Chugach State Park), and local businesses and organizations relevant to snow-season backcountry recreation. Your help is imperative for the development of a sustainable avalanche information program.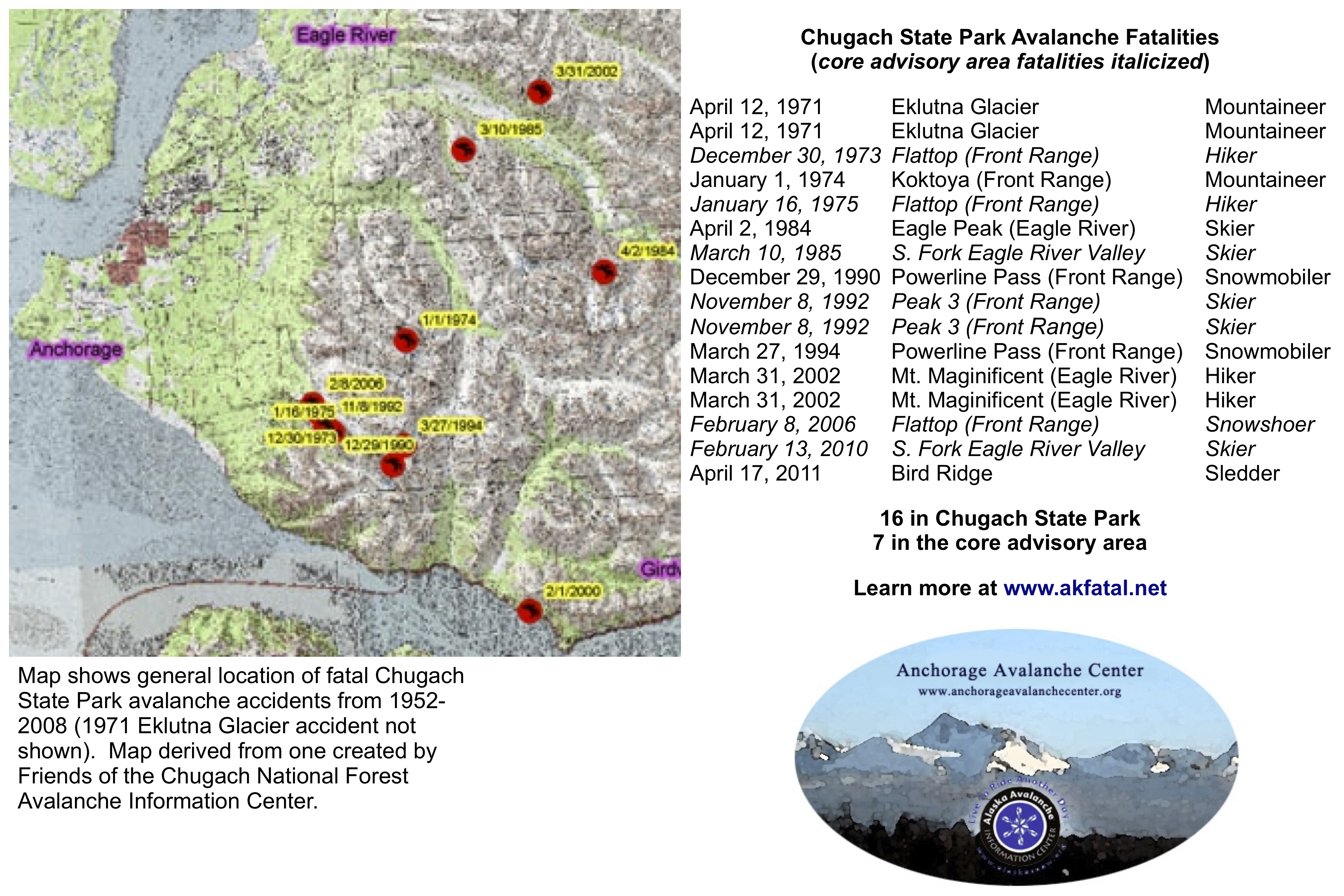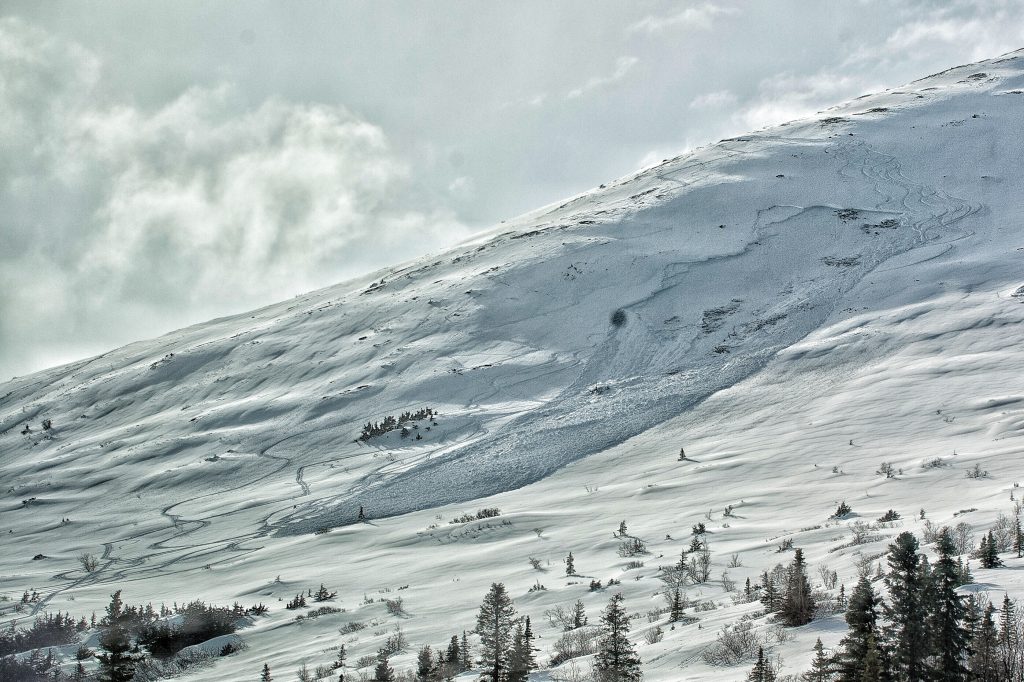 Close call: three people were caught and carried by this avalanche just above the South Fork Eagle River trailhead (photo by Suzie Mauro, edited by AAC).
Know Before You Go!
Whether you're out to shred fresh pow, climb ice, fat bike alpine trails, snowshoe, or winter hike in the high country; be mindful of snow conditions and avalanche danger!