Early Season Update: November 20, 2015
A winter snowpack exists in many alpine areas of Southcentral AK, and many have been out enjoying it.  Avalanches have already been observed in the upper elevations of Hatcher Pass, Chugach State Park, and the Chugach National Forest.  Whether you're out to ride fresh snow, or just going for a hike in the high country, be mindful of snow conditions and avalanche danger.
In the early season, with hazards like rocks and vegetation only partially buried, taking a ride in an avalanche can be particularly brutal.  If you aren't already "avy savvy," or need to brush up on your avalanche assessment skills, check AlaskaSnow.org for statewide education and training opportunities near you!
The Anchorage Avalanche Center will begin providing regular observations and advisories as soon as conditions become ripe for riding the slopes and reasonable backcountry travel on skis.  In the meantime, check the observations and advisories tabs for intermittent updates as warranted by conditions.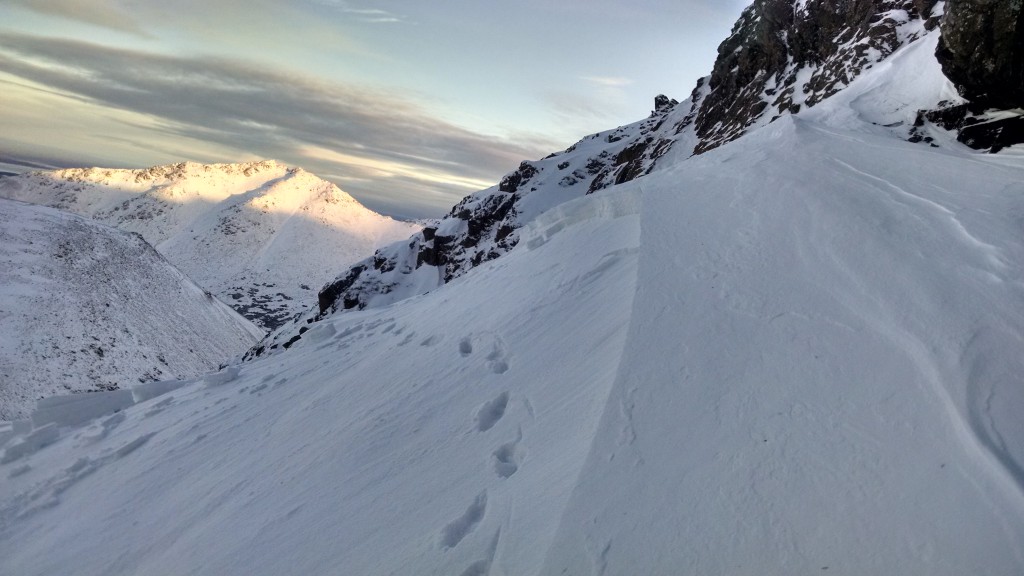 Early season avalanche triggered by a climber off O'Malley Peak in the Front Range 11/7/15 (click here for more info)

The Anchorage Avalanche Center concluded its third season of avalanche advisories and professional observations for the most frequently visited avalanche terrain of Chugach State Park in early May 2015.  If you find this avalanche information program valuable and would like to see it continue for seasons to come, please make a tax-deductible donation to help the Anchorage Avalanche Center achieve sustainability.
click here for the 2014-15 season summary
Support your local grassroots avalanche center!
Despite close proximity to the state's most densely populated region, heavy wintertime use, rapidly increasing recreation in avalanche terrain in recent years, and 16 avalanche related fatalities in the past few decades, Chugach State Park (CSP) lacked an organized avalanche information program prior to the development of the grassroots Anchorage Avalanche Center (provided through a partnership with the non-profit Alaska Avalanche Information Center).  CSP's most popular, and Alaska's most readily accessible, avalanche terrain of the Front Range and Eagle River areas comprise the Anchorage Avalanche Center's core advisory zones.
Anchorage Avalanche Center mission: to increase the safety, awareness, and recreational enjoyment of winter backcountry enthusiasts visiting the avalanche terrain of Anchorage's backyard mountain playground (Chugach State Park) through an avalanche advisory program, forum for public snow-avalanche observations, and winter backcountry education. 
Anchorage Avalanche Center vision: comprehensive avalanche information and education for backcountry recreation in Chugach State Park.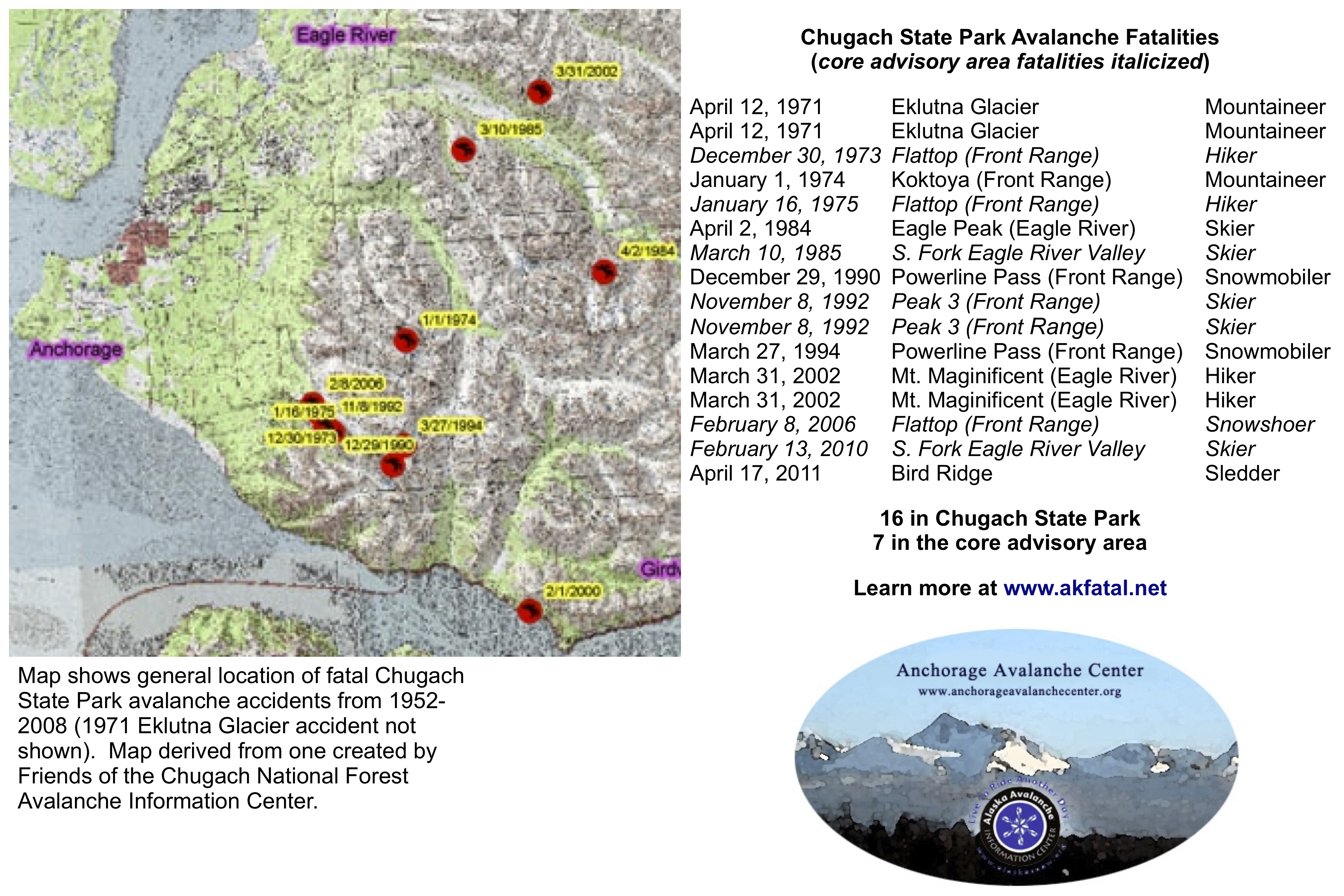 Learn more about the Anchorage Avalanche Center effort:
Piloting a backcountry avalanche advisory program for Alaska's most readily accessible avalanche terrain: The Front Range and Eagle River area Chugach (eight page overview presented at the 2014 International Snow Science Workshop)