Sunday, December 29, 2013 – Observations – Arctic Valley
Signs of instability:
One significant, large collapse (not referring to it as a whumph – see below) in a wind-affected and loaded area, north aspect, where the snowpack is relatively deep a few hundred feet below ridge line
Weather:
Light S-SE breeze with some short moderate gusts
Partly cloudy skies overhead, mostly cloudy skies elsewhere
Temps in the mid twenties
Surface conditions:
Variable, wind-affected snow ranging from lightly buffed powder, to soft and carve-able windboard, to breakable windboard, to fully supportable windboard (Randoman's choice for skimo mini-golf)
Snowpack discussion:
In general, the snowpack throughout the Front Range and Eagle River area has poor, early season structure.  The strength of the snowpack varies from weak to strong depending on the area, terrain, and depth of snow.  While the structure is poor throughout the Front Range and Eagle River area and the strength varies, decreasing energy seems to be keeping avalanche activity in check.
With a short term forecast calling for quiescent weather with relatively warm mountain temperatures, snowpack structure and strength should improve marginally.  Along with decreasing energy, the likelihood of avalanches will decrease until the next significant weather event – whether it's wind, snow, or both (dare we mention liquid precip).
Nonetheless, there was a sizable (large enough to bury, injure, or kill a person) human triggered avalanche reported off Peak 1212 (North Bowl) in the South Fork Eagle River area yesterday (Saturday, December 28, 2013) and we experienced a large and significant collapse in the Arctic Valley area today.  In support of decreasing energy, the aforementioned collapse experienced today was a peculiar groaning; an "old man whumph" if a whumph at all.  It was startling, but not as inherently unnerving as the typical "hormonally active teenager whumph."  Both the skier triggered avalanche from Saturday and the large upper elevation collapse from Sunday indicate continued avalanche potential.  Worth mentioning, both these events occurred on northerly aspects which have been leeward (wind-loaded) lately.
Avalanche Outlook for December 30-31
Issued Sunday, December 29, 2013 at 7:30pm (information provided below expires in 24 hours):
Monday & Tuesday:

Click here to see the complete danger scale
The lowdown:
Avalanche danger is decreasing and should be at the low end of moderate Monday with a slight increase Tuesday due to increasing wind speeds and modest amounts of loose snow available for transport in the upper elevations where more dangerous wind slabs could form.
Primary concerns: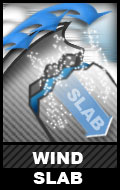 Click here to learn more about wind slabs and management of this type of danger
Winds of late have predominantly been southerly (S-SE), loading primarily north to northwest and cross-loaded aspects.  Southeast winds are forecast to increase again Monday night through Tuesday, with the potential to form thin, new wind slabs.  Keep an eye out for obvious clues to wind slab instabilities such as shooting cracks, whumphing (collapsing), denser and more consolidated snow, and snow that looks "fat" or sounds hollow (dense and consolidated snow on top of looser, weaker snow).

Click here to learn more about persistent slabs and management of this type of danger
Weak and loose faceted grains (weak layer) on top of old melt-freeze layers (bed surface) – in some places shallowly buried and in other places deeply buried – with cohesive layer (slab) above, is a widespread snowpack setup found throughout the Front Range and Eagle River area Chugach Mountains. While larger avalanches that could result from this setup are much less likely to be triggered than smaller wind slabs, this setup has the potential to create the most inherently dangerous avalanches.
As always, if you are in avalanche terrain with consequences assess the situation for yourself!
Mountain weather:
Monday is forecast to be cloudy with light winds and relatively warm upper elevations temperatures.
Clouds are forecast to decrease Tuesday, becoming partly sunny, with increasing wind from the southeast and temps moderately dropping.
Please contribute your observations and share them with the AAC if you get out in Chugach State Park!