Anchorage Avalanche Center mission: increase the safety, awareness, and recreational enjoyment of visitors to Anchorage's backyard mountain playground (Chugach State Park) through avalanche advisories, backcountry observations, accident investigations, winter backcountry education, and community events.

Anchorage Avalanche Center vision: comprehensive avalanche information and education for backcountry recreation in Chugach State Park.
Support your local grassroots avalanche center!
The AAC's core advisory zones in the Front Range and Eagle River areas of CSP are Alaska's most readily accessible avalanche terrain.  Despite close proximity to the state's most densely populated region, heavy wintertime use, rapidly increasing recreation in avalanche terrain in recent years, and 16 avalanche related fatalities in the past few decades (seven in the core advisory zones), Chugach State Park lacked an organized avalanche information program prior to the development of the grassroots Anchorage Avalanche Center.
This project started as a Masters of Science in Outdoor & Environmental Education thesis project at Alaska Pacific University, with input from primary stakeholders including the Alaska Avalanche School, Chugach National Forest Avalanche Information Center, Friends of the Chugach National Forest Avalanche Information Center, Chugach State Park, Chugach State Park Citizen Advisory Board, Friends of Chugach State Park, and many other local outdoor professionals and recreational users of Chugach State Park avalanche terrain.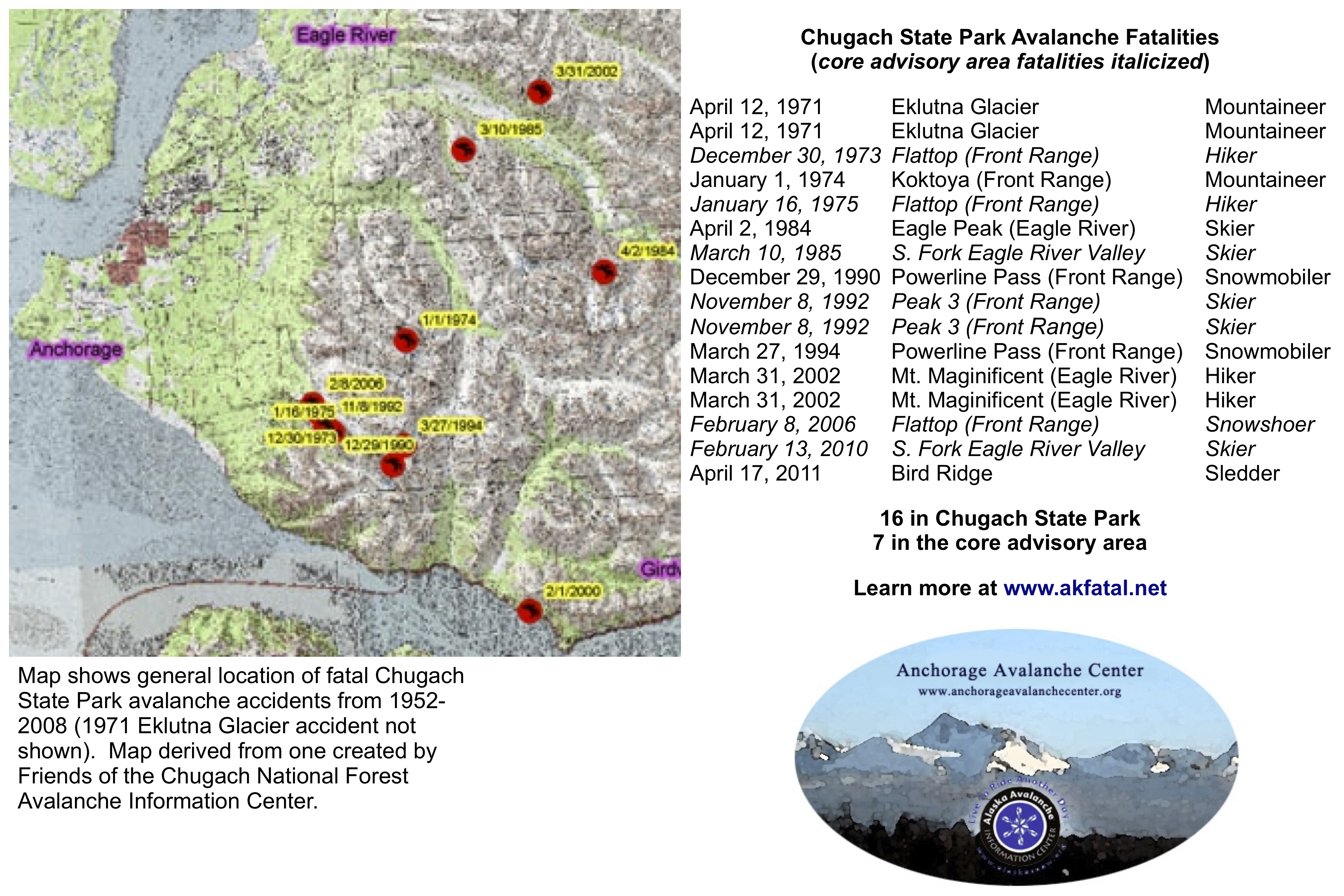 Learn more about the Anchorage Avalanche Center effort:
Piloting a backcountry avalanche advisory program for Alaska's most readily accessible avalanche terrain: The Front Range and Eagle River area Chugach (eight page overview presented at the 2014 International Snow Science Workshop)
Piloting an avalanche advisory program for public recreation in the Front Range and Eagle River Area Chugach Mountains: Strategy, challenges, and viability (88 page full report)