Mat Brunton: Founder, Director, Forecaster, Educator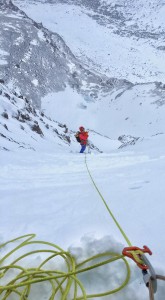 Master of Science Outdoor & Environmental Education
Level 3 Advanced Avalanche Education
Alaska Winter Weather Forecasting
Wilderness First Responder
Mat has a deep and abiding love for the Alaskan backcountry with many hundreds of days of winter backcountry experience in the mountains around Anchorage.  He came to Alaska to finish his undergraduate degree over a decade ago, and has lived in Anchorage since.  He's become deeply rooted in Southcentral Alaska and rarely leaves the area since he finds the skiing, climbing, mountain biking, packrafting, and trekking here to be world-class.  He's studied backcountry travel, avalanche forecasting, and mountain weather extensively.  Mat's work to provide an organized avalanche information and education program for Chugach State Park was presented at the 2014 International Snow Science Workshop (ISSW) in Banff.  Through the Anchorage Avalanche Center, Mat hopes to increase the safety, awareness, and recreational enjoyment of winter backcountry enthusiasts visiting Anchorage's backyard mountain playground: Chugach State Park.  He hopes that you will eventually come to love these mountains as much as he does (if you don't already)!
Contact Mat: mat@anchorageavalanchecenter.org
Brian Harder: Director, Observer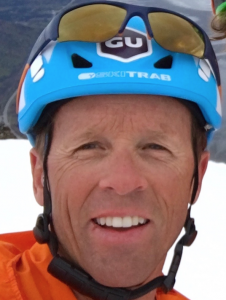 Brian's early mountain experiences centered around sunny California rock climbing starting when he was 12 years old.  Two trips to the North Cascades with Outward Bound in his mid-teens are credited for guiding the development of Brian's wilderness ethic, which he's maintained for over 40 years.  He's climbed and skied all over the world including New Zealand, Argentina, Chile, Ecuador, France, Italy, Nepal, Canada, and Alaska.  Brian spent seven years guiding clients in the Tetons, Nepal Himalaya, Denali, and on Aconcagua in Argentina.  He's lived in several ski towns around the west including Aspen, Flagstaff, Jackson, Sun Valley, and Wenatchee which has given him broad experience with a variety of snowpacks.  Currently, Brian seeks out technical steep skiing adventures using light and fast techniques developed while skimo racing in the US and Europe.  Brian supports his ski habit as an Orthopedic Physician Assistant in Anchorage.  He also runs a skimo-based website.
Jess Tran: Director, Educator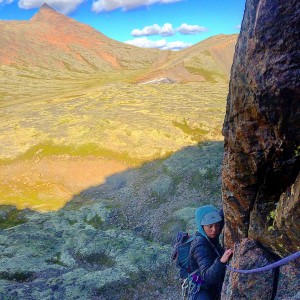 Whether it's helping teach avalanche education classes, staffing events, or managing logistics; Jess Tran has been helping make the Anchorage Avalanche Center, and organized avalanche information and education for Chugach State Park, possible since its inception.  This project would not have been possible without her help and support – from the beginning and along the way!  Jess is an elementary school teacher with the Anchorage School District at Denali Montessori and has a classroom of first through third graders.
Jamie Van Lanen: Director At Large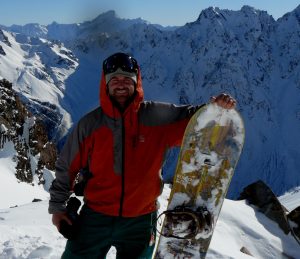 JVL has been backcountry snowboarding for nearly 27 years, is a former US National Champion in slopestyle snowboarding, and former head coach of the Sierra Nevada College national collegiate snowboarding championship snowboarding team. Jaime has worked as a ski mountaineering guide and avalanche educator in Colorado and Japan, and as a Backcountry Ranger at Denali National Park and Preserve. He has traveled the backcountry extensively in North America, Alaska, Europe, Asia, New Zealand, and South America; making ascents and descents in a total of 18 countries on 6 continents.
Contact the AAC: info@anchorageavalanchecenter.org