Advisory and forecast based on observational knowledge and weather forecast available at the time of posting.  Accuracy is subject to temporal and spatial variability.  Read the disclaimer, use at your own risk, and conduct your own assessment of conditions accordingly.
Wednesday, March 20:

Thursday, March 21:

Friday, March 22:

What you need to know:
As the CNFAIC has put it so well recently, "low hazard does not mean no hazard."  Most of the terrain within the advisory area has been significantly wind-affected.  There is the potential for relatively small, human-triggered wind slab avalanches.  While potential avalanches in this regard will not be large enough to bury or kill a person in and of themselves, consequences will depend upon terrain selection.  Be mindful of the snow above and around you, as well as the terrain below you.  Does the snow around you have the potential to knock you into or over a place you don't want to go?
Wind speeds may be strong enough through Wednesday to increase the sensitivity and reactivity of wind slabs.
The game will change by Friday morning.  A storm system will move in Thursday night and bring the potential for significant snowfall to Southcentral Alaska.  It looks like this potential exists even for the Anchorage/Eagle River area.  New snow will fall on a surface weakened by our cold, clear skies of late.  The state of our surface snow in addition to added snow through Friday will increase the avalanche hazard by Friday morning.
Between cold temperatures and the breeze, solar radiation shouldn't create much of a wet avalanche problem.  However, pay attention to the sun's warmth!  Is it warming your body and face significantly?  Is the snow exposed to the sunlight moistening?  If you're becoming hot and the snow is becoming wet, increasing caution is advised.
Danger Trend:
Wed. & Thurs.:                     Friday:
Relatively steady through Thursday with a significant increase by Friday morning.
Primary Concern:
Wednesday & Thursday: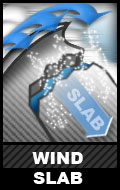 There is the potential for small, human-triggered wind slab avalanches that could knock you into or over rocks, or other unpleasant terrain features.  Be mindful of the consequences of the terrain should you be carried by a small avalanche.  Be mindful of the snow around you and its potential to avalanche.
Friday: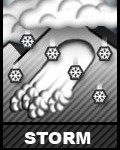 The Anchorage area Chugach should (hopefully) receive snow starting late Thursday night or early Friday morning.  Snow could persist through Friday.  This will significantly increase the avalanche hazard as the new snow will be falling on weak surface snow prone to creating slides.
Secondary Concern:
Wednesday & Thursday: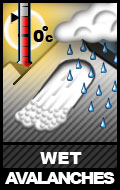 Wet avalanches are unlikely due to forecast cool temperatures and breeze.  Nonetheless, pay attention to the sun's affect on the snow.  If snow is becoming moist-wet, be on the lookout for wet avalanches.  These will be even more likely to initiate in rocky and thin areas where the sun will have an amplified impact.
Travel Advice:
Wednesday & Thursday:
If you find good riding conditions out there, let me know.  I've only found mediocre, at best.  Take care not to injure yourself in the variable snow conditions.
Friday:
With new snow (hopefully), riding conditions will improve.  However, at least initially (through the day Friday), it will be imperative to ratchet back the slope angles and be extra mindful of terrain consequences.
Mountain Weather:
Wednesday:
Skies will remain clear and temperatures cold.  Expect a breeze with stronger gusts.
Thursday:
Clear skies with cold temperatures should give way to increasing clouds and warming temperatures as the storm system bringing the potential for new snow begins to move into Southcentral Alaska.
Friday:
Snow (hopefully).  Here's to a lot of it!