Advisory based on observational knowledge and weather forecast available at time of posting (12am).  Accuracy is subject to temporal and spatial variability and expires in 24 hours. Read the disclaimer and conduct your own assessment of conditions accordingly.

Thursday:

What you need to know:
Today is the first day since we've received all this new snow that the sun is forecast to come out in force.  Expect the wet avalanche danger to increase significantly through the day with a peak in activity and danger in the late afternoon to early evening on south and west aspects.
While the avalanche danger is moderate, current snow conditions still demand careful evaluation in order to determine the specific avalanche concerns and danger level in the area in which you're traveling.  Dangerous avalanches conditions may still exist in certain areas.
Danger trend:
Increasing significantly through the day on sun exposed slopes.  Otherwise, the danger is decreasing and stability is improving.
Primary Concerns: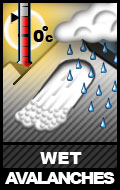 The danger will increase through the day on sun exposed slopes.  East aspects will warm and moisten first, followed by south, and then west aspects.  Expect the danger to be the highest on south and west aspects later in the day (late afternoon to early evening).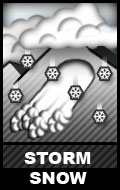 Numerous small natural and human triggered soft slabs have been observed throughout the advisory area.  While this danger should be decreasing and stability improving, it's a peripheral concern.  None of the observed soft slabs have been large enough to even partially bury a person, but could prove more troublesome in exposed terrain as they have been large enough to sweep someone off their feet or funnel someone into a terrain trap.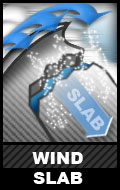 Although mountain winds have been relatively light some areas are loaded more heavily than others on varying aspects.  Wind directions were different between the Saturday-Sunday storm and Monday-Tuesday storm.  Between this and the channeling effect of terrain features, small and soft wind slabs may be found on all aspects in the upper elevations along ridge lines and near peaks.
Travel Advice:
Pay attention to the sun's effect on the slopes.  Look for rollerballs, point releases, sun induced sluffs, and other signs that the sun is significantly warming and decreasing stability on exposed slopes.  As the new snow from Sat-Sun and Mon-Tues has not yet been exposed to that much sun, when the new snow receives its initial exposure in full force (likely today) stability will decrease significantly and the wet avalanche danger will increase accordingly.
With the possibility for snow showers in the mountains there is a chance visibility may be low at times.  Low visibility will demand more cautious route-finding and stability evaluation.
Be on the lookout for red flags of instability like recent avalanches, shooting cracks, collapsing or whumphing.  What do these signs tell you about the stability in the area through which you're traveling and how should you adjust your plans accordingly?
In assessing the wind slab concern, be on the lookout for some of the typical characteristics like a rounded, pillowy look and/or hollow, slabby feel.  Wind slabs of concern will likely be in relatively obvious areas of deeper snow along ridge lines and near peaks.
Mountain Weather:
Thursday is forecast to present us with partly sunny skies, the potential for isolated snow showers in the mountains, temperatures in the mid teens to lower 20s, and variable light winds.
Avalanche Outlook:
Friday, April 12

Sunny skies and even warmer temperatures are forecast.  Wet avalanches should again be the primary concern as the sun heats exposed aspects through the day.
Saturday, April 13
Sunny skies again with increasingly warm temperatures will keep wet avalanches as the primary concern on sun exposed slopes later in the day.