Saturday & Sunday:

Click here to view the complete danger scale
Avalanche danger will be increasing through the weekend to moderate due to warmer temps and stronger winds.
Concerns: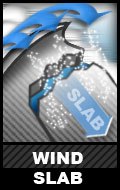 Click here to learn more about this type of problem and how to manage it
Strong SE winds will have the potential to build small wind slabs on leeward aspects.  Such wind slabs will be relatively isolated due to crust formation limiting the amount of loose snow available for transport.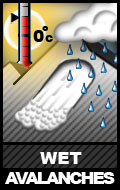 Click here to learn more about this type of problem and how to manage it
Temperatures will warm through the weekend with increasing cloud cover further contributing to a potential wet avalanche problem due to preventing as hard of an overnight freeze.  Watch for moistening snow becoming wet, heavy, and gloppy later in the day on south and west aspects.  Natural loose wet avalanches will be another obvious clue to rising instability.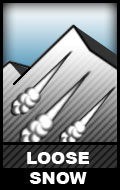 Click here to learn more about this type of problem and how to manage it
Steep, primarily northerly (and thus unaffected by the sun) terrain is still sluffing readily via human triggering.  As the fresh surface snow has faceted significantly since Tuesday, sluffs are still running long but are decreasing in volume.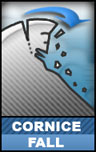 Click here to learn more about this type of problem and how to manage it
As temperatures warm, large and looming cornices will become less stable.  Cornice falls pose an inherent hazard as well as their ability to trigger subsequent avalanches where they fall.
Mountain Weather:
Synopsis: We will see a shift in the weather pattern this weekend from clear and calm conditions to cloudy skies with increased winds.  The area of high pressure over us will shift north as a large low pressure system moves inland over western AK.  Clouds will rapidly increase Friday night and Saturday as the associated front from the low moves over southcentral setting up strong southeast flow.  Unfortunately, this looks to be a typical downsloping event for us as precip will pile up against the eastern Chugach and Kenai mountains while the Anchorage area Chugach is left high and dry.  Looking into next week, a few other storm systems try to make their way into our area but will be deflected far enough south to limit their effects over the Anchorage area Chugach.
Front Range & Eagle River Area Chugach Forecast: Clear skies will give way to increasing clouds Friday night.  Clouds will lower to around 4000-5000 ft by Saturday afternoon leading to decreased visibility atop the highest peaks like Harp and Ptarmigan.  Southeast winds will also increase through the day on Saturday with gusts between 30-40 mph on the most exposed peaks (especially Arctic Valley) by Sunday morning.  Temps at trailheads will vary between the mid 20's in the morning to mid 30's during the afternoon.  At higher elevations, temps will hover around the mid 20's through the entire weekend.