Advisory based on observational knowledge and weather forecast available at time of posting (12am).  Accuracy is subject to temporal and spatial variability and expires in 24 hours. Read the disclaimer and conduct your own assessment of conditions accordingly.

Saturday:

What you need to know:
The avalanche danger will increase later in the day on the most sun affected slopes.  Natural and human triggered wet loose avalanches may be likely by afternoon on southerly aspects.
Otherwise, the avalanche danger is on the low end of moderate.  Small, aging wind slabs may be possible to trigger in steep, upper elevation terrain.
Danger trend:
Increasing through the day for wet avalanches on warming, sun-exposed slopes.  Other avalanche dangers are on the decline.
Primary Concern: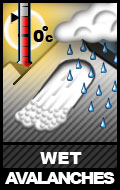 Daytime temperatures have been warming incrementally the past few days and this trend is forecast to continue.  Natural wet loose avalanches are possible, initiating in thin and/or rocky areas of the snowpack as point releases, as are larger human triggered wet sluffs.  Expect the danger for wet loose avalanches, which may be able to step down and trigger wet slabs near the ground as they descend, to be the highest on southerly aspects later in the day (afternoon to evening).
Peripheral Concerns: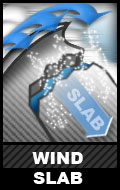 Winds of late have predominantly been from the north, being otherwise channeled and accelerated by terrain features.  Recent localized winds have been able to move snow in places, likely contributing to an old wind slab problem that developed when winds first picked up and loaded upper elevation southerly aspects after the two most recent big storms.  Problematic wind slabs aren't likely to be widespread or large, but be mindful of the possibility and consequences when navigating the terrain.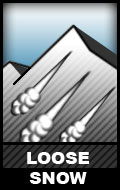 Human triggered dry snow sluffing is likely on steep north facing terrain that hasn't been wind battered, but will pack little punch.
Mountain Weather:
Sunny
Trailhead (2,000ft): Temps up to 16-39 degrees, winds SE <10 mph
Upper Elevations (4,000ft): Temps around 25 degrees, winds SE 10-15 mph
Travel Advice:
Pay attention to the sun's effect on the slopes.  Look for rollerballs, point releases, sun induced sluffs, and other signs that the sun is significantly warming and decreasing stability on exposed slopes.  Is the snow becoming gloppy?  When temperatures warm and solar radiation increases significantly, the wet avalanche danger will increase.
As always, be on the lookout for red flags of instability like recent avalanches, shooting cracks, collapsing or whumphing.  What do these signs tell you about the stability in the area through which you're traveling and how should you adjust your plans accordingly?
In assessing the wind slab concern, be on the lookout for some of the typical characteristics like a rounded, pillowy look and/or hollow, slabby feel.  A shooting crack in wind affected snow is a bull's eye clue to wind slab instability.