Midweek Avalanche Outlook
Issued Tuesday, December 17, 2013 at 8:00pm (information provided below expires in 24 hours):
Anticipated danger for Wednesday, December 18:

Click here to view the complete danger scale
Primary concern: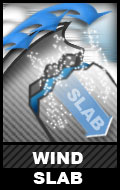 Northerly winds ramped up across the Front Range and Eagle River area Monday night through Tuesday, blowing strong enough in the upper elevations to provide for loading of the easily transportable new snow.  Wind slabs well over a foot deep, formed on leeward aspects and in other deposition areas, may remain sensitive and reactive into Wednesday.
While northerly winds have since decreased, winds are forecast to shift to the SE and intensify Wednesday afternoon and evening with the approaching storm system that should bring a few to several more inches of snow to Front Range and Eagle River area alpine by Thursday afternoon.
Expect avalanche danger to increase Wednesday afternoon with an increase in wind speed and directional shift (northerly to southerly).  A peak in danger is likely late Wednesday night or early Thursday with new snow and wind loading.
The storm forecast to impact us Wednesday night into Thursday will bring significantly more snowfall to areas of the Kenai Peninsula.  But despite the downslope effect reducing snowfall in the Front Range and Eagle River area Chugach, this system should be strong enough to provide for some overrunning and we should still pick up a few to several inches (especially in the upper elevations and in the southern Front Range and northern Turnagain Arm).
The aforementioned storm is looking promising, especially for CNFAIC terrain (the "956 L" in the lower left of the image is what we'll be keeping an eye on): If you're out and about in Chugach State Park please submit your observations to the Anchorage Avalanche Center; they're one of our most valuable resources!
We will update as soon as we're able to get out and assess conditions further.