Saturday (12/21) Avalanche Outlook
Issued Friday, December 20, 2013 at 9:30pm (information provided below expires in 24 hours).
Anticipated danger for Saturday, December 21, 2013:

Click here to see the complete danger scale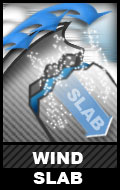 Click here to learn more about wind slabs and management of this type of danger
Discussion:
Considering widespread collapsing (whoomphing) and shooting cracks Friday, a few prominent and relatively large wind slab avalanches (natural and human triggered) from Thursday, and a bit more snow Friday and Saturday accompanied by strong winds capable of moving new and existing snow – we're going to go with a considerable danger rating for Saturday, December 21, 2013.  Check out recent observations from the past few days to get a better idea of what you'll be dealing with in the Front Range and Eagle River area backcountry.