Sunday, December 22, 2013 Avalanche Outlook
Issued Saturday, December 21, 2013 at 7:30pm (information provided below expires in 24hrs):

Click here to see the complete danger scale
Primary concern: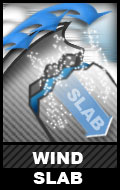 Click here to learn more about wind slabs and management of this type of danger
Discussion:
Considering widespread collapsing (whoomphing) and shooting cracks Saturday, evidence of a couple recent natural wind slab avalanches, and a forecast calling for several inches of new snow through Sunday that will be accompanied by winds capable of moving new and existing snow; the avalanche danger will remain at considerable for Sunday, December 22, 2013.  Check out recent observations from the past few days to get a better idea of what you'll be dealing with in the Front Range and Eagle River area backcountry, but keep in mind that while the danger for Saturday was also considerable it will be increasing through Sunday.  Low visibility due to snowfall and new snow hiding clues of pre-existing wind slabs will further complicate matters.