Avalanche Outlook for Thursday, December 26, 2013 & Friday, December 27, 2013
Issued Wednesday, December 25, 2013 at 9:00pm (information provided below expires in 24 hours):

Click here to see the complete danger scale
Primary concerns:
As evidenced by the recent Flattop avalanche, slabs on the brink of failure lurk and may be quite large in some places.

Click here to learn more about persistent slabs and management of this type of danger
Weak and loose faceted grains (weak layer) on top of old melt-freeze layers (bed surface) – in some places shallowly buried and in other places deeply buried – with cohesive layer (slab) above, is a widespread snowpack setup that can currently be found throughout the Front Range and Eagle River area Chugach Mountains.  While the larger avalanches that could result from this setup are much less likely to be triggered than wind slabs formed earlier this week, this setup has the potential to create the most inherently dangerous avalanches.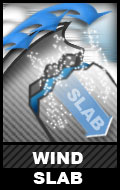 Click here to learn more about wind slabs and management of this type of danger
With winds having recently relaxed and being forecast to stay light, this problem should be on the decline as these slabs have time to bond and stabilize.  However, wind slabs ranging from small to large in size are still possible and even a small one that isn't inherently dangerous could do serious damage depending on the circumstances.
Please contribute your observations and share them with the AAC if you get out in Chugach State Park!