Weekend Avalanche Outlook
Issued Friday, February 10, 2017 at 10:30am
*Dangerous Avalanche Conditions*
Chugach State Park avalanche conditions are currently very complex.  The most likely avalanches to be triggered (wind slabs and storm slabs) by humans this weekend are expected to be relatively small, but the possibility of triggering a large and dangerous persistent slab remains a lower probability but very high consequence concern.
After a week of quiet weather with plentiful sunshine, light winds, and reasonable mountain temperatures; snow returned to the Anchorage area Wednesday.  At least a few inches has already accumulated, with a few to several more inches forecast.  Snowfall is expected to taper off Friday into Saturday, with a sunny and pleasant (although cold) weekend forecast.
It will be a great weekend to enjoy Anchorage's mountainous backyard (and "think global; ski local"), but you will need effective avalanche hazard assessment, rescue, and backcountry travel skills to enjoy recreating in and around avalanche terrain safely.
__________
Recognize red flags.  Acknowledge increased danger from new snow and wind.  Be on the lookout for recent avalanches.  "Whumphing," or collapsing, and shooting cracks are glaring red flags.
Be mindful of terrain traps, and exposure to overhead avalanche danger.  Avalanches triggered in the upper elevations have the potential to run into lower elevation, even flat, terrain.  Many trails in Chugach State Park cross dangerous avalanche paths (e.g. Penguin Ridge, Falls Creek, Rabbit Creek, Powerline, O'Malley Gully, South Fork Eagle River, and Iditarod-Crow Pass).  A basic level of avalanche awareness, such as that gained through a free or low-cost class, will help you be able to identify problem areas.
Don't forget your (fully operational) beacon, shovel, probe, and (most importantly) BRAIN!
Avalanche Problems: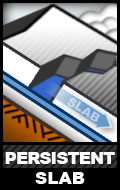 Stubborn persistent slabs up to D3.5 in size will be a problem on steep terrain (>35*) above 2500′.  The most likely trigger points are where the hard slab above the basal persistent weak layer is thinner and/or less supportable, and near "sweet spots" harboring faceted snow (rock outcrops and vegetation).  Such areas will allow a human's "stress bulb" to penetrate the snowpack and potentially initiate a fracture within the basal weak layer that propagates a long distance, producing a large avalanche.  Especially hazardous terrain also includes steep rollovers and unsupported slopes, where there's less resistance and friction to hinder release.
This problem will require vigilance: careful snowpack evaluation, cautious route-finding, conservative decision making, and effective terrain management.
The January 30-31 wind event produced the most intense natural avalanche cycle in Chugach State Park in half a decade.  It revealed the extent of the persistent slab problem due to advanced facets and depth hoar at the base of the snowpack, with numerous large and widely propagating natural avalanches triggered by wind loading.  While the problem is widespread throughout the park, it seems the most prolific north of the Front Range (the mountains west of Ship Creek and Indian Creek) from South Fork Eagle River to the Eklutna-Knik area.  Check out the observations for some perspective on the extent of the persistent slab problem.
While solar radiation and an extreme inversion (relatively warm upper elevation temperatures for several days following the wind event) helped create a more benign temperature gradient within the snowpack that facilitated bonding of snow grains and stabilization, this effect was much less pronounced on northerly aspects; and all aspects still exhibit concerning snowpack structure.  Check out Wednesday's observations from Arctic Valley to better understand this phenomena.
New snow this weekend will add stress to the snowpack.  Due to such a concerning snowpack structure, a human triggered persistent slab could be very large, difficult to escape, and unsurvivable.  This is a tricky, lower probability but very high consequence scenario.  These hard slabs won't break at your feet like the storm slabs and wind slabs (discussed below), but will allow you to get into the middle of them (inhibiting escape) before they release catastrophically.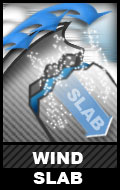 While winds have generally been light, there seems to have been some increases capable of building fresh wind slabs.  Further wind slab development may occur if winds increase, as there's plentiful loose snow readily available for transport.  Sensitive wind slabs are possible on leeward terrain steeper than 30*, especially near peaks and along ridges and cross loaded gully sidewalls.  Wind slabs are expected to be relatively soft (as winds aren't expected to increase significantly beyond the threshold required for snow transport), but can be identified by relatively firmer snow (especially if it feels hollow, punchy, and/or exhibits cracking).  Paying close attention to snow texture, pole probing, and hand pits are quick but effective ways of understanding and tracking this problem.  Be on the lookout for "fat" pockets of snow.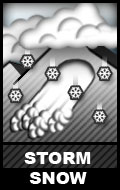 New snow since Wednesday has generally fallen with light wind.  As there has already been a few inches of accumulation, which has fallen on a firm surface (windboard with surface hoar in areas), potentially sensitive storm slabs are possible on steep terrain (>30*) above 2500′.  While storm slabs are generally expected to be small, be mindful of terrain traps and exposure which could compound their consequences.  Handpits are an effective means of understanding and tracking this problem.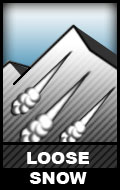 A few inches of new snow has already fallen, and more is expected.  It is light, low density, and came with modest wind.  This new snow generally accumulated on a firm (windboard) surface, which will be prone to D1 sluffing on steep terrain (>35*).  While a "sluff" isn't likely to cause burial, keep terrain traps and exposure in mind.  Practice effective "sluff management" to avoid a fall or loss of control.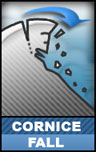 The January 30-31 wind event significantly enlarged cornices in some areas.  Field work in the past week has revealed many that are drooping and cracking.  Warning signs as to cornice hazards (droops and cracks) that were exposed prior to new snow, are now likely hidden.  While cornices aren't expected to be overly stressed by the new snow, it is always prudent to give potentially corniced ridges a wide berth; don't approach a ridge line to look down it unless you're sure it's NOT overhung by a cornice.  Keep in mind that cornices can break off much further back than expected and, besides the inherent danger of falling with a cornice, they can trigger a subsequent avalanche as they "bomb" the slope they fall onto.
__________
Many avalanche accidents that have happened in Anchorage's backyard of Chugach State Park could have been prevented by basic avalanche awareness.  If you don't have this level of awareness, here are some online resources to help you start the learning process.  There are also numerous options for getting a real avalanche education locally.  Many of these learning opportunities are even FREE, like this avalanche rescue workshop at Turnagain Pass Saturday, February 11.
__________
Chugach State Park now has a base for reasonable alpine touring.  Keep in mind that hazards such as superficially covered rocks and vegetation exist.
*click avalanche problem icons and hyperlinks for further info