Wednesday:
This advisory expires at the end of the day for which it was issued.

Click here to see the complete danger scale
Keep in mind, low danger does not mean no danger.  Watch for isolated areas of unstable snow.
There is definitely still a sliding hazard, as slide-for-life conditions will persist in many areas until we receive significant snowfall that blankets the terrain in a widespread manner and refreshes the snowpack surface.
Concerns: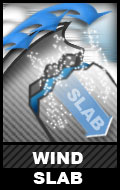 Click here to learn more about this type of problem and how to manage it
Small, thin wind slabs may still linger.  This problem will mostly be relegated to upper elevation (above ~3700′) terrain near ridge lines and peaks.
Wind direction has been variable across the Front Range and Eagle River area Chugach Mountains.  Considering this and the influence of terrain on wind, wind slabs are possible on multiple aspects.  These wind slabs are getting "stale."  Thus, obvious clues like whumphing, cracking, and hollow sounds will be less apparent.
Keep in mind that even a small wind slab (only capable of causing a fall that normally might not be a problem) could lead to a slide-for-life on the solid, somewhat icy hardpack that is at the surface in many areas.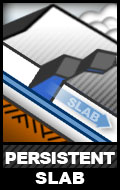 Click here to learn more about this type of problem and how to manage it
In general, the snowpack currently lacks the energy necessary for initiating a failure and propagating a fracture capable of creating an inherently dangerous avalanche.  However, in some areas, the setup and structure still exists for persistent slab problems.  While it's a peripheral concern, it's not one to write off completely.  Expect it to be, as it has been for quite awhile, more of a problem/concern in the Eagle River area on slopes with more consistent coverage above ~3000′.
Mountain Weather:
Partly sunny skies with generally light and variable winds and temps in the upper single digits are expected.
Forecaster's note:
While crampons and a self-arrest device may arguably not be mandatory, they undeniably add a significant degree of safety and security – not too mention how they can expand your ability to access terrain.  The Anchorage Avalanche Center recommends and can vouch for options like those available from our sponsors: CAMP USA (ultra-light crampons) and Black Diamond (whippet).  These tools aren't just for skier's only; they're equally applicable for snowboarders, hikers, and light-and-fast climbers.