Friday:
The danger rating and information provided below is only valid for 2/14/14

Click here to see the complete danger scale
A bit of new snow with a bit of wind has increased the avalanche danger modestly.  Watch for small, thin, and marginally reactive wind slabs in the upper elevations (above ~3500′) on leeward aspects and cross-loaded terrain features.  As slide-for-life conditions persist in some areas (mainly upper elevation terrain exposed to the wind), be mindful of the consequences of a small wind slab knocking you over or making you lose control.
Concerns: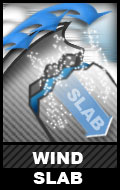 Click here to learn more about this type of problem and how to manage it
As mentioned, small and thin wind slabs exist in some areas.  Wind direction has been variable across the Front Range and Eagle River area Chugach Mountains lately.  Considering this and the influence of terrain on wind, wind slabs are possible on multiple aspects.  Since these wind slabs are so small and thin, obvious clues like whumphing, cracking, and hollow sounds will be less apparent.
In general, there's not enough snow to create inherently dangerous wind slabs; the main threat will be due to the terrain consequences and exposure if a small wind slab was to cause you to fall or lose control.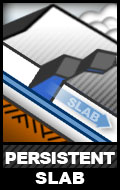 Click here to learn more about this type of problem and how to manage it
Deeper persistent slabs are an increasingly peripheral concern.  However, they can't be ruled out completely.  As the snowpack is still thin enough in most areas to dig to the ground relatively quickly, it's not much work to more thoroughly assess this problem via a snow profile and stability tests if you're keen to travel on a questionable slope.
Mountain Weather:
Cloudy skies with snow showers (minor accumulations), temps in the teens, and light to moderate winds are expected.
Forecaster's Note:
Happy Valentine's Day.  Spread LOVE!