Sunday:
The danger rating and information provided below is only valid for 2/16/14

Click here to see the complete danger scale
A bit more snow and wind yesterday, with continued chances for minor accumulations today, will keep the avalanche danger at moderate.
Avalanche concerns continue to be relegated to near surface instabilities – at the interface between the widespread old, hard, and icy crusts and the new snow that has fallen since Thursday.
Concerns: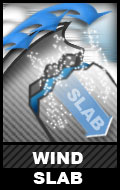 Click here to learn more about this type of problem and how to manage it
Shooting cracks, like those pictured below, and some subtle whumphing/collapsing was experienced yesterday in wind deposited areas.  However, even with more snow and wind Saturday adding to what we've received since Thursday, wind slabs shouldn't be inherently dangerous; the main threat will be due to the terrain consequences and exposure if a small wind slab was to cause you to fall or lose control.
Generally, there isn't enough non-encrusted snow to create avalanches larger than D1-1.5 (see avalanche size scale here).  Nevertheless, a worst-case scenario combination of terrain trap, isolated area of deeper snow, and anomalous pocket of instability could lead to a burial.  This would be a very improbable exception – not the rule, which will be relatively harmless, small, and thin wind slabs.
Shallow (less than 1″) shooting cracks radiating out from a turn (2/15/14 Gordon Lyon NW aspect):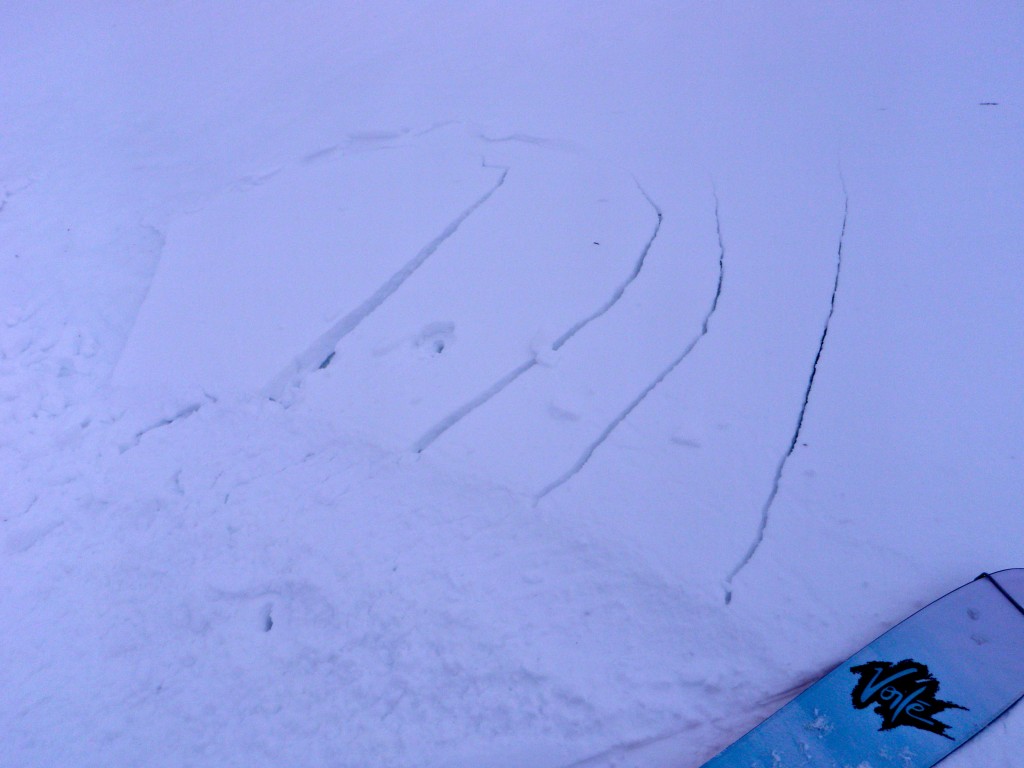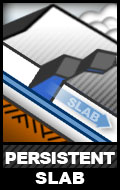 Click here to learn more about this type of problem and how to manage it
Deeper persistent slabs are an increasingly peripheral concern and will be very unlikely to trigger.  However, they can't be ruled out completely; the setup and structure that makes them possible still exists in areas, but lacks energy.  As the snowpack is still thin enough in most areas to dig to the ground relatively quickly, it's not much work to more thoroughly assess this problem via snow profiles and stability tests if you're keen to travel on a questionable slope.  Such questionable slopes will be upper elevation (above 3500′) with more consistent coverage.
Mountain Weather:
Cloudy skies with scattered light snow showers, temps in the teens, and generally light winds (east to north) are expected.
Forecaster's Notes:
The snow keeps trickling in and conditions in the FRange and Eagle River areas continue to improve.  The skiing is quite good from Peak 3, to the Arctic Valley backcountry, to South Fork.  All the more reason to think global and ski local!
The Arctic Valley ski area and the northern Front Range from the top of Gordon Lyon Saturday: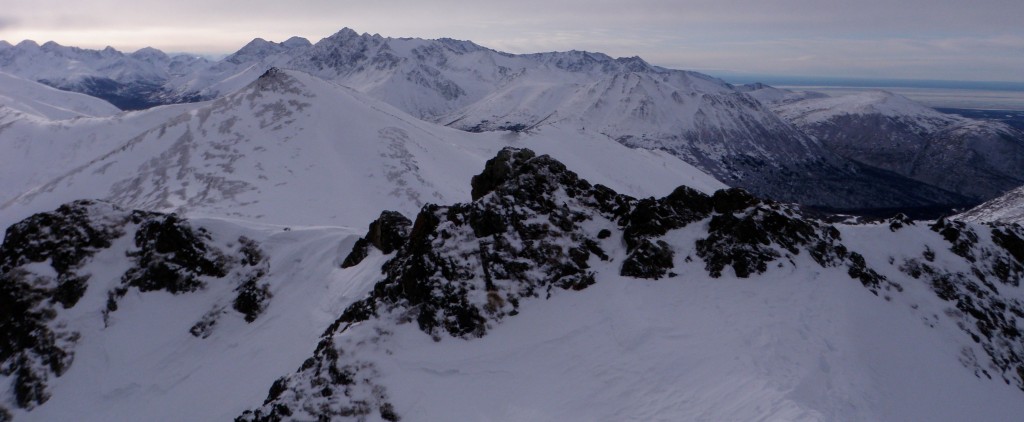 South Fork Eagle River area from the top of Gordon Lyon Saturday: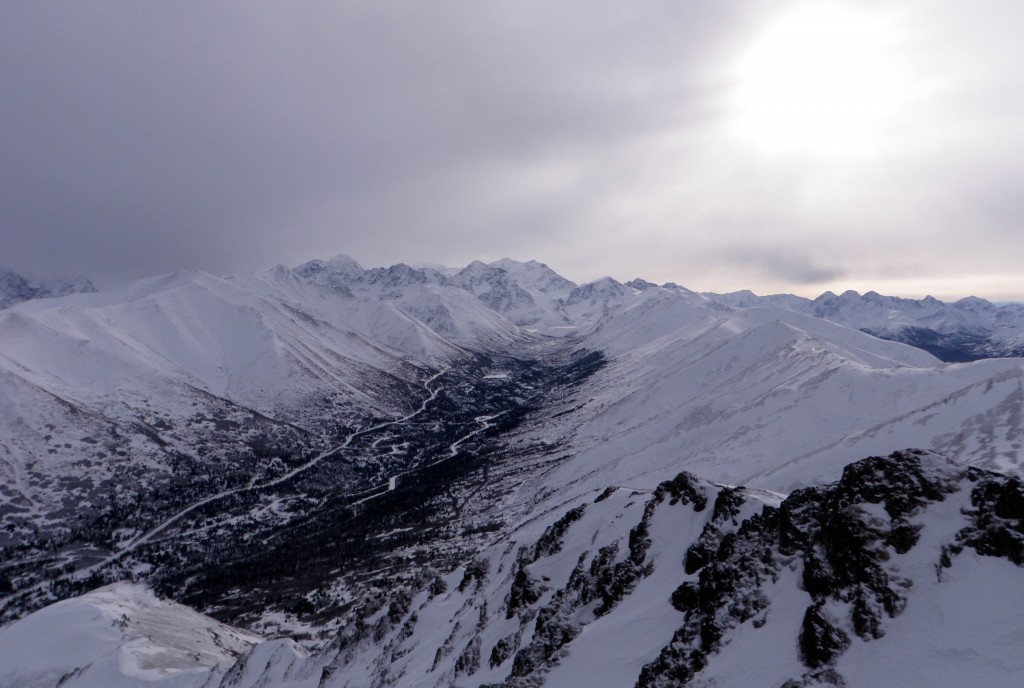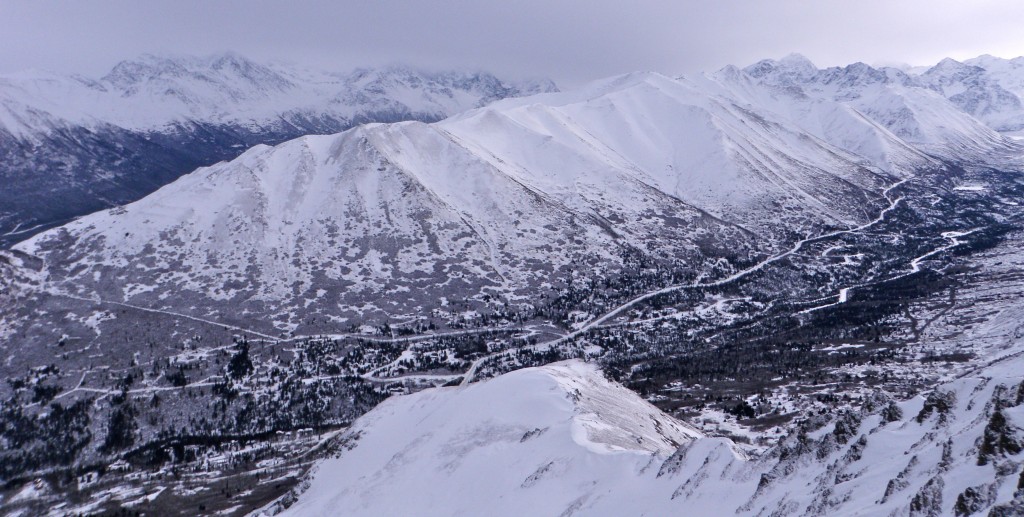 I saw a party of five (plus dog) skiing Tequila Bowl on my way to Gordon Lyon yesterday, that thanked me for the for Anchorage Avalanche Center's work.  You guys made my day!  Hopefully many others are benefiting from this program as well.  After all, you're the reason all of us at the Alaska Avalanche Information Center do what we do; we want you to enjoy YOUR mountains, and as safely as possible.

Voile has been a HUGE SUPPORTER of the Anchorage Avalanche Center this season.  Their skis and snow tools (shovels and probes) have made field work possible…and enjoyable.  We can't speak highly enough of their products.
Voile skis are lightweight, relatively indestructible, and ridiculously fun.  The Vector is a perfect one-ski quiver for the Western Chugach.  It can handle conditions from deep, blower pow to manky, icy hardpack (which we unfortunately had a lot of the past month).  Better yet, Voile skis are responsibly made in the USA (right outside the wondrous Wasatch in Salt Lake City, Utah) as sustainably as possible (using Forest Stewardship Council certified wood).  Considering all this (not to mention full-width carbon fiber and sick Seussian graphics), they're perhaps the most reasonably priced skis on the market.