The avalanche danger has again increased due to wind, rain, warm temperatures, and new snow in the upper elevations.  Expect the danger to remain elevated through the beginning of next week and until winds subside and temperatures drop.
Avalanche Concerns: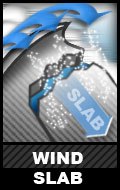 Click here to learn more about wind slabs
Strong, generally southeast, winds are expected to persist through Sunday and will build fresh wind slabs in the upper elevations above the rain-snow line (expected at 1500-2500′).  Expect these wind slabs to be more of a problem on west, northwest, and north aspects.  Cross loaded terrain, like gully sidewalls, may also be problematic.  Be mindful of red flags like areas with dense, hollow snow (a slab on top of weaker, looser snow); shooting cracks; whumping; and collapsing.  Watch for blowing snow and where it's being deposited.  Scoured, more bare windward terrain and loaded leeward terrain with more snow will provide further clues as to wind direction, loading, and potential slab location.  Click the wind slab icon and link above to learn more.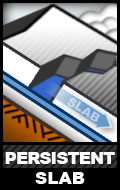 Click here to learn more about persistent slabs
At least two things are impressive about this season's snowpack: how thin it is and how extensively faceted and weak it has become.  The Chugach State Park snowpack boasts numerous, well-developed persistent weak layers; especially crust-facet combinations and impressively large depth hoar near the ground.  Such poor structure is causing avalanche concerns to persist for extended periods.  The persistent slab problem is widespread across all aspects and elevations where a snowpack exists.  Red flags like recent avalanches, cracking, collapsing, and whumphing are still relevant for identifying potential persistent slab problems; but digging snowpits, assessing weak layers and interfaces, and conducting stability tests will be required for better understanding the persistent slab problem.  Click the persistent slab icon or link above to learn more.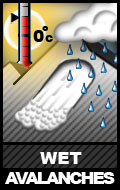 Click here to learn more about wet slabs
Click here to learn more about loose wet avalanches
The wet avalanche danger is expected to increase through Monday and until temperatures drop for at least an overnight re-freeze of saturated snow.  The rain-snow is expected to be at 1500-2500′ across the park with above freezing temperatures to 2500′ and possibly to 4000′ in some areas.  In the upper elevations (above 3000′) where there's more snow, the wet avalanche concern is primarily in regard to further destabilizing persistent slabs in addition to stress from wind loading and moist-wet snow.  In the mid elevations (2500-3000′) the snowpack is expected to be more heavily saturated and affected by the warm temperatures and rain, but the wet avalanche problem will be confined due to the general lack of snow at this elevation band.  Click the wet avalanche icon and link above to learn more.