Saturday:
The danger rating and information provided below is only valid for 2/22/14

Click here to see the complete danger scale
Concerns: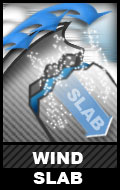 Click here to learn more about this type of problem and how to manage it
Winds picked up Thursday night into Friday and are expected to increase again through Saturday.  Isolated, small wind slabs had already formed on leeward aspects by early Friday afternoon.  Expect more and larger wind slabs Saturday if winds do increase as forecast and snow is transported.  Watch for areas of denser, deeper snow (often with bulbous appearance or slabby feel) and cracking in the snow surface.
With plenty of loose snow available for building wind slabs and plenty of soft snow to be entrained in an avalanche's descent, wind slabs large enough to take a person for an unpleasant ride and even potentially bury a person will be a possibility.  Take this into consideration, especially in the vicinity of terrain traps.
Wind slabs are expected to be more of a concern and problem above ~3500′ on leeward aspects (predominantly W to NW).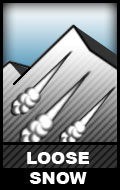 Click here to learn more about this type of problem and how to manage it
The dry, blower pow surface snow which is making for such great riding conditions initially fell as ~3mm textbook stellar dendrites in many areas.  Where winds have not cohered it into a slab, it has faceted and become even looser, drier, and less cohesive due to cold temperatures (especially at night) since it fell.  Moderate "sluffing" has been experienced on terrain steeper than ~35 degrees in the South Fork, Arctic Valley, and Front Range areas Wednesday-Friday.
The sluff hazard is expected to be the most pronounced on steep (35+ degrees), upper elevation (above ~3500′) terrain.  Don't let a sluff catch you off-guard on unforgiving terrain; consider the consequences.
Mountain Weather:
Cloudy with alpine temps in the upper teens to lower 20s and moderate winds (predominantly E to S).
Forecaster's Note:
The skiing in the FRange and Eagle River areas lately has been a pow seeker's dream: deep and blower.  All the more reason to think global and ski local this weekend!