Monday:

Issued at 7am (expires in 24hrs)

Click here to see the complete danger scale
With high pressure having established itself and quiet weather expected for the next couple days, the avalanche danger is expected to be low in the Anchorage Avalanche Center core advisory area (see map) and peripheral areas.
The most noteworthy hazard until we have another snow event that changes surface conditions, is the slide-for life conditions in the Western Chugach; falling could be a disaster due to the sliding hazard…
The persistent slab problem still exists but is losing energy and has gained strength; it's not easily triggered.  Field work this week and in recent weeks suggests it's more of an issue in the Eagle River area than Front Range.  It should be limited to the upper elevations (above ~3500′) and relatively isolated.  Small wind slabs may also still be possible to trigger in upper elevation (above ~4000′) terrain near peaks and ridge crests, but will be isolated as well.
Check out recent observations (January 28, January 29, February 1, February 2) for further information.
Extensive backcountry travel and observations from Saturday and Sunday evidenced low avalanche danger, excellent stability, continued surface faceting, and surface hoar growth in sheltered areas.  The surface hoar seems, for the most part, relegated to wind-protected lower slopes and valley floors – especially near drainages (where formation is the largest around open water).
The warm-up, meltdown conditions that ended almost a week ago have left the surface refrozen into a stout crust in most areas.  Otherwise, the warm weather decreased the temperature gradient which had a stabilizing effect on the snowpack.  With the return to more normal January temperatures and a hard re-freeze, the snowpack has stabilized significantly.
Concerns: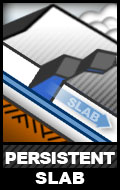 Click here to learn more about this type of problem and how to manage it
The problem consists of old, buried melt-freeze/rain crusts with faceted layers above and below.  Stability tests and skiing experience suggests the problem is getting harder and harder to trigger and has lost a significant amount of energy.  The problem is most suspect in upper elevation (above ~3500′) terrain and in the Eagle River area.  Between ~3000-3500′, the problem (mostly observed in the Eagle River area) consists of a stout, thick melt-freeze crust/slab on top of previously moistened facets to the ground.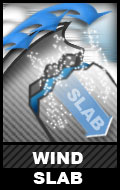 Click here to learn more about this type of problem and how to manage it
Expect this problem to be small, thin, isolated, and only an issue in upper elevation (above ~4000′) terrain near peaks and ridge crests.
Mountain Weather:
Mostly sunny to partly cloudy skies with generally light winds and a temperature inversion putting alpine temperatures in the 20s is expected to be the scenario through Tuesday.
High pressure has established itself over the area, accompanied by mostly clear skies and temperatures at or slightly above normal for January, and is expected to remain in place until at least the middle of the week.
The short term weather is expected to have little effect on the snowpack and avalanche danger.  Avalanche danger and concerns shouldn't change, and will be on the decline, until the next noteworthy weather event which now seems like it may be on Friday, February 7.
The NWS is suggesting that the system with potential to affect us on Friday may be a wind-specific or short-lived snow/wind event with the capacity to drop a few quick inches.  With little loose snow and a snowpack capped by a stout crust, wind alone isn't expected to do much further damage or raise the avalanche danger considerably.  However, new snow, especially if accompanied by wind, will be a concern due to the icy, crusty surface that has undergone extensive faceting (slick bed surface with weak grains on top).
Stay tuned as a better picture of future weather develops, that will hopefully include some SNOW for the Western Chugach on Friday…
Shout out to Anchorage Avalanche Center sponsors:
Anchorage Avalanche Center sponsors help make this organized avalanche information program for the Westernmost Chugach, Alaska's most readily accessible avalanche terrain and Anchorage's backyard mountain playground, possible.
They can also help you make the most out of what you may currently be perceiving as the worst conditions.
Voile skis are lightweight, extremely durable, reasonably priced, made in the USA, and will help you make the most fun out of any snow conditions.  The stiff, solid, and rockered Vectors are handling the slide-for-life just fine and are helping me to maintain sanity.
CAMP's line of ultra light ski-mountaineering equipment (like crampons and axes) makes navigating current conditions possible, safer, and pleasant as can be.  The CAMP XLC390 crampon has been essential lately.
I haven't been going out lately without my Black Diamond Whippet either; a highly recommended tool for conditions like this and general ski-mountaineering.  BD has also stepped up its apparel game considerably now offering a range of high performance, technical clothing.
If you're looking to buy local, checkout Ski AK in Spenard.  The ski techs there do GREAT work that I'm happier with than anywhere else in town.  The shop has a cool vibe and spectrum of excellent gear.