Saturday:
Issued 2/8/14 @ 7am (expires in 24hrs)

Click here to see the complete danger scale
With a bit of new snow trickling in since Thursday evening and strong winds Friday, the avalanche danger has increased to moderate for Saturday, February 8, 2014.
Concerns: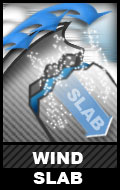 Click here to learn more about this type of problem and how to manage it
The primary concern will be small, but possibly quite reactive (due to poor bonding with old, icy/crusty surface), wind slabs in the mid to upper elevations (above ~3000′). This problem will be the most pronounced on leeward aspects near ridges and peaks as well as cross-loaded gully sidewalls and other deposition/catchment areas.
Wind direction has been quite variable across the Front Range and Eagle River area Chugach Mountains.  Considering this and the influence of terrain on wind, wind slabs are possible on multiple aspects.  Be on the lookout for signs and clues as to their distribution (shooting cracks, whumphing, hollow sounding snow, etc.).
Keep in mind that even a small wind slab only capable of causing a fall that normally might not be a problem, could lead to a slide-for-life on the solid, somewhat icy hardpack that is at the surface or thinly veiled by the new snow.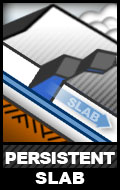 Click here to learn more about this type of problem and how to manage it
The meager deposit of new snow, even with wind-loading, isn't expected to significantly stress the persistent slab problem.  Our thin snowpack with poor structure has little energy and is generally capped by a strong, solid crust.  The aforementioned factors make the persistent slab problem a peripheral concern, but not one to write off completely.  Expect it to be, as it has been for quite awhile, more of a problem/concern in the Eagle River area on slopes with more consistent coverage above ~3000′.
Mountain Weather:
Partly sunny with a slight chance of snow showers near the mountains in the morning.  Generally light northerly winds are forecast, although they are currently light and southeasterly.  Temps are expected to be in the upper teens to mid 20s.