Avalanche Outlook for Wednesday & Thursday
Issued Tuesday, December 31, 2013 at 9:00pm (information provided below expires in 24 hours):
The lowdown:
Based on the current weather forecast, avalanche danger for the first two days of 2014 is expected to be on the more dangerous end of moderate, leaning towards considerable, for the Front Range and Eagle River area Chugach.
Avalanche danger to the southeast of Anchorage (eastern Turnagain Arm and Turnagain Pass areas) will be much higher.  Check out the CNFAIC's advisory for the details there.
Click here to see the complete danger scale
Primary concerns: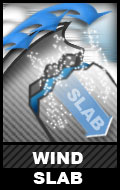 Click here to learn more about wind slabs and management of this type of danger
The wind slab problem will be the most pronounced and suspect on west to north aspects and cross-loaded terrain. While there is not much loose snow available for transport in the upper elevations as of Tuesday night (due to having already been relocated and packed into stout windboard by prior high winds), expect reactive new wind slabs to form from whatever loose snow remains and whatever new snow we may receive through Thursday.
In general, newly formed wind slabs are not expected to be large, but anomalies are always possible. Under certain circumstances, such as in continuously steep terrain, even small slabs can gain mass and momentum becoming increasingly large and dangerous as they descend. Small wind slabs also have the potential to "step down" as they descend and trigger deeper and more dangerous instabilities within the snowpack, such as the persistent slab problem discussed below.
Keep an eye out for obvious clues to wind slab instabilities such as shooting cracks, whumphing (collapsing), denser and more consolidated snow, and snow that looks "fat" or sounds hollow (dense and consolidated snow on top of looser, weaker snow).

Click here to learn more about persistent slabs and management of this type of danger
Persistent slabs are relatively elusive and will be more difficult to detect and assess than younger wind slabs which will fail closer to the surface. If existing persistent slabs receive additional stress through Thursday from wind loading and new snow, they will be more susceptible to human triggering as they creep towards the brink of failure.
Old melt-freeze crusts (primarily worried about the most recent one formed in early December from drizzle and above freezing alpine temperatures), in some places shallowly buried and in other places deeply buried, have layers of faceted snow on top of them (faceting more rapidly with looser and larger grains directly above the crusts) with layers of consolidated slab above. This provides a textbook example of the bed surface (melt-freeze crust), weak layer (heavily faceted grains directly above the crust bed surface), and slab (consolidated layer above the faceted weak layer) recipe for avalanches.
While the Front Range and Eagle River area snowpack is extremely variable, especially this early in the season, this snowpack setup or similar variations of it are fairly widespread. While the larger avalanches that could result from this setup are less susceptible to human triggering than smaller wind slabs, this setup has the potential to create the most inherently dangerous avalanches.
As always, if you are in avalanche terrain with consequences assess the situation for yourself! Click here for a list of educational opportunities to learn how.
Mountain weather:
The brunt of the current system affecting Southcentral Alaska is likely to stay well to the east of Anchorage. It is unlikely the city will receive much snow accumulation. However, the upper elevations, especially of northwestern Turnagain Arm and the southern Front Range, will likely see at least a few inches. Despite not receiving much precipitation compared to the Eastern Kenai Peninsula and Prince William Sound (rain along the coast but potentially a lot of new snow in areas such as Turnagain Pass and Thompson Pass), the Front Range and Eagle River area Chugach will receive its fair share of wind (perhaps unfair considering the winds won't be accompanied by much snow).
The bulk of water vapor is to the east of the Anchorage area where it will likely remain: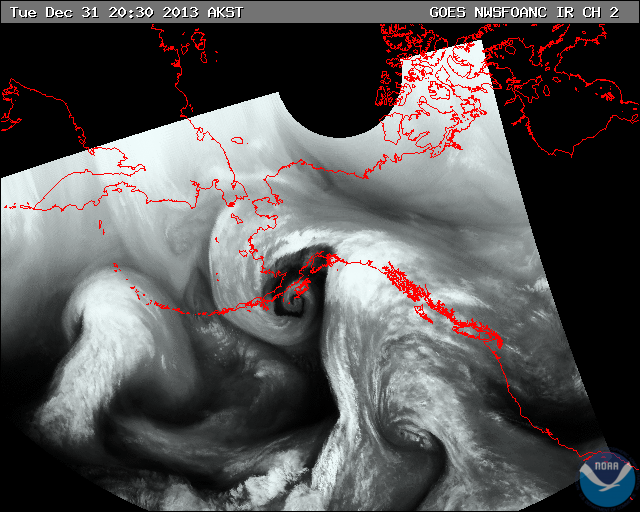 Wednesday: Cloudy with numerous snow showers (modest accumulation), temperatures in the upper twenties, and moderate southeast winds.
Thursday: Cloudy with decreasing snow showers (minimal accumulation), temperatures (in the teens to lower twenties), and winds (becoming light).
Please contribute your observations and share them with the AAC if you get out in Chugach State Park!
Happy New Year – here's to 2014 being the best yet!