Weekend Avalanche Outlook
Chugach State Park avalanche danger will increase Friday night into Saturday due to wind and new snow.  Danger is anticipated to peak early Saturday.
Saturday:
Expect potentially dangerous avalanche conditions in some areas.  Cautious route-finding, conservative decision-making, and careful snowpack evaluation will be essential for traveling safely in and around avalanche terrain.  In specific areas, natural avalanches are possible and human triggered avalanches are likely.
Sunday:
Danger is expected to decrease from Saturday, but heightened avalanche conditions will remain.  Evaluate snow and terrain carefully, in order to identify potential problem areas.
Avalanche Problems: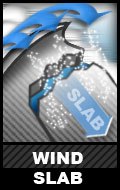 A few to several inches of new snow are expected Friday night into Saturday.  Initially, the new snow is expected to be accompanied by moderate SE winds.  Wind loading is expected to make leeward (primarily west to north aspects) and cross loaded (gully sidewalls) upper elevation terrain (above 2500′) the most sensitive.  D1-D2 human triggered wind slabs are likely Saturday in specific areas: heavily wind loaded leeward terrain steeper than ~35*.  Problems areas will feature deeper snow with stiffer snow at the surface, often with shooting cracks and/or a hollow feel.  However, these stiffer wind slabs may be hidden by less wind-affected and looser snow that falls after winds become light.  The problem will still exist Sunday, but slabs are expected to be less touchy.  Pole probing and hand pits are quick and easy ways to suss this problem as you travel.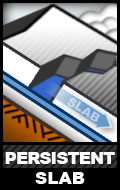 D1-D2.5 persistent slabs are possible in isolated upper elevation areas steeper than 35*.  Several known natural and human triggered wind slab avalanches occurred in Chugach State Park earlier this week.  Some of these were from wind loading of upper elevation leeward terrain during the Saturday-Monday snow event.  There was also modest wind event Wednesday that, due to all the loose snow available for transport, resulted in a significant increase in natural and human triggered avalanche activity.  These older slabs will now be covered by up to several inches of new snow.  They may still prove to be reactive in specific areas: steep terrain features where they overlie persistent weak layers, especially near "sweet spots" like rocks and rollovers.  It will take more careful snowpack evaluation, like snowpits with stability tests and layer analysis, to understand this problem.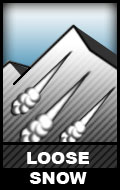 Generally small (D1) loose snow avalanches are possible on wind-sheltered terrain steeper than 35*.  While these are expected to be small and not inherently dangerous, keep terrain traps and exposure in mind.  While these small sluffs won't bury you, they could make you fall or lose control.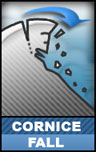 Cornices are still generally small, and aren't expected to be too problematic this weekend.  However, give theme a wide berth and don't approach a potentially corniced ridge to look down slope.  Cornice falls pose an inherent hazard, as well as their ability to trigger an avalanche when they fall on a slope.  Earlier this week, natural and human triggered avalanches were observed to have occurred on the leeward side of corniced ridges.
__________
Many avalanche accidents that have happened in Anchorage's backyard of Chugach State Park could have prevented by basic avalanche awareness.  If you don't have this level of awareness, here are some online resources to help you start the learning process.  There are also numerous options for getting a real avalanche education locally.  Many of these learning opportunities are even FREE.  Here's info on a free opportunity to learn about avalanche safety and rescue at Turnagain Pass tomorrow.
Chugach State Park has almost enough snow for reasonable alpine touring.  Keep in mind that hazards such as superficially covered rocks and vegetation exist.
*click problem icons and hyperlinked terms for further info