Avalanche Outlook for January 3-4, 2014
Issued 1/2/14 at 10:00pm (information provided below expires in 24hrs):
Friday & Saturday:

Click here to see the complete danger scale
The lowdown:
Based on the current weather forecast, avalanche danger will increase minimally through Friday with a few inches of new snow and generally light southerly winds.  Avalanche danger will continue to increase through Saturday, but should still remain moderate, with increasing wind speeds redistributing several inches of loose snow available for transport.  Avalanche danger will increase beyond the aforementioned if we receive more than a few inches of new snow on Friday and/or wind speeds pick up sooner than expected (before Saturday).
Primary Concerns: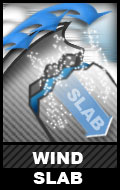 Click here to learn more about wind slabs and management of this type of danger
Expect the wind slab problem to be the most pronounced and suspect on West to North aspects and cross-loaded terrain.  Snowpit stability test results showed repeated failures at a density change within recently fallen snow (from earlier in the week) about 8″ deep.  Expect such failures at density changes within recently fallen snow to be widespread, but of varying depth, in wind loaded and deposition areas.
New snow Friday, forecast to fall without much wind, will hide existing wind slabs and possibly create relatively thin and soft new wind slabs in the upper elevations.  Increasing wind speeds Saturday will form fresh wind slabs from several inches of loose snow available for transport.

Click here to learn more about persistent slabs and management of this type of danger
Persistent slabs are relatively elusive and will be more difficult to detect and assess than younger wind slabs which will fail closer to the surface. If existing persistent slabs receive additional stress through Saturday from wind loading and new snow, they will be more susceptible to human triggering.
Old melt-freeze crusts (primarily worried about the most recent one formed in early December from drizzle and above freezing alpine temperatures), in some places shallowly buried and in other places deeply buried, have layers of faceted snow on top of them (faceting more rapidly with looser and larger grains directly above the crusts) with layers of consolidated slab above. This provides a textbook example of the bed surface (melt-freeze crust), weak layer (heavily faceted grains directly above the crust bed surface), and slab (consolidated layer above the faceted weak layer) recipe for avalanches.
While the Front Range and Eagle River area snowpack is extremely variable, especially this early in the season, this snowpack setup or similar variations of it are fairly widespread. While the larger avalanches that could result from this setup are less susceptible to human triggering than smaller wind slabs, this setup has the potential to create the most inherently dangerous avalanches.
Be on the lookout for red flags of instabilities: recent avalanches, whumphing (collapsing), shooting cracks, hollow sounding snow (denser snow on top of less consolidated snow), and specifically for the wind slab problem: snow that looks fat, pillowy, or loaded.
As always, if you are in avalanche terrain assess the snowpack and consequences for yourself.  Click here for a list of local educational opportunities through which you can learn how.
Here's a couple online tutorials:
Online Avalanche Course provided by the Canadian Avalanche Centre
Avalanche Awareness provided by the Forest Service National Avalanche Center
Mountain weather:
Friday: Snow (several inches expected through Friday night).  Light southerly winds with temperatures in the 20s.
Saturday: Partly sunny with increasing clouds and a slight chance of snow later in the day.  Moderate southeast winds with temperatures in the 20s.