Advisory and forecast based on observational knowledge and weather forecast available at the time of posting.  Accuracy is subject to temporal and spatial variability.  Read the disclaimer, use at your own risk, and conduct your own assessment of conditions accordingly.
Thursday, March 14:

Friday, March 15:

Saturday, March 16: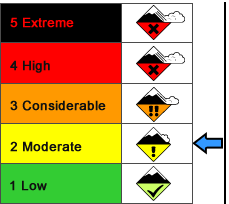 Danger Trend:
The danger level is currently MODERATE, for relatively small windslab and wet-loose avalanches, and will likely remain so through Saturday.  A peak in windslab sensitivity and reactivity will likely occur Thursday afternoon through mid-day Friday.  Peaks in wet-loose activity will occur during the mid-day on slopes directly exposed to the sun.
Primary Concern: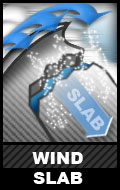 Small wind slab avalanches are possible on all aspects where dry snow exists.  As of Wednesday evening these were relatively small, not overly sensitive to a skier, and short-running even in steeper terrain.  Sensitivity and reactivity will likely increase Thursday afternoon as wind speeds increase enough to redistribute snow, further load existing slabs, and build new slabs.  This problem will likely persist through Friday then begin to subside if wind speeds slow and remain light as currently forecast.
Secondary Concern: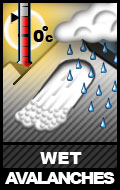 We've reached that time of the season when wet avalanches will be likely during the mid-day hours on aspects directly exposed to the sun.  These will likely remain relatively small through the forecast period, but be increasingly wary if the sun becomes intense, temperatures warm significantly, and/or winds are calm enough so as to not have a cooling effect on the slopes.
Travel Advice:
Pay attention to the winds' affect on the snow.  Try to identify where snow has been transported to and from.  Windward areas, in addition to having a thinner snowpack, will show a wind affect in the form of striations, small sastrugi, and denser, more impenetrable snow.  Leeward and loaded areas will have a deeper snowpack, look pillowy, and possibly have a harder wind slab/crust on top of a looser, less consolidated layer below (hollow snow).  Avoid leeward and loaded areas, especially in steeper terrain.  This hazard will likely increase through Thursday and start to subside Friday afternoon, continuing to be less of an issue through the forecast period if winds begin to lighten early Friday morning as currently forecast.
Pay attention to the sun's affect on the snow.  During the mid-day hours and into the evening, be wary of slopes exposed to the sun that show signs of warming and melting.  Point releases will be likely from rocky areas.  Wet loose avalanches, and possibly wet slab avalanches, will be likely in thinner, rockier areas of slopes getting direct sun.  As the sun and warmth becomes increasingly noticeable on your face and skin, the hazard of wet avalanches on the slopes will increase.  Avoid such steep terrain and the runout zones, during these times.
Mountain Weather:
Expect mostly cloudy skies,  mountain temperatures in the mid-upper teens, and increasing wind speeds to 35mph Thursday.
Expect partly sunny skies, mountain temperatures in the mid-upper teens, and decreasing wind speeds that should settle into the 5-20mph range Friday.
Expect increasing clouds, slightly warmer temperatures, and continued light winds Saturday.