After an extended period of relatively calm and quiescent weather, the avalanche danger in Chugach State Park is again elevated.  Strong SE winds picked up Sunday and are forecast to stay strong, with gale force gusts, until Monday night.  Wind slabs are building on leeward aspects from old, loose snow from last week and the trickle of new snow that the mountains have received in the upper elevations since Sunday.  Persistent slabs still lurk.
Avalanche Problems: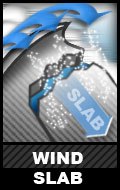 Click here to learn more about wind slab avalanches
It will be possible to trigger stubborn to touchy wind slabs in the mid to upper elevations (above ~2750′) up to D1.5 in size on steep terrain (>35 degrees) in specific areas: primarily leeward NW aspects and cross-loaded terrain like gully sidewalls.
Watch for signs of unstable snow such as recent avalanches; areas that have a fat, heavily loaded, or pillowy appearance; hollow sounding-feeling snow that indicates a denser wind slab on top of looser, weaker snow; shooting cracks; and collapsing or whumphing.
Strong winds and low visibility in the mountains on Monday will likely make travel miserable, but the weather is forecast to be much more pleasant Tuesday.  Keep you guard up as these wind slabs may still be reactive.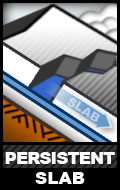 Click here to learn more about persistent slab avalanches
Persistent slabs remain a lower probability, but higher consequence avalanche problem in Chugach State Park.  It remains unlikely, but possible, to trigger a stubborn persistent slab up to D2.5 in size in isolated areas: primarily steep (>40 degrees), upper elevation (above ~3500′) terrain on any aspect where the snowpack is deep and continuous enough for a large slab to exist on top of a buried persistent weak layer (facets on a rain or melt-freeze crust).
Approaching such areas with caution and skepticism about their stability will be prudent.  It will be necessary to dig a snowpit, analyze the stratigraphy (layers), and conduct stability tests to better understand this relatively elusive problem.  The common red flags and obvious signs of instability will be unreliable to nonexistent indicators of this sort of avalanche problem.