Avalanche Danger Update
Issued Sunday, March 18, 2018 at 9pm:
Avalanche danger in Chugach State Park will increase Sunday night into Monday due to new snow and wind.  Avalanche danger may increase further Monday afternoon into Tuesday, as skies clear and winds shift to the north and increase (ushering in a high pressure system of clearer and colder weather behind the departing low pressure storm system) adding further stress to the snowpack from wind loading.
Considerable avalanche danger is expected into Tuesday, with more dangerous conditions north of Ship Creek to the Knik River.

Avalanche problems: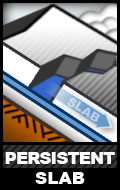 Widespread persistent slabs up to D3 in size may possibly be naturally triggered by new snow and wind, and are likely to be human triggered, above 2500′ on all aspects.  This problem is much more pronounced north of the Front Range (north of Ship Creek) due to a generally thinner, weaker, and more energetic snowpack with pervasive depth hoar near the ground.  The South Fork Eagle River area snowpack has proven itself especially problematic with numerous recent natural and human triggered avalanches.  A full burial occurred in the vicinity of Harp Mountain Friday, and Thursday a human remote triggered a large avalanche from flat terrain near a summer trail (more info here).  These persistent slabs are releasing from terrain steeper than 35 degrees, but may be triggered from flat terrain several hundred yards away.  Give steep slopes a wide berth – especially if you're getting red flags like whumphing/collapsing or see recent avalanches.  Be mindful of terrain traps!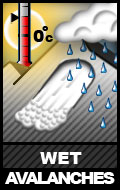 Wet avalanches up to D3 in size will be likely this week on solar aspects above 2500′ on terrain steeper than 35* as skies clear and the sun shines, especially through the first few days of sunshine (Mon-Wed).  Wet avalanche danger will first affect easterly slopes with natural point releases and wet loose avalanches likely, and wet slabs possible.  Wet avalanche danger will increase through the rest of the day on south aspects, which will receive the brunt of solar radiation; natural and human triggered slab and loose activity is likely.  Later in the day, westerly aspects will become more dangerous with natural and human triggered slab and loose avalanches likely.
As opposed to dry snow avalanches, which result from stress from an increased load, wet avalanches result from decreasing strength and lubrication.  Small point releases and wet loose avalanches are red flags of increasing wet snow avalanche danger.  As the snow becomes "gloppy," less supportable, and more saturated; danger increases.
Again, this problem is expected to be more dangerous north of Ship Creek.  However, keep in mind that Turnagain Arm trails like Falls Creek are exposed to solar aspect avalanche paths that have the potential to release naturally later in the day and send debris into lower elevation and even flat terrain.
Again, be mindful of terrain traps!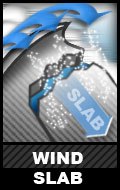 Natural wind slab avalanches will be possible and human triggered wind slabs likely, on multiple leeward aspects above 2500′ on terrain steeper than 35*.  Wind slabs may be up to D2 in size and especially susceptible to trigger in the upper elevations on leeward terrain features near peaks, along ridges, and in cross-loaded gullies .  Southerly winds capable of building fresh wind slabs on leeward terrain are forecast into Monday with the new snow.  Then, as skies clear, northerly winds will increase allowing for further wind slab development on leeward terrain.
Shooting cracks and recent wind slab avalanches are the primary red flags in regard to this problem.  Again: terrain traps – be mindful of the consequences of even a small avalanche causing a loss of control on dangerous terrain, and the potential for dangerous terrain features to channel debris into a deeper pile.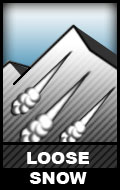 Dry loose snow avalanches, or sluffs, will be possible to be human triggered above 3000′ on steep (40+ degree) and wind-sheltered terrain.  Areas where such sheltered loose snow exists is expected to be limited due to the southerly, then northerly, wind.  However, it will be important to keep the consequences of even a small loose snow avalanche in mind if recreating on steep terrain.  Even a small sluff could cause a loss of control that could prove dangerous if on steep and/or exposed terrain.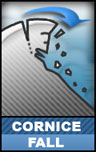 Now that it's spring and most of Chugach State Park finally has a snowpack, cornices have developed in many areas.  They will have grown from recent snow and wind and, especially combined with sun on solar aspects, may be more susceptible to falling naturally or from the weight of a human trigger.  The cornice fall problem is twofold: if you fall with a cornice there's inherent danger from the fall, but the fall could also act as a powerful trigger that initiates an avalanche.
Give large cornices a wide berth; they can break back farther than expected – even farther back than from where they're overhung.  Don't approached a potentially corniced ridgeline to look down slope; spot a location where the slope is not overhung by a cornice and look downhill from there.
Mountain Weather:
Late Sunday into Monday a few inches of snow and southerly wind are expected with temperatures starting out relatively warm and then cooling (hopefully making for right-side-up new snow).  Later Monday into Tuesday wind becomes northerly and increases, skies clear, and temperatures decrease.  Sunny, clear, and relatively cooler temperatures are expected until the weekend.  Northerly winds are expected to decrease later Tuesday.
*Click the hyperlinks for more info in regard to snow and avalanche terminology