Advisory and forecast based on observational knowledge and weather forecast available at the time of posting.  Accuracy is subject to temporal and spatial variability.  Read the disclaimer, use at your own risk, and conduct your own assessment of conditions accordingly.
Monday:

What you need to know:
The snowpack as of Sunday afternoon was somewhat touchy and a bit unsettling (see the observation from Arctic Valley – Gordon Lyon).  I'm suggesting a solid hazard rating of considerable for Monday, with a possibly increasing trend towards high in some areas later in the day if the upper snowfall amounts forecast are reached.  This is because existing new snow in addition to forecast new snow, will be sitting atop an extremely weakened and faceted base from our extended cold and clear period last week.  This extremely weakened base was also loaded by strong winds late last week before the newer snow began arriving (in very small increments) Friday.
Danger trend:
Increasing through Monday.
Primary Concern: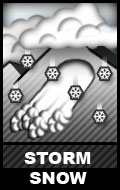 With a significant amount of new snow possible through Monday, on top of several inches of existing new snow from Sunday, expect tender soft slab instabilities.  Winds are forecast to remain light and shouldn't exacerbate the problem.
Secondary Concern: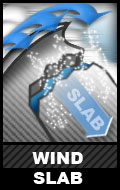 Pockets of soft, shallow wind slabs were found in the new snow from Friday-Sunday on Sunday afternoon.  More concerning, wind slabs formed when winds picked up late last week are becoming increasingly hidden, underlie the new snow, and were not yet well bonded to the faceted base that formed during our extended period of cold, clear weather by Sunday afternoon.  These deeper wind slabs will become increasingly sensitive and reactive while being loaded with new snow through Monday.
Travel Advice:
Visibility will likely be poor until Tuesday.  Considering the heightened avalanche danger from new snow falling, more or less steadily, until then it will be prudent to travel very conservatively in avalanche terrain.
Mountain Weather:
Snowfall amounts of late have proved to be difficult to forecast accurately.  However, there's the possibility of 18+" of new snow in the hills by the end of Monday.
Expect mountain temperatures in the teens and light winds.
Avalanche Outlook:
Tuesday, March 26

Human triggered avalanches will still be very likely, although stability should be on a steadily improving trend.  Expect very tender areas to remain throughout the day.  Conservative decision-making and cautious route finding are highly encouraged.  If the sun comes out in full force and starts blasting our newly blanketed slopes, even more caution is advised.
Wednesday, March 27

The likelihood of human triggered avalanches should be on the decline, but still quite possible.