The avalanche danger in Chugach State Park remains elevated due to strong winds having transported over a foot of new snow (since Thursday night) in the mid to upper elevations into dense wind slabs, and this wind loading having added stress to existing persistent slabs.
Avalanche Problems: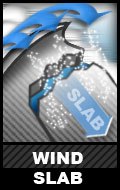 Click here to learn more about wind slab avalanches
It will be possible to trigger widespread stubborn to touchy D1 to D2 wind slabs above 3000′ on terrain steeper than 35 degrees.  Dense wind slabs exist on leeward slopes and cross-loaded terrain features like gully sidewalls.  Natural and human triggered storm and wind slabs have released on multiple aspects since early Saturday.  See the South Fork map below for avalanches observed Saturday.  More, natural and human triggered, avalanches have been reported in the area since.
The strong winds that built these slabs initially came from the SE, then the SW, and most recently the NW.  Be mindful of areas with denser, hollow feeling snow and that have a fat, loaded, or pillowy appearance.  Watch for shooting cracks.  Whumphing and collapsing are other red flags of danger.  Pole probing and quick handpits will help you assess the problem on the move.  A quick snowpit with an Extended Column Test will help give you an idea of sensitivity and propagation propensity.
These relatively hard wind slabs will be especially dangerous as they may allow a traveler to enter well onto the slab before they release, propagate widely, and release above the trigger making escape difficult.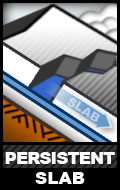 Click here to learn more about persistent slab avalanches
Stubborn persistent slabs up to D2.5 remain an unlikely (but possible) problem in isolated areas above 3000′ on terrain steeper than 35 degrees.  This is a very low probability, but high consequence scenario.  Multiple persistent weak layers (crust-facet combos) exist in areas with a deeper snowpack, are still exhibiting some reactivity, and have been stressed from new snow and wind loading since Thursday evening.
These persistent slabs are relatively elusive but steep, upper elevation terrain with smooth slopes and a deeper snowpack where a larger, continuous slab could exist are suspect.  Obvious red flags will be less of an indicator of the persistent slab problem.
These slabs will also be difficult to manage as they are likely to release from above the trigger, making escape difficult, and could propagate widely.
Natural storm and wind slabs, and two skier triggered avalanches in the gully east of North Bowl (Point 3965), observed in cross-loaded gullies in the South Fork Eagle River valley on Saturday (yellow diamonds mark general location of avalanches):