Advisory expires in 24 hours.  It is only for the day on which it is issued and is based on observational knowledge and weather forecast available at time of posting.  Read the disclaimer, consider spatial and temporal variability, and conduct your own assessment of conditions accordingly.

Saturday

What you need to know:
Most areas in the Front Range and Eagle River area Chugach seem to have only picked up a trace to a few inches of new snow, but recent strong winds have likely played more of a role in creating instabilities which you will need to further assess on your own.
Early season issues need to be taken into consideration.  First, the snowpack is still very thin and was weakened by the clear and cold weather prior to this most recent storm.  Thin snow cover is limiting backcountry travel and, by extension, comprehensive assessment of conditions.  Recent observations have indicated the potential for dangerous instabilities in upper elevation areas with a deeper snowpack.  The snowpack has weakened since and we should err on the side of caution.  Second, even a small avalanche that couldn't bury you but only knock you over may have more serious consequences than later in the season due to current lack of snow coverage (risk of getting dragged through rocks).
Below treeline there still isn't much snow in most areas.  However, considering the inherent risks of skiing or riding with such a lack of coverage, even a small mishap could make for a painful injury to yourself or your gear.
Primary Concerns:
Strong winds since Thursday, predominantly from the south and east, have likely exacerbated instabilities affecting leeward and cross-loaded terrain.  Wind slab instabilities may be found in both the new and old snow.  Look for areas of deeper and/or more dense snow which may indicate a wind slab.
Additionally, there has been significant temperature fluctuations and, as a result, changes in precipitation type (freezing rain, wet snow, dry snow).  This has likely contributed to storm snow instabilities where enough has accumulated.
For more information on and a description of wind slab and storm snow avalanche problems, click the icons above.
Peripheral Concerns: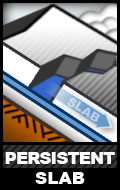 Recent observations have suggested the potential for dangerous instabilities affecting deeper, older snow layers in the upper elevations.  Where the snowpack is deep enough and the slope steep enough, these instabilities will demand caution and further assessment.
Click on the above icon for more information on and a description of persistent slab avalanche problems.
Mountain Weather:
Increasing clouds with scattered snow showers by this afternoon.  Light snow likely this evening. Moderate to strong wind, predominantly from the SE.  Temperatures in the teens to lower twenties.
Travel Advice:
Take it easy out there.  It's the early season, hazards are numerous due to the thin snowpack, and it's not worth getting hurt now and not being able to enjoy what's to come later this season.