Advisory and forecast based on observational knowledge and weather forecast available at the time of posting.  Accuracy is subject to temporal and spatial variability.  Read the disclaimer and conduct your own assessment of conditions accordingly.  Accuracy expiration is less than 24 hours from posting.

Friday:

What you need to know:
Winds, predominantly from the southeast, have picked up considerably since Wednesday afternoon vastly redistributing the big deposit of light, dry snow from Sunday-Monday that provided us with a window of blissful ski conditions in the Chugach Front and Eagle River.  Touchy, sensitive, widely propagating, and relatively long-running wind slabs were found Wednesday evening in an area exposed to the effects of the incoming and accelerating winds from the southeast (see that observation here).  The avalanche danger has likely increased considerably since then, as wind speed has increased significantly and is forecast to remain strong until Friday night.
Danger trend:
Steady through Friday.
Primary Concern: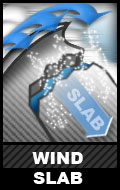 Predominant winds from southeast will load leeward slopes.  Pay attention to the channeling effects of surrounding terrain and look for wind slabs on various aspects, especially west to northwest.  Some characteristics of wind slabs are a rounded or "pillowy" look and hollow or "slabby" feel.  Cracking and collapsing ("whoomphing") are red flags that you're in the vicinity of or on a reactive wind slab.
Secondary Concern: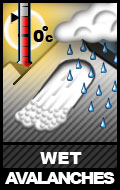 Temperatures are forecast to continue rising for the short term.  If the current weather forecast holds wet avalanches are unlikely, but the possibility of direct sun or new (wet) snow combined with warmer temperatures make them hard to rule out completely.
Travel Advice:
Most importantly, pay attention to wind loading patterns.  Cracking and collapsing (whoomphing) are red flags you're on or in the vicinity of a reactive wind slab.  Do you see sastrugi or wind-affected snow?  Have cornices or "wind-lip" features grown or formed?  These are clues as to which aspects have been wind loaded.
Mountain Weather:
Expect mostly cloudy skies, scattered snow showers that will be more likely along the southern Front Range (the Canyon Road and Glen Alps areas of the core advisory zone), strong winds from the southeast, and mountain temperatures in the mid 20s to low 30s.
Avalanche Outlook:
Saturday, March 30

Southeast winds are forecast to be on the decreasing trend and subside by Saturday afternoon.  Wind slab sensitivity and reactivity should be on the decline, but will still be a concern.
Sunday, March 31
Wind slabs will still likely be the primary concern, although remaining on the stabilizing trend.