Recent skier triggered avalanche in South Fork Eagle River area
Skier triggered avalanche reported in the South Fork area yesterday (Saturday, December 28, 2013).  Slide reported to have occurred on a NE aspect, while coming over a convexity, off North Bowl on the way back to the trailhead.  Presumably in the vicinity of "Solstice Run" – the main, long gully that faces Hiland Road and runs from near the top of Peak 1212 (North Bowl) down to the main South Fork trail.  It was reported to be HS-AS-R2-D2-G.  The flank is reported to have propagated uphill 100 yards to include much of the start zone.  However, further details were hampered by poor visibility.
This avalanche was, reportedly, large enough to "bury, injure, or kill a person" and the party also reported no obvious clues to instability prior to this incident.  If the avalanche was as large as reported, it indicates the persistent slab instability is still lingering and reactive.  At the least, if it was smaller, we can be sure of lingering wind slabs.
Since the party reported no obvious clues, be extra mindful of the terrain you travel through and pay close attention to the way the snow feels.  Stiff, dense, and deeper areas of snow, especially if they feel or sound hollow underneath (weak snow below), are suspect and should be approached with caution.  Looks for clues as to wind affect and loading.  Since the weak, early season snow pack is still quite suspect, be extra mindful of the consequences of an avalanche if it were to occur.  Do you have an escape plan, what's the runout like, are you around terrain traps, etc?
Avalanche Outlook for Saturday & Sunday
Issued Friday, December 27, 2013 at 10:00pm (information provided below expires in 24 hours):
The lowdown:
Based on the current weather forecast, avalanche danger for Saturday, December 28 will teeter between moderate and considerable with increased wind speeds and a bit of new snow.  Expect thin but reactive new wind slabs (primarily on west to north aspects and cross loaded terrain) and the potential for wind loading to make deeper persistent slabs more likely to be human triggered from the additional stress.
By Sunday, December 29 avalanche danger should decline back to moderate.  Wind slabs should be stabilizing and less reactive, but may remain on the brink of failure in some areas.  Persistent slab instabilities are relatively elusive and may still be reactive in some areas as well.
Click here to see the complete danger scale
Primary concerns: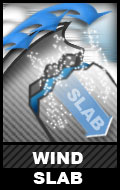 Click here to learn more about wind slabs and management of this type of danger
Expect fresh wind slabs to form Friday night through Saturday from the remaining loose snow available for transport and whatever new snow comes our way through Saturday morning.  Keep an eye out for obvious clues to wind slab instabilities such as whumphing (collapsing), shooting cracks, denser and more consolidated snow, and snow that looks fat, "pillowy" or sounds hollow (denser snow on top of less consolidated snow).

Click here to learn more about persistent slabs and management of this type of danger
Weak and loose faceted grains (weak layer) on top of old melt-freeze layers (bed surface) – in some places shallowly buried and in other places deeply buried – with cohesive layer (slab) above, is a widespread snowpack setup found throughout the Front Range and Eagle River area Chugach Mountains.  While larger avalanches that could result from this setup are much less likely to be triggered than fresh and smaller wind slabs, this setup has the potential to create the most inherently dangerous avalanches.  If you are in avalanche terrain with consequences, dig and assess the situation for yourself!
Mountain weather:
Saturday is forecast to be cloudy with light snow tapering off in the morning, moderate upper elevation winds, and temperatures in the upper teens to low twenties.
Clouds are forecast to be on the decrease Sunday, becoming partly cloudy with light winds and temps in the lower twenties.
Please contribute your observations and share them with the AAC if you get out in Chugach State Park!