South Fork Eagle River & Ship Creek Valley
Signs of instability:
Shooting cracks and whoomphing in obviously wind-affected (loaded) areas – much more pronounced than Sunday or Monday due to significant snow transport and loading from northerly winds Monday night into Tuesday
Weather:
Moderate northerly winds providing for some snow transport; significant snow transport overnight and into the morning especially in the upper elevations
Slight inversion with upper elevations temps in the high single digits; lower elevations temps decreasing to well below zero
Clear skies
Surface conditions:
Sastrugi with grabby windboard along ridges and in exposed locations that have experienced the most wind affect and loading
Consolidated, wind-buffed powder in deposition areas without overt exposure
Sheltered areas still harboring loose and unconsolidated champagne powder; significant settlement since yesterday but still largely loose and uncohesive
Surface hoar remains upright, intact, and has grown larger since yesterday in sheltered areas (3mm average); in relatively sheltered upper elevations areas larger surface hoar crystals have been knocked over (but not completely dismantled) – smaller, fresher growth remains upright and intact; surface hoar dispatched by wind in exposed areas
Snowpack discussion:
The increase in northerly winds has left its mark on the Front Range and Eagle River area snowpack but has, by no means, made riding conditions less appealing.  Actually, the wind-buffed powder in deposition areas is riding as pleasantly as the champagne powder that remains in sheltered areas, due to the wind-buffing providing a more consolidated layer on top of the old melt-freeze surface crust (i.e. wind-buffed areas still harbor nice, soft snow but aren't as scratchy).
Other good news from the increase in northerly winds is dismantling surface hoar in exposed areas and smoothing out and consolidating new snow that had already undergone significant faceting.
As mentioned, whoomphing and shooting cracks have become more pronounced in areas with noticeable wind-affect and loading like this (the entire area with sastrugi collapsed quite audibly):
Long running shooting cracks (as seen in the center of this photo with a close look) in wind affected/loaded areas like this: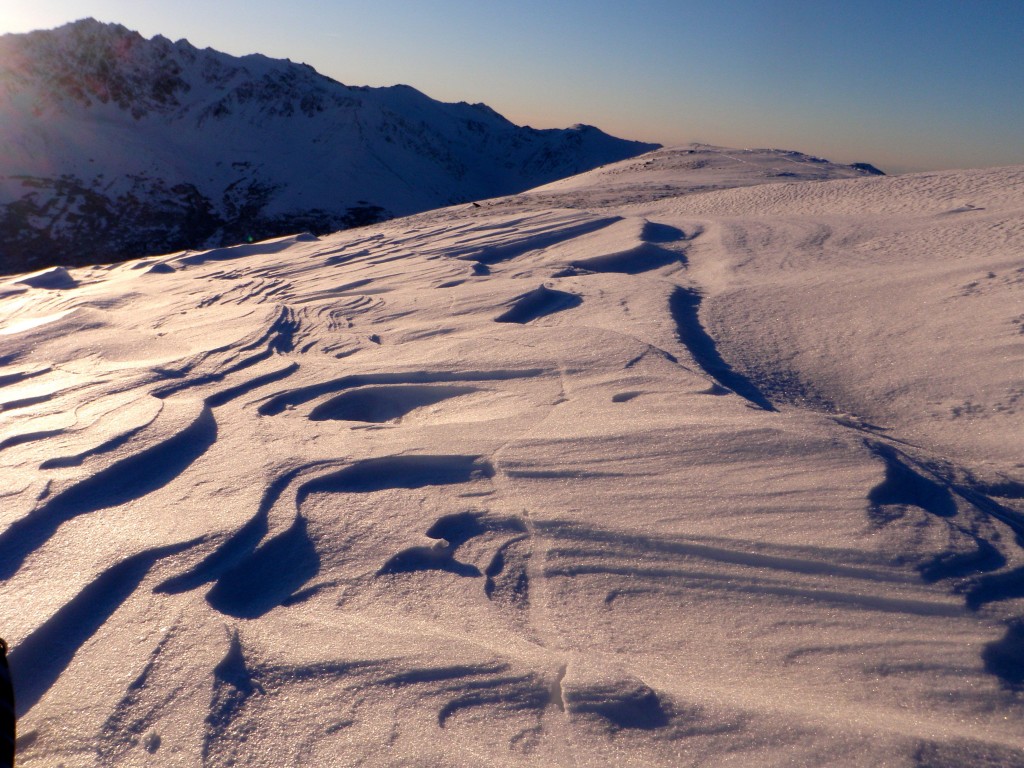 Pluming off Temptation peak:

Significant settling since yesterday in sheltered areas as evidenced by settlement cones: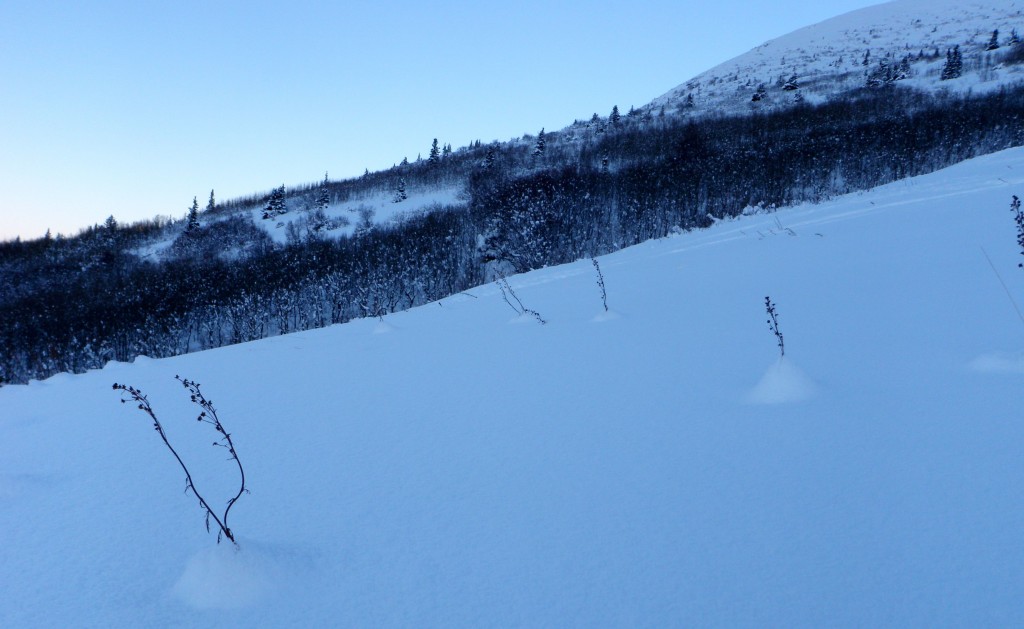 Nice early season coverage in the Ship Creek valley: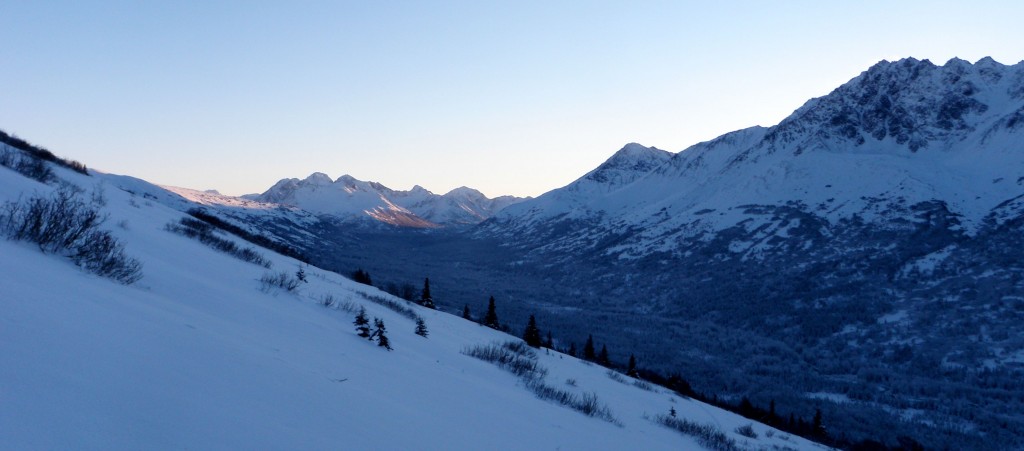 Midweek Avalanche Outlook
Issued Tuesday, December 17, 2013 at 8:00pm (information provided below expires in 24 hours):
Anticipated danger for Wednesday, December 18:

Click here to view the complete danger scale
Primary concern: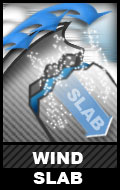 Northerly winds ramped up across the Front Range and Eagle River area Monday night through Tuesday, blowing strong enough in the upper elevations to provide for loading of the easily transportable new snow.  Wind slabs well over a foot deep, formed on leeward aspects and in other deposition areas, may remain sensitive and reactive into Wednesday.
While northerly winds have since decreased, winds are forecast to shift to the SE and intensify Wednesday afternoon and evening with the approaching storm system that should bring a few to several more inches of snow to Front Range and Eagle River area alpine by Thursday afternoon.
Expect avalanche danger to increase Wednesday afternoon with an increase in wind speed and directional shift (northerly to southerly).  A peak in danger is likely late Wednesday night or early Thursday with new snow and wind loading.
The storm forecast to impact us Wednesday night into Thursday will bring significantly more snowfall to areas of the Kenai Peninsula.  But despite the downslope effect reducing snowfall in the Front Range and Eagle River area Chugach, this system should be strong enough to provide for some overrunning and we should still pick up a few to several inches (especially in the upper elevations and in the southern Front Range and northern Turnagain Arm).
The aforementioned storm is looking promising, especially for CNFAIC terrain (the "956 L" in the lower left of the image is what we'll be keeping an eye on): If you're out and about in Chugach State Park please submit your observations to the Anchorage Avalanche Center; they're one of our most valuable resources!
We will update as soon as we're able to get out and assess conditions further.