Eagle River
Signs of Instability:
Remote human triggered soft slab southwest aspect
Numerous natural wind and soft slab avalanches on south to west aspects
Numerous whumpfs on all aspects in thin and wind loaded areas of snowpack
Numerous shooting cracks on all aspects in thin and wind loaded areas of snowpack
Weather:
Mostly sunny skies
Calm-light northerly wind
Mountain temperatures in the teens
Surface Conditions:
Dry, variably wind affected snow in the upper elevations (3000'+) on all aspects – soft powder in sheltered areas to breakable-supportable windboard in exposed areas
Variable sun crust in the lower elevations on E, S, and W aspects – thinner and less stout on E aspects and between 2000-3000′ on S and W aspects
Avalanche Concerns:
Increased northerly winds since Friday have greatly reduced powder skiing opportunities.  Soft powder can still be found in relatively protected areas but, in general, variably wind affected snow is now the rule.  The skiing on the widespread wind affected snow ranges from relatively pleasant to downright unpleasant.
Since northerly winds picked up and redistributed the easily transportable snow from the past two storms, avalanche activity has increased from Northern Turnagain Arm to Northern Eagle River – mainly on south to west aspects.  Inherently large and dangerous slides were observed in thin areas of the snowpack on west aspects that likely occurred late Friday.  Solar radiation seems like it may have played a role in exacerbating the avalanche problem on wind loaded westerly aspects in thinner areas of the snowpack.
This is the most inherently large and destructive avalanche observed since the O'Malley avalanche that occurred around the first of April.  Starting at ~4000′ and running ~1000′ this slab avalanche, likely triggered by wind loading and solar radiation late Friday in a relatively thin area of the snowpack, pulled out snow down to the ground and the debris ran up and over the gully terrain trap at the slope's base (SS-N-D3-R2):
This smaller slab avalanche starting at ~3500′ and running a few hundred feet, also likely triggered by wind loading and solar radiation late Friday, occurred to the looker's left (just north) of the previously pictured avalanche (SS-N-D1.5-R1):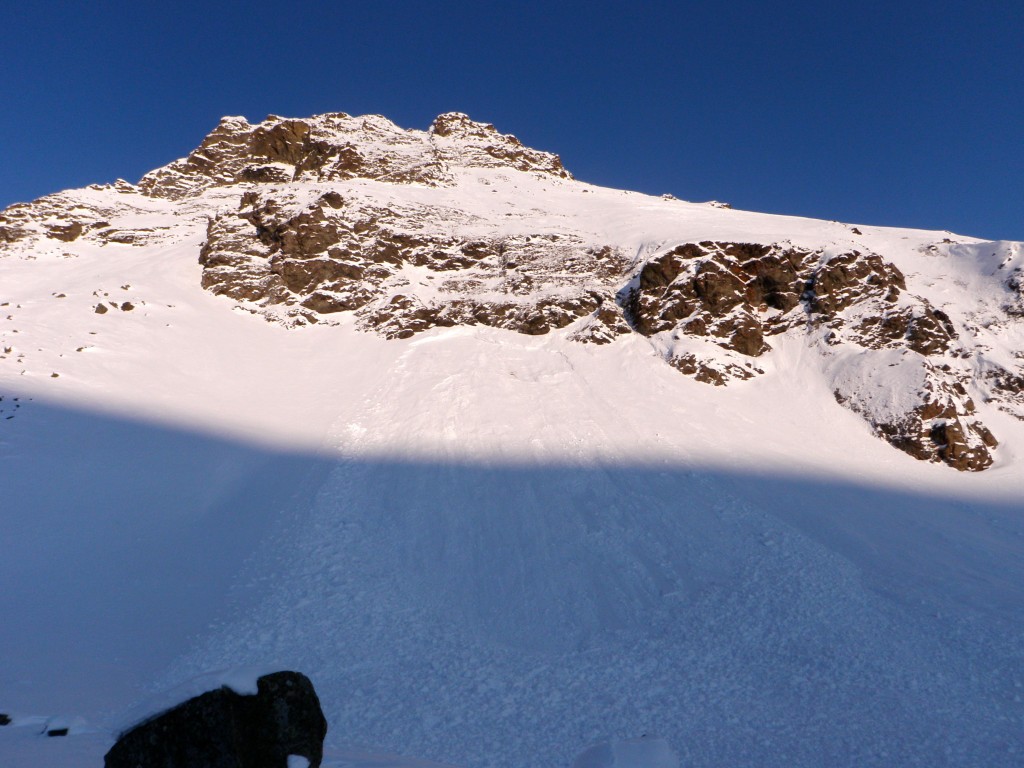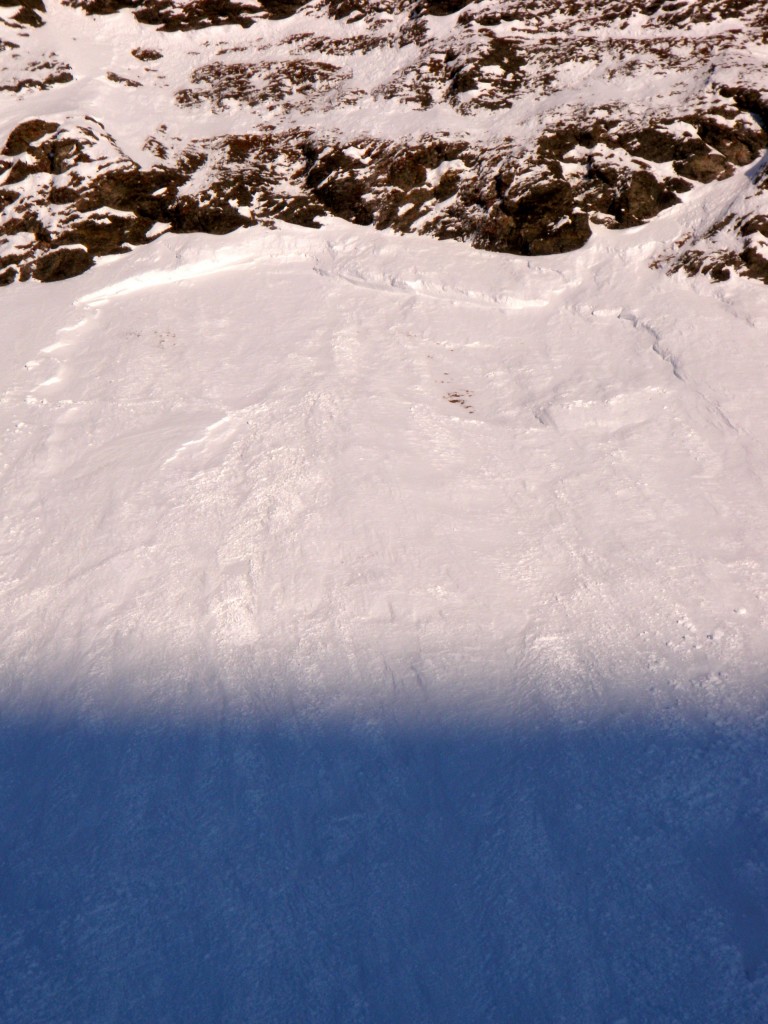 This soft slab avalanche was remotely triggered by a skier on a SW aspect at ~4000′ and ran ~400′.  The snow in this area was sheltered, soft powder but the snowpack was very thin and sensitive (SS-ASr-D1-R1):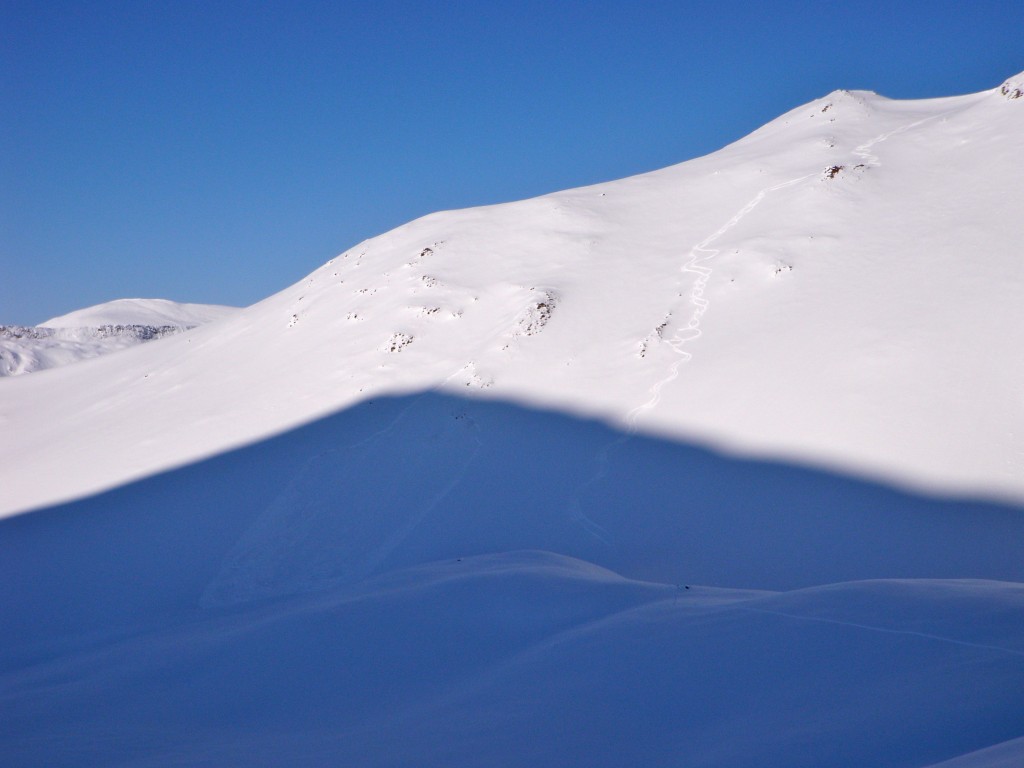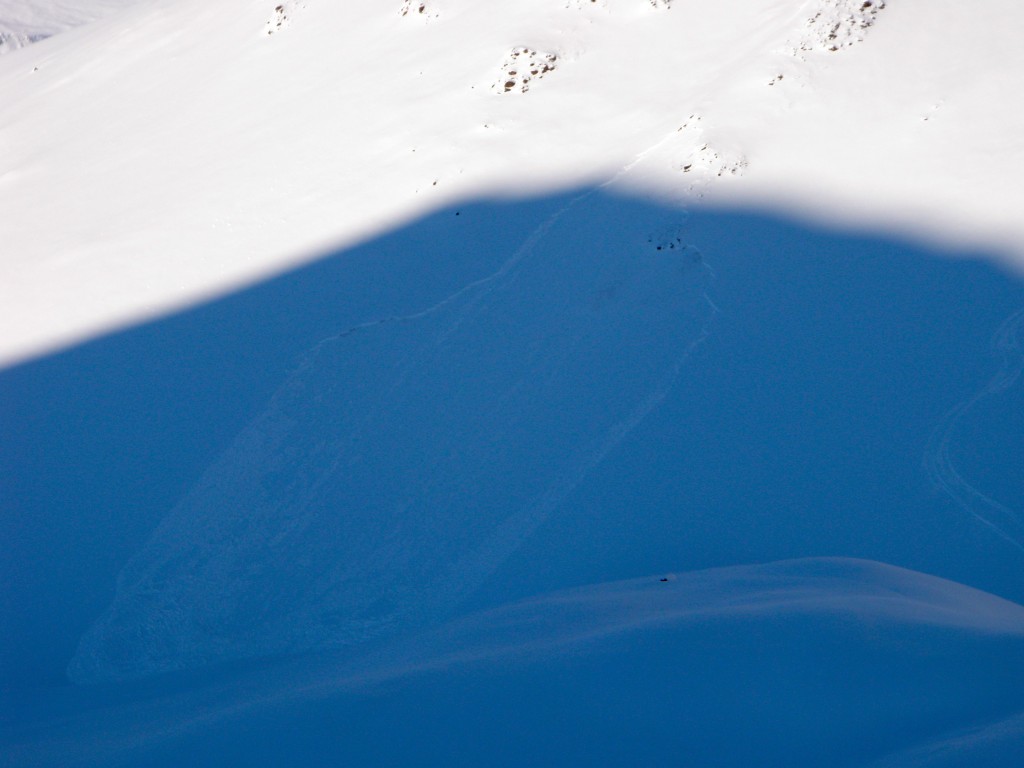 This wind slab avalanche occurred naturally, likely sometime late Friday, on a SW aspect at ~3800′ (SS-N-D1-R1):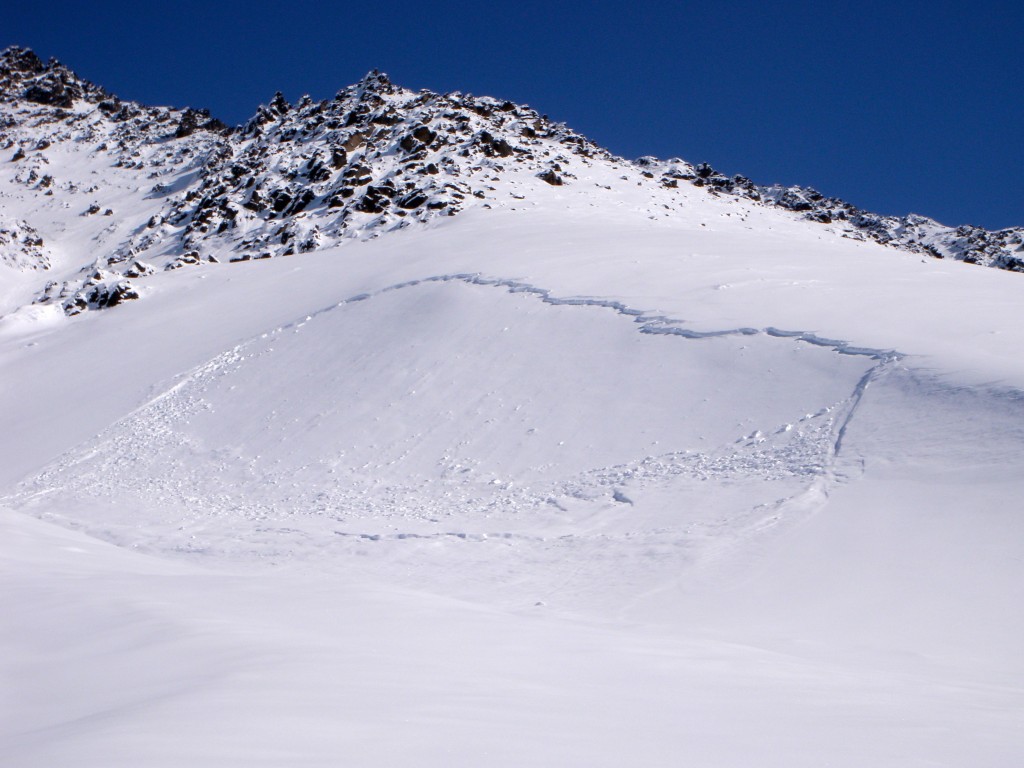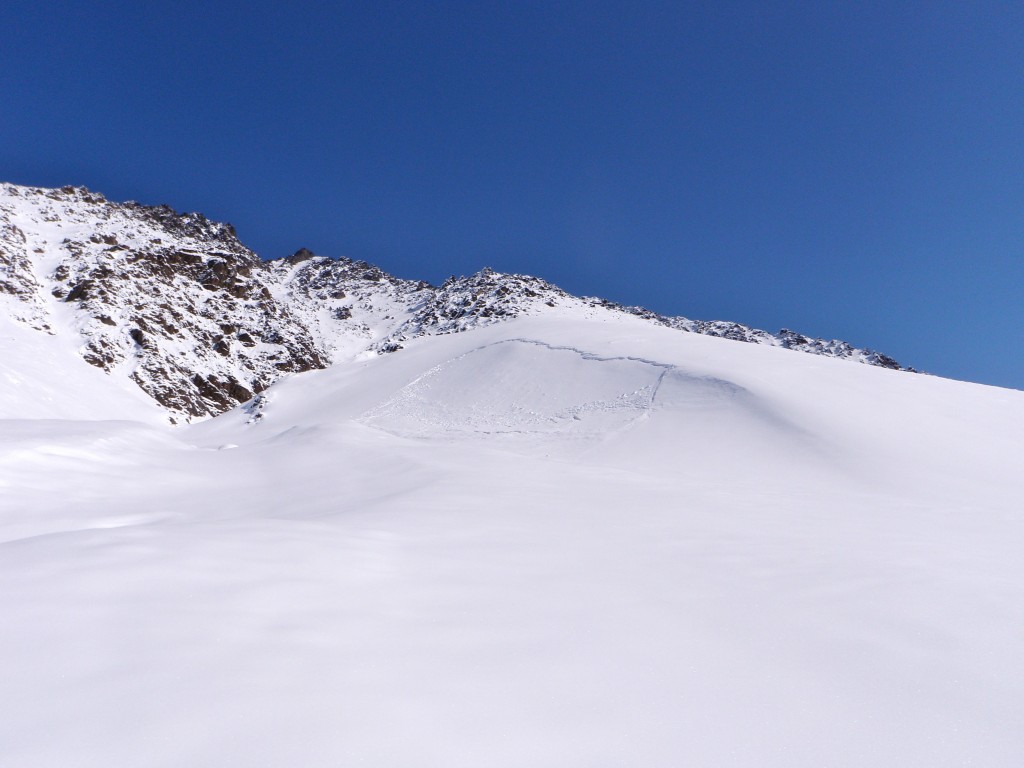 Another naturally occurring, likely late Friday, wind slab avalanche to the looker's right (just east) of the above pictured avalanche starting at ~4500′ (SS-N-D1-R1):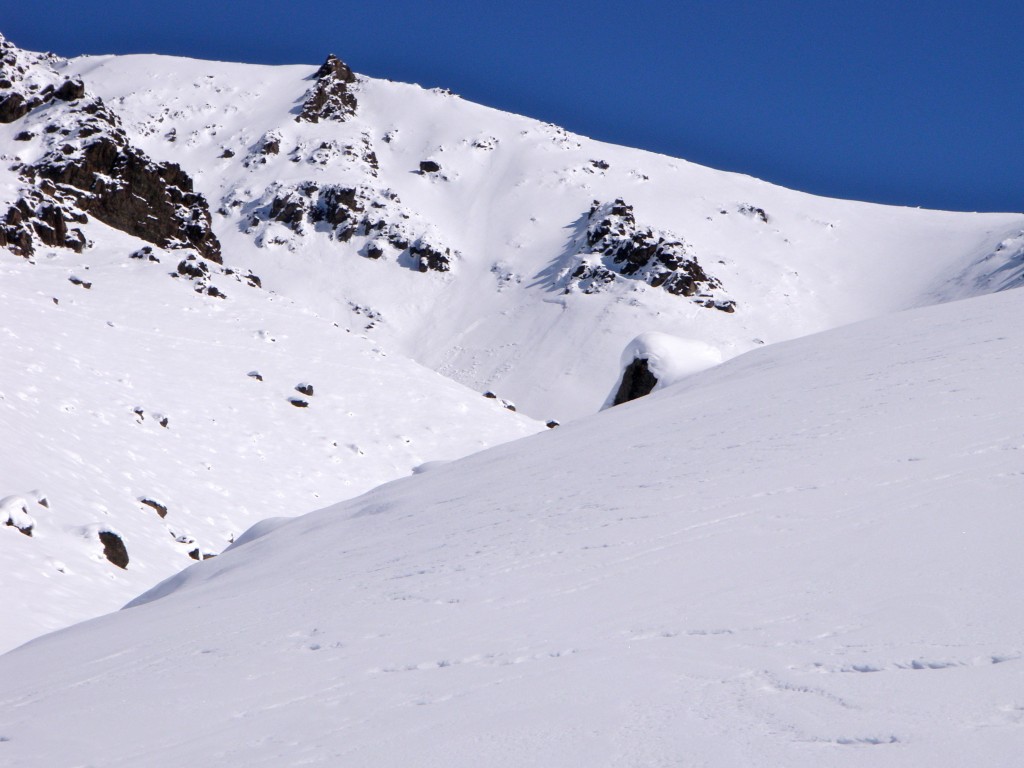 This slab avalanche occurred on a west aspect at ~4500′ and ran ~700′.  It also likely occurred sometime late Friday from wind loading and solar radiation (SS-N-D2.5-R2):
Randoman sighting: