Eagle River – South Fork

Signs of Instability:
Weather:
Light southeast winds
Mostly sunny skies
Mountain temperatures in the upper teens to lower 20s
Surface Conditions:
The beginnings of corn season on east, south, and west aspects: melt-freeze snow that is starting out frozen at the beginning of the day and becoming wet (and susceptible to wet snow avalanches) later in the day.  As the melt-freeze (corn) cycle has just begun recently, the wet avalanche danger will be higher later in the upcoming days than it will be after the melt-freeze process has time to develop in the upcoming days and weeks.  Also worth mentioning, as the melt-freeze process is still in its infancy, the riding conditions may be very bad due to the breakable, icy melt-freeze surface crust.
Dry, variable snow on north facing slopes (windboard that is mostly supportable but breakable in spots found in the Arctic Valley area Sunday)
Dry, variable powder in protected/sheltered north facing terrain
Avalanche Concerns:
One big wind slab avalanche was spotted that released on a NNW aspect on the west side of the South Fork valley.  It doesn't appear to be too recent, but definitely happened within the past five to six days (the educated guess is Thursday or Friday of last week).  If anyone has further info about this slide, please submit it (there are tracks in the vicinity).  Another, much smaller wind slab released on a northwesterly aspect on the lower, northern end of the Harp Mountain ridge (this one appeared to be naturally triggered).
Wet avalanches are occurring in earnest later in the day on south to west aspects.  Peak intensity was witnessed late afternoon to early evening on Tuesday, but the activity initiated much earlier in the day.
Large, older wind slab (SS-U-R3-D2) that released in the past 5-6 days on this wind loaded NNW aspect from ~3400′ and ran ~600'+ on the west side of the South Fork valley (south of North Bowl):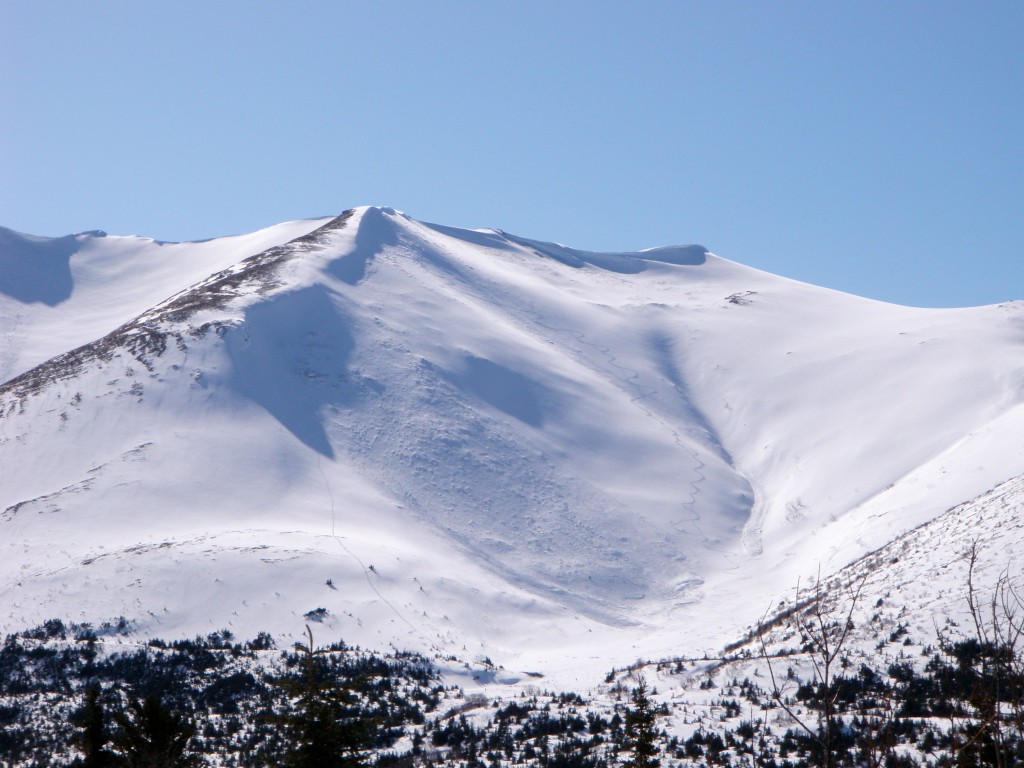 Smaller, older wind slab avalanche (center-right, SS-N-R2-D1.5) that released on this wind loaded NW aspect on the northern end of the Harp Mountain ridge (released from ~3500′ and ran for ~200′) with wet loose avalanches (center-left, WL-N-R1-D1):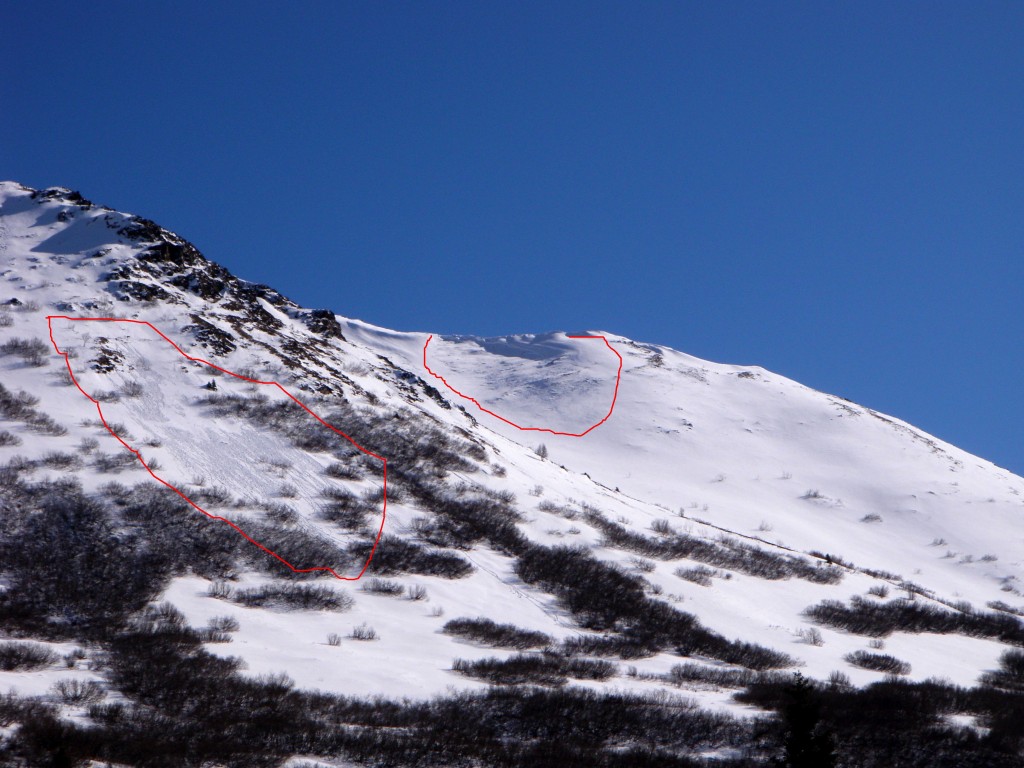 This shallow, short-running wet-loose avalanche (WL-N-R2-D1.5) released from a thin, rocky area of the snowpack on a west aspect further north and adjacent to the photo above: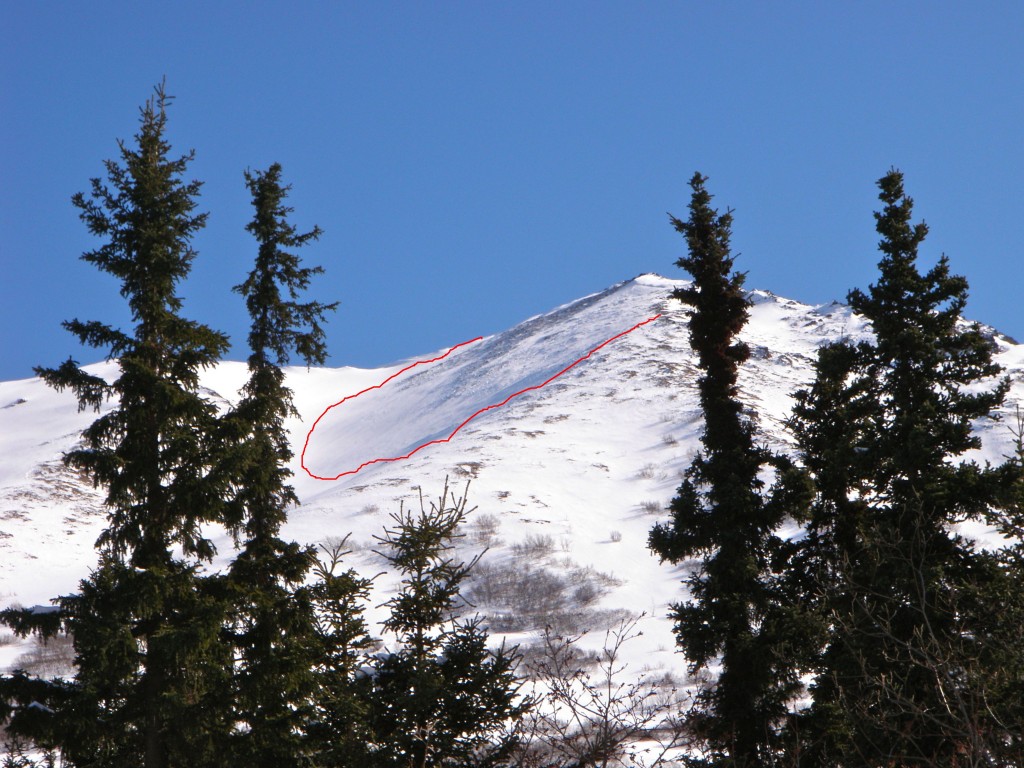 This wet-loose avalanche (WL-NC-R2-D1.5) was witnessed at ~5:25pm from a distance.  It appeared to release from ~4800′ on a west aspect triggered by what appeared to be a small cornice failure.  It picked up mass and momentum on the descent (especially in the middle of the photo) and ran for ~1200′ coming to a stop at the "x":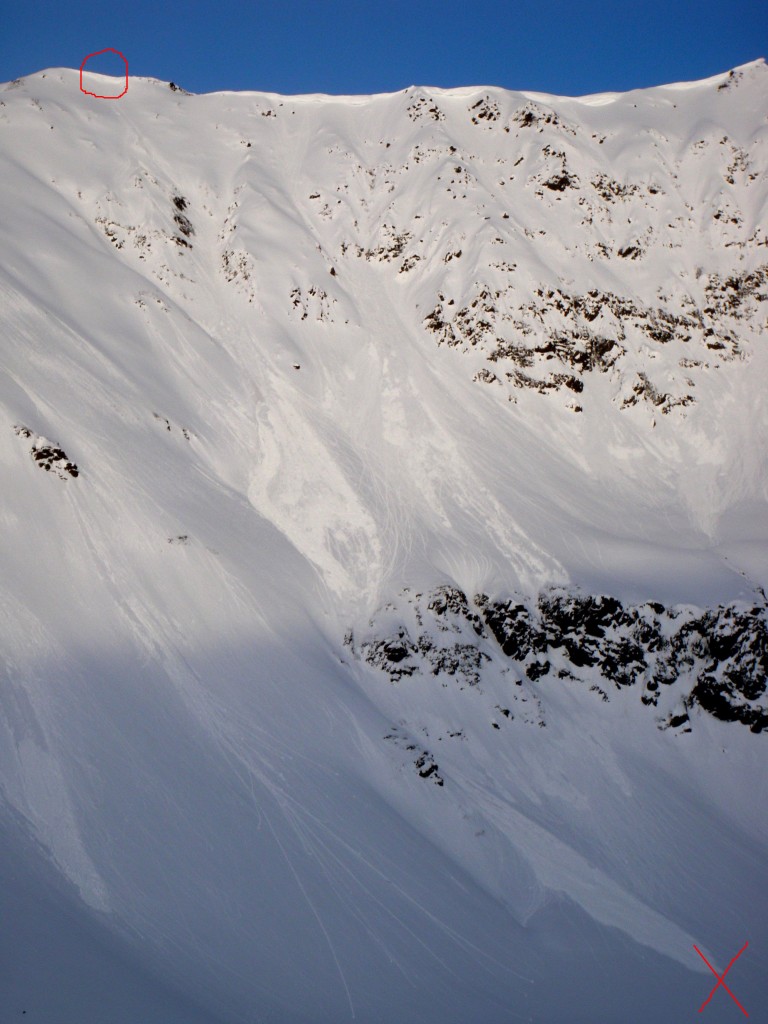 More west facing wet-loose avalanche activity (WL-N-R2-D1.5) in the zone of the above photo (releasing in earnest late afternoon to early evening):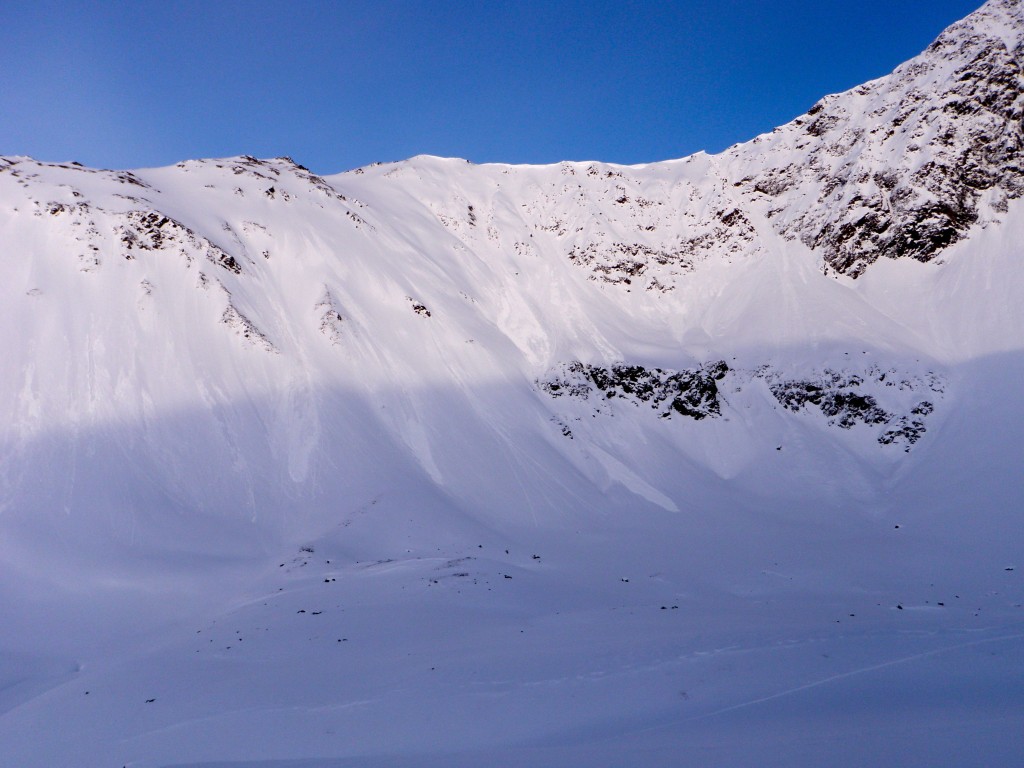 SSW facing wet-loose avalanche activity (WL-N-R2-D1.5) on the lower SE ridge of Harp Mountain: