Front Range – Rabbit Creek Valley

Signs of Instability
Numerous, recent small to large loose snow avalanches that appeared to have occurred during the tail end of the storm and have been slightly snowed over.
Shooting cracks later in the day at upper elevations, but just in the top few centimeters of lightly wind-affected snow.
Observers in the Hiland Road area reported no red flags of instability, but visibility was low and they didn't travel high into the alpine or on steep slopes.
Weather
 Light SW wind with moderate gusts from ~1-3pm.  Moderate SW wind from ~3-4pm.  Calm-light wind post 4pm.
On and off light snow showers from ~1-3:30pm with decent visibility during the breaks in snow.  Partly cloudy by ~4pm with excellent visibility thereafter.
Upper elevation temperatures in the upper single digits to lower teens.
Surface Conditions
Deep, blower pow!  Some wind scoured spots (west aspects near the top of Peaks 3 & 4).
~12″ light, dry snow at Canyon Road trailhead.  ~16″ lighter, drier snow on the Peak 3 & 4 slopes.  We did encounter deeper areas with up to 4′ of new snow while booting the Peak 3-4 ridge.  Some deeper pockets near the top of Peaks 3 & 4 were thigh deep with skis on (wish we'd have had snorkels for some of those deeper turns).
Avalanche Concerns
The new snow from Saturday to early Sunday was still mostly unconsolidated in the Rabbit Creek valley and adjacent slopes Sunday afternoon.  Winds that picked up late afternoon did contribute to some consolidation and "slabbiness," but nothing problematic through 6pm.  With settlement before the next storm (incoming late Sunday-early Monday), perhaps accelerated by the sun and a bit of wind late Sunday, our storm snow from Saturday-Sunday will likely become more problematic as it's loaded with what will likely be well over another foot of new snow through Tuesday.
Loose snow avalanches (to the E of McHugh Peak) N to NW aspects running up to ~500′ (L-N-D1.5-R1):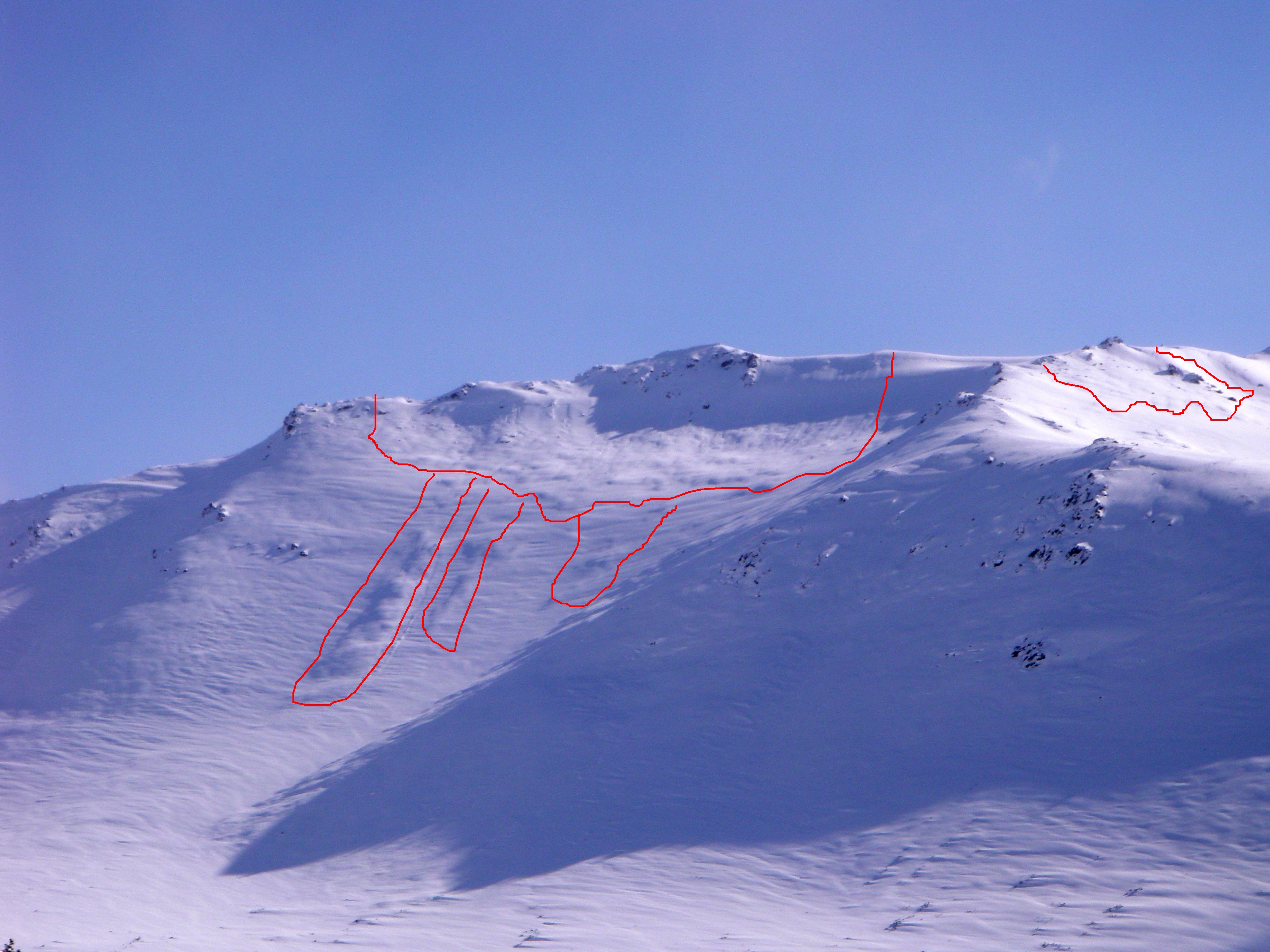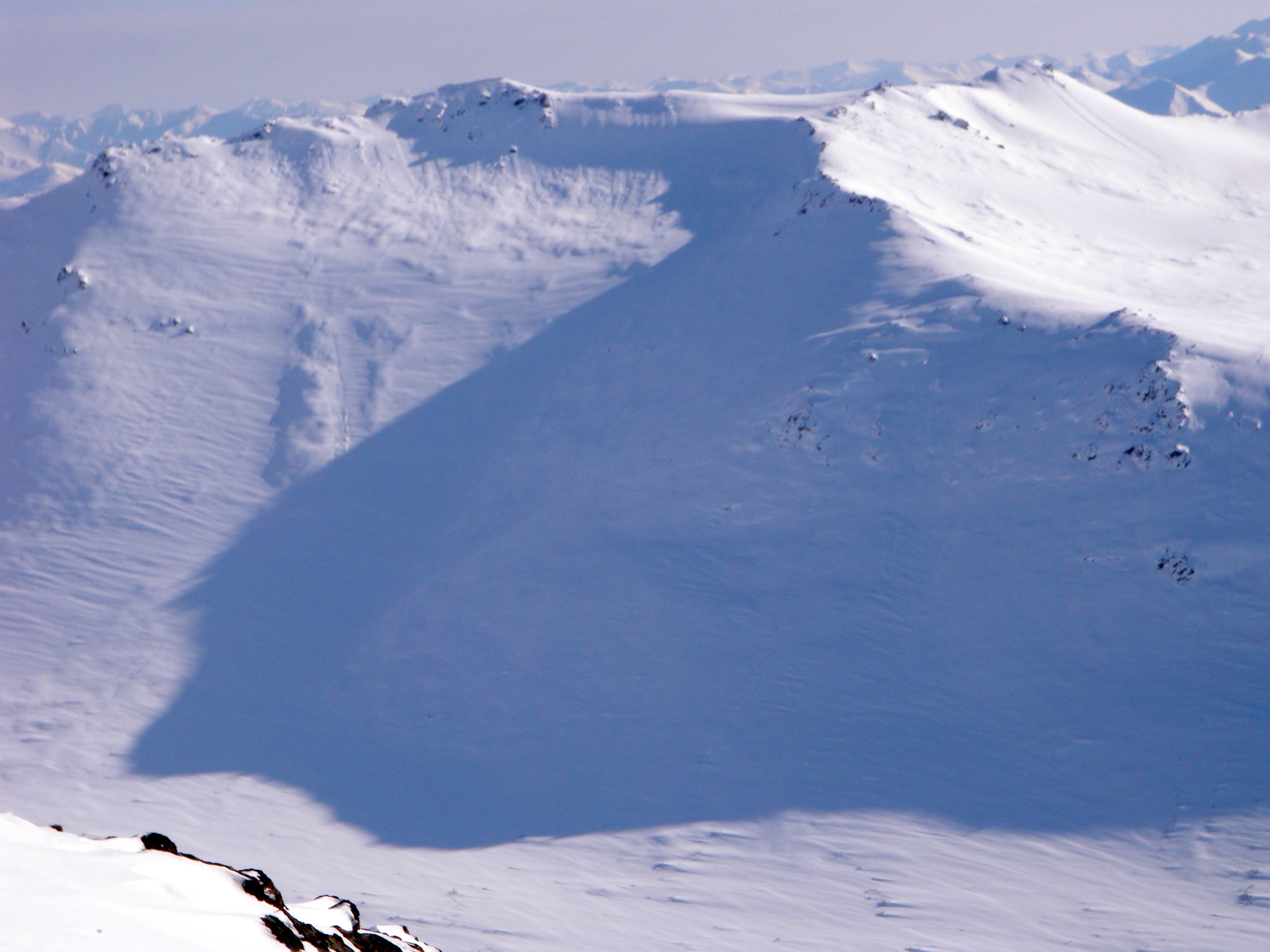 Loose snow avalanches off The Wedge and Avalanche Mountain, predominantly SW aspect and running up to ~700′ (L-N-D1-R1):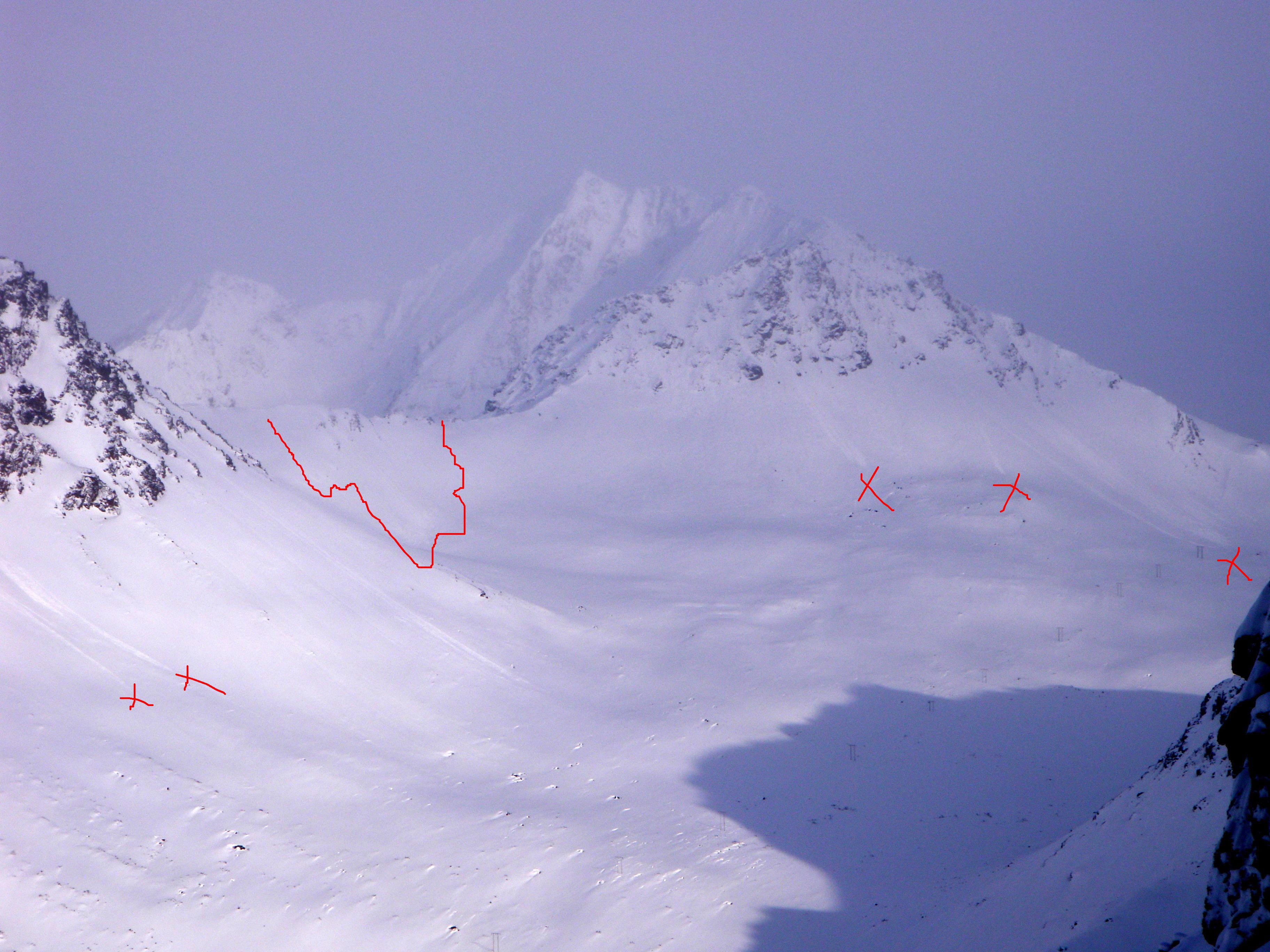 Randoman sighting!?