Observations
North Fork Eagle River:
Obvious signs of instability (red flags):
Recent natural persistent slabs and wet loose avalanches on multiple aspects between 3000-7000′
Human triggered wind slab avalanche on steep northerly aspect at ~6000′
Collapsing (whumphing) on multiple aspects between 2500-4500′
Weather:
Party cloudy skies with alpine temps from the upper 30s to lower 20s and calm wind.
Surface conditions:
Wet snow from warm temperatures below 3500′, developing a nasty crust with evening cooling.
Deep, dry powder on upper elevation terrain sheltered from the sun
Snowpack:
Falling Water snowpit: ~4100′, 350* N aspect, 40* slope, 125cm HS, ECTP11SC down 45cm (5cm heavily faceted old surface snow from month long dry spell with a P hard wind slab below and 1F wind slab above.  Snowpack collapsed adjacent to where snowpit and tests were conducted.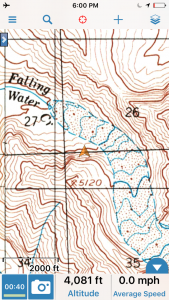 Flank of human triggered soft wind slab (D1.5: down ~4″ at density change) on North Raina: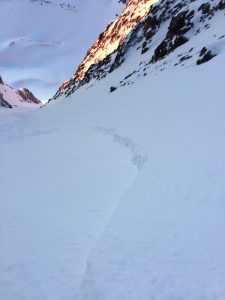 Eklutna area:
Wet loose, rollerball, and persistent slab activity in the Twin Peak areas (northerly, or highway, side).