Observations
Front Range – Upper Rabbit Creek and Powerline valleys:
Obvious signs of instability (red flags):
Weather:
Sunny, calm wind, alpine temps from the mid 30s to mid 20s
Surface conditions:
Stout melt-freeze crust on lower elevation and solar aspects softening through the day and re-freezing by sunset (quality corn with good timing – otherwise supportable crust)
Boot-top deep, dry, settled powder on northerly aspects (moderate sluffing on steep terrain)
Snowpack:
ECT's and handpits in northerly couloirs revealed a relatively homogeneous snowpack with no particular layers of concern in the upper ~1.5m (these had previously slid and filled back in).
North Fork Eagle River – Ram Valley:
Obvious signs of instability (red flags):
Recent avalanches
Collapsing (whumphing)
Shooting cracks
270 cm snow depth on flat glacier at 5,000 ft. Approximately 30 cm new snow from this past week above 5,000 ft. Enough new snow to completely hide tracks on Bombardment Pass and Korohusk from last weekend. On high, shaded north aspects new snow was dense, settled powder, with low volume sloughing. Widespread collapsing on valley floor during approach. Widespread ongoing rollerball and large point releases in late afternoon on south facing terrain. Point releases were approximately 1 foot deep, some running at least 1,000 vertical feet, and entraining large snow volume (see attached picture).
South Fork Eagle River – North Bowl:
Route:
Ascended to Hunter Pass, skied North Bowl. Ascended via NW aspect of north ridge, skied NE meadows to car. Great soft, settled powder on northern aspects.
Weather:
Temp around 30*F, wind light gusting to moderate from SSE.
Surface Conditions:
Supportable 2-4 cm crust on any aspects that have been touched by the sun. The crust did not significantly soften up on east aspects by the afternoon, but was soft on west aspects by 3pm. 10 cm soft, settled powder on north aspects.
Snowpack:
Hand pits revealed a potentially touchy, but very spatially variable snowpack. Hand pit on north aspect failed with difficult effort on basal facets down 40 cm. Second hand pit higher up on same aspect failed with moderate effort on very intact BSH down 30 cm between 1F hard wind slab and P hard wind slab. Third hand pit was tough to isolate as there was a 1F+ slab to punch through, but did manage to fail on isolation on basal facets.
Several chunks of cornice recently broke off the summit of North Bowl. No avalanches were triggered.
Several D2 avalanches on upper elevation west aspects from the storm cycle.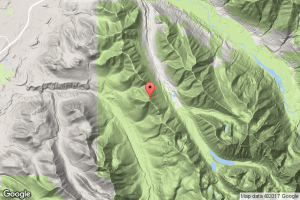 Snow Hawk valley:
While driving up Arctic Valley Rd observed avalanche debris in gullies on east-facing slopes of Snow Hawk Valley near Snow Hawk Mtn. Am not sure when these avalanches occurred, but may be the result of wind loading after the 3/29/17 storm event.