South Fork Eagle River – North Bowl area
Signs of instability:
Isolated and subtle shooting cracks mainly in wind loaded areas along ridges and in areas where slightly cohesive storm snow soft slabs have formed
Isolated and very subtle whoomphing in wind-loaded areas along ridges
Recent, natural, and low volume loose snow avalanches mainly in steep, thin, and rocky areas of the snowpack
Recent, low volume, and human triggered loose snow avalanches
No evidence of recent slab avalanches, natural or human triggered
Weather:
Very light northerly breeze
Slight inversion with upper elevation temperatures in the high single digits; lower elevation temperatures in the low single digits
Clear, sunny skies
Surface conditions:
Average of 10″ loose, unconsolidated, champagne, blower powder (beautiful stellar formations now faceting and with surface hoar) on top of a mostly smooth and supportable melt-freeze/rain crust (more breakable at elevations below 3000′) where there was prior coverage – bare tundra and rocks under the new snow in many areas
Small, isolated areas where the new snow has formed cohesive, but still very soft, storm snow slabs
Not much wind-affected snow (soft and subtly wind loaded and affected areas along ridges and cross-loaded terrain features)
Significant and widespread surface hoar development from one night of clear and cold with little wind
New snow faceting and sloughing extremely easily above ~30 degrees (long running, but very low volume)
Snowpack discussion:
Things to keep an eye out for prior to and after we get new snow will be rapid surface hoar development on top of the new snow surface.  It appears the dendritic, champagne powder (not to mention very cold temperatures with clear skies and minimal wind – ideal conditions) develops surface hoar quite readily.  Wind may take care of this before we receive new snow, but we also need to keep an eye out for significant near surface faceting in the new snow – which also appears to be happening quite readily.
I would also expect pronounced faceting at the bottom of the new snow layer, where it rests on top of the melt-freeze/rain crust which will exacerbate the temperature gradient likely leading to advanced faceting of the snow in the vicinity of this crust.  A thin layer of more advanced facets directly (weak layer) on top of the smooth and slick crust (bed surface) may provide an ideal combo for avalanching as we receive more snow and a cohesive slab settles above.
While largely filled in, below are some more pictures of the sizeable North Bowl avalanche that occurred over Thanksgiving weekend.  The crown, upper flanks, and hard slab debris chunks are still quite visible.  The theory for this avalanche's occurrence is up-slope winds filling in and loading where the northerly facing cornice typically is; the tipping point for the weak layers identified in earlier observations was reached and a fracture broke at/into the cornice right at the rollover that had been created from filling in the typically corniced area.  As these earlier identified persistent weak layers (see obs from Nov. 13 and Nov. 25) were still quite reactive but deeply buried with dense layers (slabs) overlying them, North Bowl experienced a significant early season persistent, hard slab avalanche.
For a detailed observation with snowfall totals (data and map displays) from Sunday, the day after the most recent storm, check out the December 15 observations.
Significant surface hoar development and faceting in the North Bowl area from one night of clear and cold with minimal wind (it's very widespread):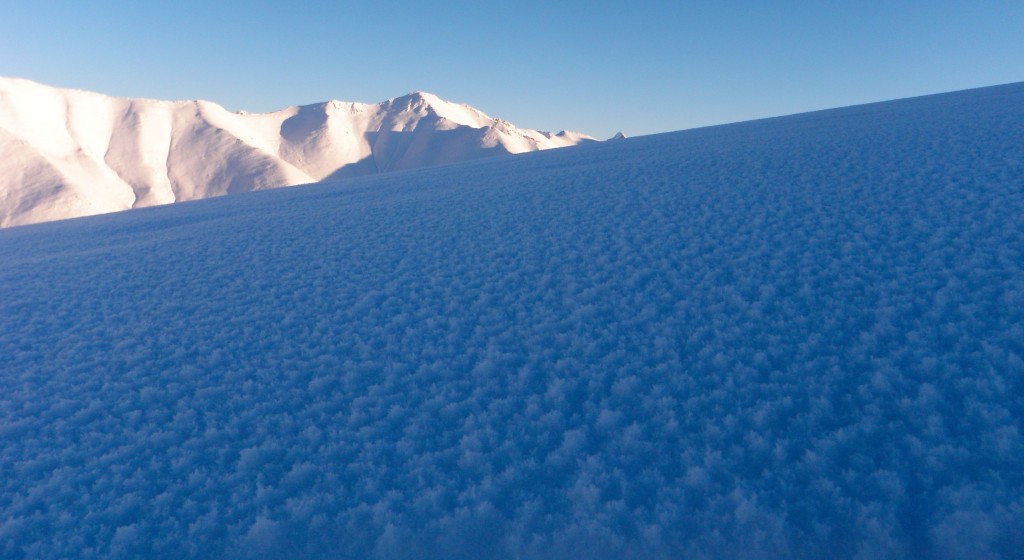 North Bowl crown from Thanksgiving weekend avalanche still quite visible despite all the new snow: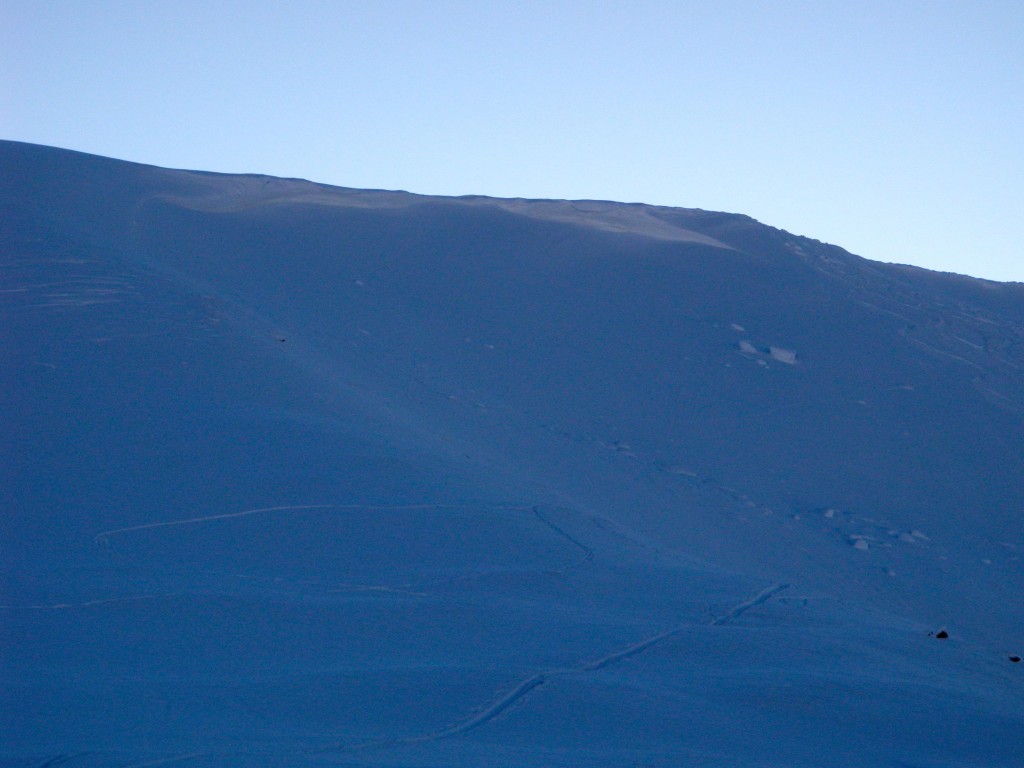 Flanks of Thanksgiving weekend avalanche:
Hard slab debris from Thanksgiving weekend avalanche still quite visible despite all the new snow: