Observations
Arctic Valley:
Skied up valley bottom from Arctic Valley parking lot to S. Fork Eagle River overlook.  At 3382 ft found 22 cm snowpack. Top 2 cm = windpacked particles; next 6 cm = 2mm Facets; Lower 14 cm = 5 mm facets.  Easy shovel shear on top of lower 14 cm.  Experienced abundant whoomphing and some shooting cracks while skiing up to saddle overlooking S. Fork Eagle River, probably due to wind slab collapsing on the facet layers.  Small natural release reported on ski area side of valley, although I didn't see it myself.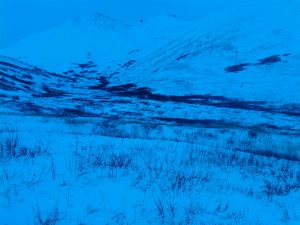 Toured above Arctic Valley Ski Area to the saddle between Mount Gordon Lyon and Rendevous Peak. We observed pockets of wind slab near treeline and above tree line on E, S, and W facing terrain features. There was high variability throughout the zone with snowpack depths ranging from 5cm-50cm and with the wind stiffened slabs ranging from 1cm-20cm thick–all sitting on top of weak faceted snow to the ground.
Obvious signs of instability:
| | | | | | |
| --- | --- | --- | --- | --- | --- |
| Recent Avalanches? | No | Collapsing (Whumphing)? | | Cracking (Shooting cracks)? | |
Observer Comments:
We observed widespread cracking as most remaining snow surfaces had been stiffened by the wind. As we approached the saddle on a W facing slope above treeline at 3,000ft elevation, whumphs were reported by both tour groups.
Weather:
Overcast skies, no precipitation, light NE winds, no blowing snow
Snow surface:
Wind stiffened, pencil hard surface snow ranging from 1cm-20cm thick.
Snowpack:
Variable wind-loading pattern and variable wind slab development. We found touchy 5cm pencil hard wind slabs and more stubborn 20cm wind slabs on various aspects near and above treeline. Snowpack tests on a 12 degree West facing slope at 3,000ft with both HS 27cm and HS 40cm confirmed repeatable CTE SC results on the interface between wind stiffened layers and weak basal facets.