South Fork Eagle River – Peak 1212 (of which North Bowl is a part)
Signs of Instability:
Widespread collapsing ("whoomphing"), some over very large areas, in wind loaded and deposition areas
Widespread, some long running, shooting cracks
At least three prominent wind slab avalanches (photos below) on west to north aspects that presumably failed sometime Thursday (12/19); one is thought to be human triggered (see below); the other two are thought to be naturally triggered
Weather:
Partly cloudy late morning.  Mostly cloudy with lowering clouds (5000′) by mid afternoon.  Low clouds (2500-4000′) and very light snow by late afternoon.
Calm wind late morning.  Light southerly breeze by mid afternoon.  Moderate south wind with sustained strong gusts by late afternoon (snow being transported).
Temps in the low-mid twenties
Surface Conditions:
Wind packed powder in areas with more coverage (leeward and deposition)
Thanksgiving weekend drizzle/melt-freeze crust exposed in areas with less coverage (windward and exposed areas that aren't scoured to ground)
Some exposed tundra in the most windward and exposed areas
Snowpack Discussion:
Terrain management was the name of the game today, with widespread collapsing and shooting cracks in wind loaded/deposited areas (spooky) as well as a few prominent and recent wind slab avalanches observed (two thought to be natural, but one may have been human triggered – keep reading) that likely released early on Thursday after winds picked up and had ample time to re-distribute all the fresh snow available for transport.
In general, there's a couple inches of softer wind-buffed powder on top of a firmer, mostly supportable, but still relatively soft wind board that ranges from 2-5″ thick.  The windboard rests on much softer, less wind-affected snow (remnants from last weekend's storm) that is on top of the Thanksgiving weekend drizzle/melt-freeze crust.  At lower elevations, with a thinner snowpack, the Thanksgiving crust generally sits on less than a few inches of advanced facets to the ground.  At upper elevations, with a thicker snowpack, there's generally a thick faceted layer between the Thanksgiving crust and an older, deeper melt-freeze/rain crust.  This old, deep, and icy crust is thick and close to the ground, generally with a few inches of advanced facets between it and the tundra.
The most noteworthy recent, wind slab avalanche observed today was just above Hunter Pass on the approach to North Bowl – north facing where the slope steepens and and has more consistent coverage before reaching the ridge.  I had thought this wind slab was naturally triggered, as there was no clearly distinguishable evidence of human presence in the immediate vicinity.  However, there were tracks in the area below it and while uploading my photos for this observation I noticed some strange photos (with buried skies and a splitboard) that had already been uploaded – presumably from a public observation submission that didn't go through correctly.  They appear to have been taken yesterday after this avalanche was triggered (on the approach/ascent as skins are on), presumably by the party involved in the accident.  If the person who these photos belongs to reads this, please contact me at mat@anchorageavalanchecenter.org to provide further information.  It would be much appreciated!
HS-U-D2-R3 that failed about 1′ deep on the Thanksgiving weekend drizzle/melt-freeze crust and stepped down to a deeper rain/melt-freeze crust and then the ground as it descended through a snowpack thinning with elevation loss – running 200-400′ but propagating widely ~300′).
Here's a photo of the slide with x's marking the approximate location of snowpit profiles: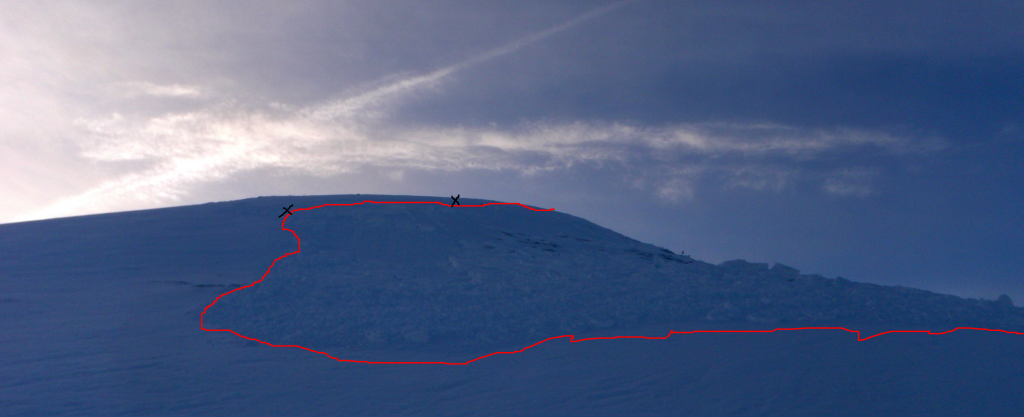 This pit is from undisturbed snow off the skier's right flank (the left and lower x in the above photo), surprisingly failure revealed by stability tests here didn't occur on the Thanksgiving crust: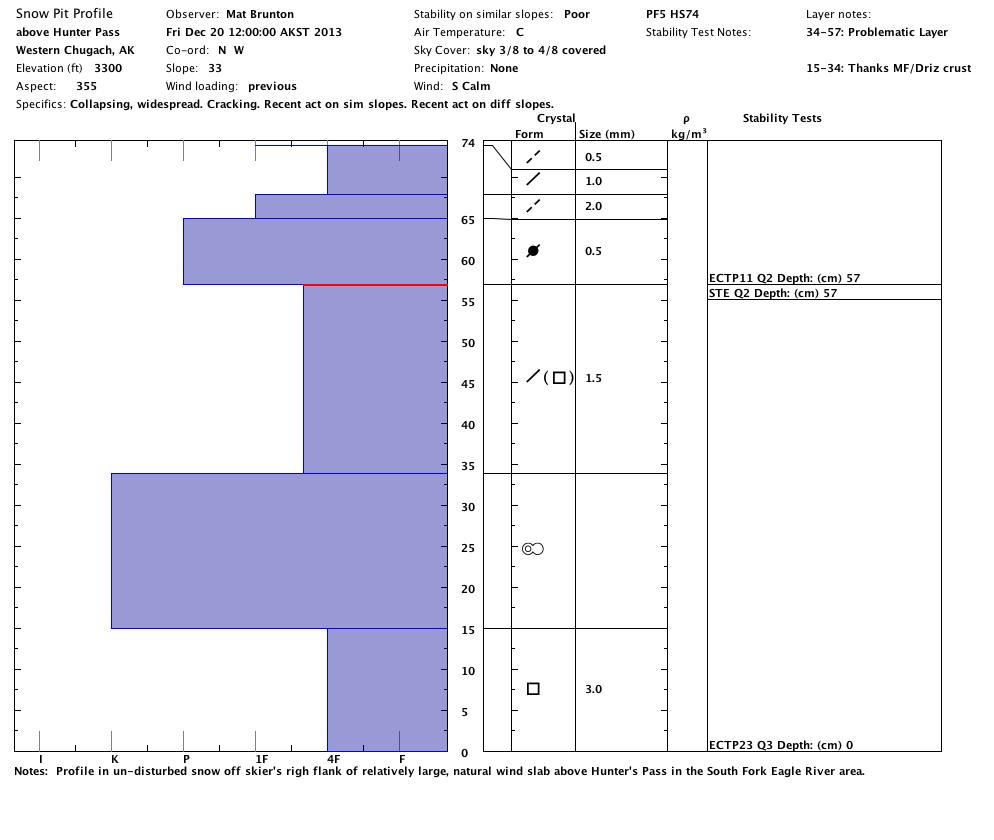 This is the crown profile with failure occurring readily on the Thanksgiving crust (the upper and center x in the above photo):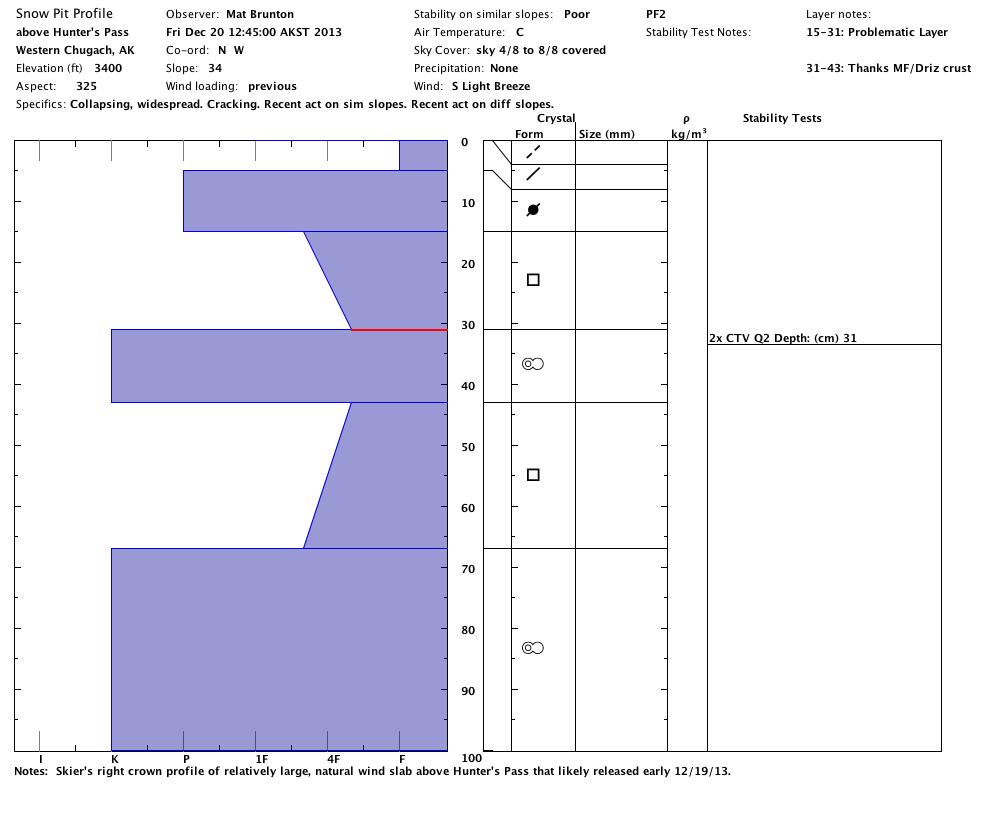 Photos from today of the debris pile:
Large chunk of debris (that black lab weighs over 100 lbs):
Skier's right crown has been blown back in, but the crack still obvious: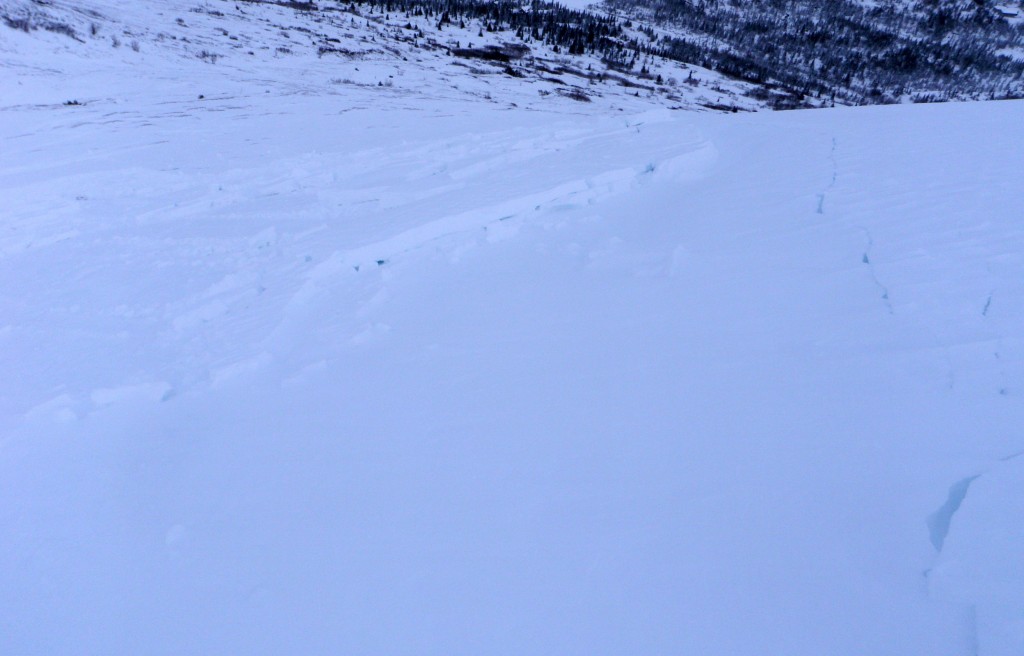 These are photos I found uploaded, but not by me, apparently from when this avalanche was triggered yesterday (please contact me if their yours):
HS-U-D1-R1 NNW facing wind slab avalanche that failed right below the North Bowl cornice – propagated widely but short running.  This is thought to be a natural:
HS-U-D2.5-R3 wind slab avalanche, crown wrapping around from SW at the top to NW below the corniced ridge (where the dog's at), that failed on the Thanksgiving weekend drizzle/melt-freeze crust, presumably early Thursday from natural wind loading (propagated very widely and ran up to ~800′ where channeled into the gut of this bowl):