Arctic Valley – Gordon Lyon
Signs of instability:
Isolated, thin (.5-2″), and reactive windslabs
Early season snowpack with poor structure and little strength (but low energy)
Weather:
Mostly cloudy skies with high clouds early-mid afternoon.  Clouds lowering, thickening, and precipitating light sleet by late afternoon-early evening.
Temps in the mid 20s
Variable, light wind
Surface conditions:
Highly variable with some leeward slopes and deposition areas having several feet of coverage to wind scoured areas with no coverage and bare, thawing tundra (from recent above freezing alpine temperatures due to a relatively extreme inversion)
Breakable to supportable wind slabs in many areas with more coverage
Pockets of exposed depth hoar, basal ice, and advanced facets in very thin areas of the snowpack
Lee and deposition areas with several inches of soft, wind deposited snow on top of mostly supportable windslab (this soft and moistened snow is sluffing rather heavily in steep terrain due to the inversion and recent, warm upper elevation temperatures)
Mid and lower elevations primarily consist of loose, unconsolidated, and faceted (to varying degrees) snow from surface to ground
Snowpack discussion:
The weather of late has put the Front Range and Eagle River area snowpack through quite a dynamic period of change and metamorphism.  Very cold temperatures late last week rapidly accelerated faceting of our thin early season snowpack.  The very cold temperatures were then accompanied by strong predominantly northerly winds over the weekend, which vastly redistributed snow and built wind slabs of varying character (thin, thick, breakable, supportable).  Recent warm upper elevation temperatures (above freezing for many hours the past couple days) due to a significant inversion slowed the faceting process, has begun to thaw exposed tundra, and has moistened loose surface snow which is sluffing significantly in steep terrain.  Surprisingly enough, considering hours of temperatures above freezing in the alpine, where surface snow has not been wind affected it is still loose, unconsolidated, and hasn't gone through a melt-freeze cycle; a surface crust has yet to form.
Late this afternoon precipitation in the form of light sleet had begun to fall in the alpine.  In town and at the lower elevations, it was falling more like freezing rain.  It will be interesting to re-visit the upper elevations and see what this precip did to the snowpack.  If a surface crust has formed, new snow will likely bond poorly to it and it has the potential to create a weak layer/interface.
Coverage up South Fork Eagle River: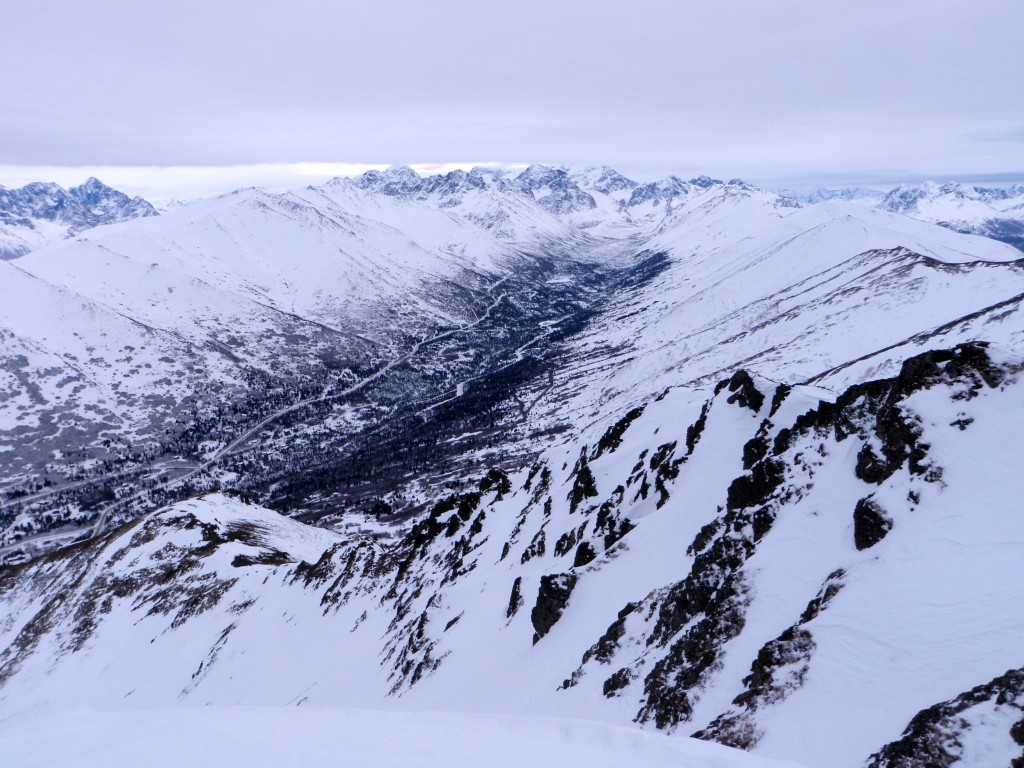 Coverage in the Eagle River Road area: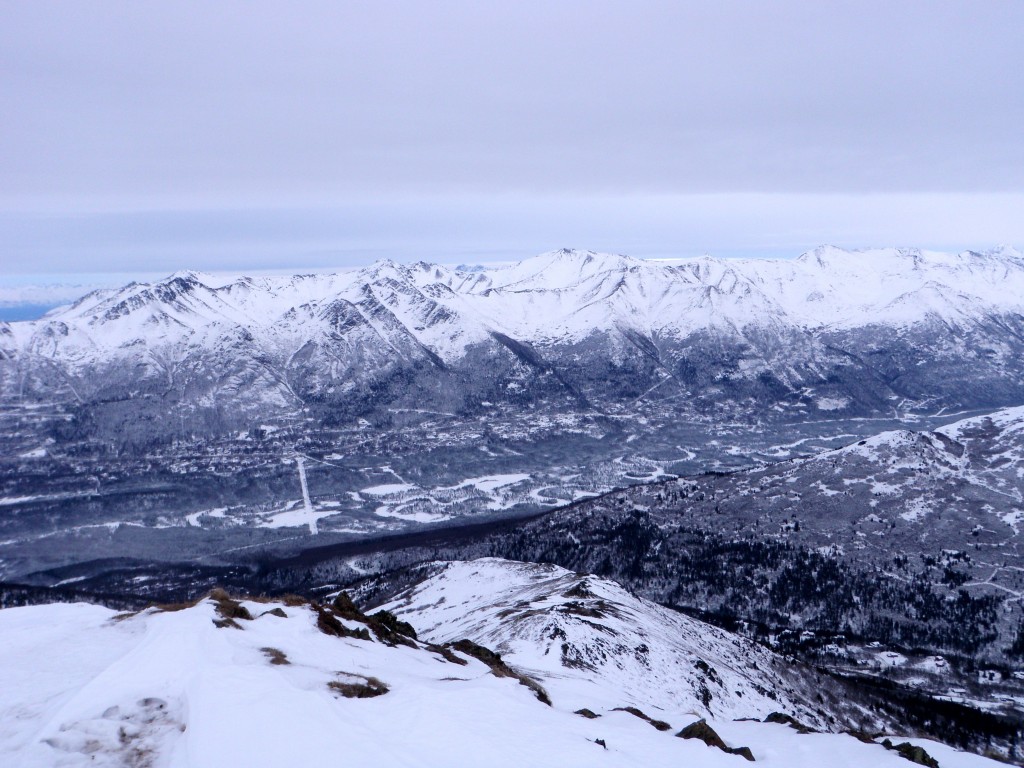 Coverage in the northern Front Range: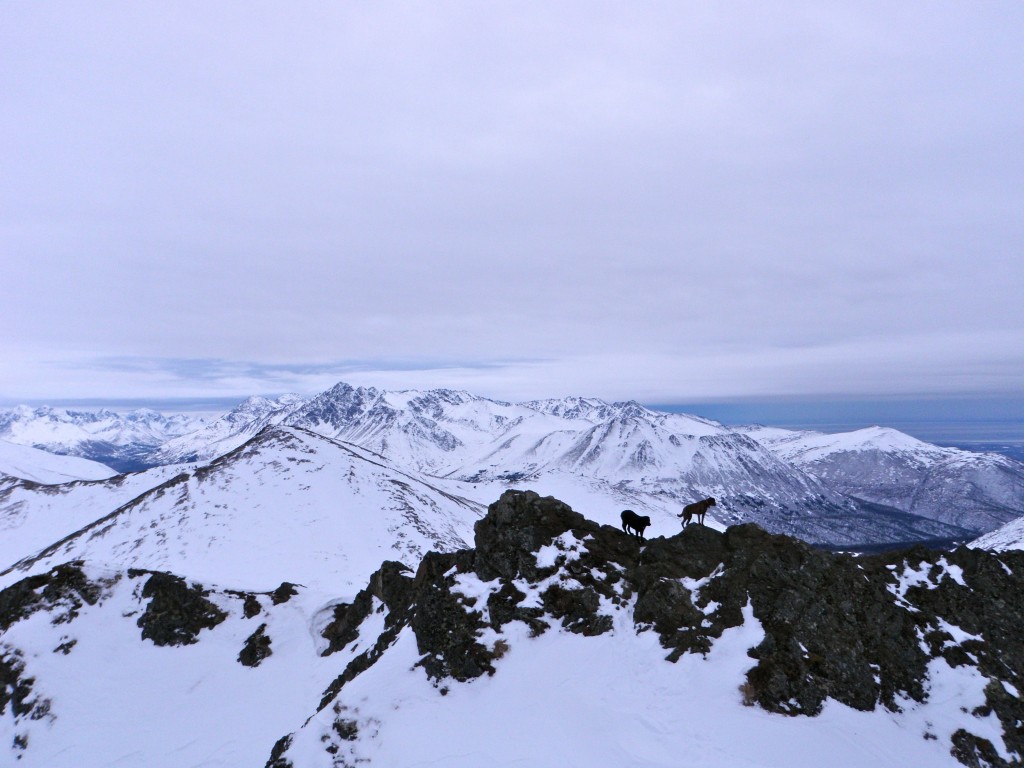 Coverage in the Gordon Lyon northwest bowl: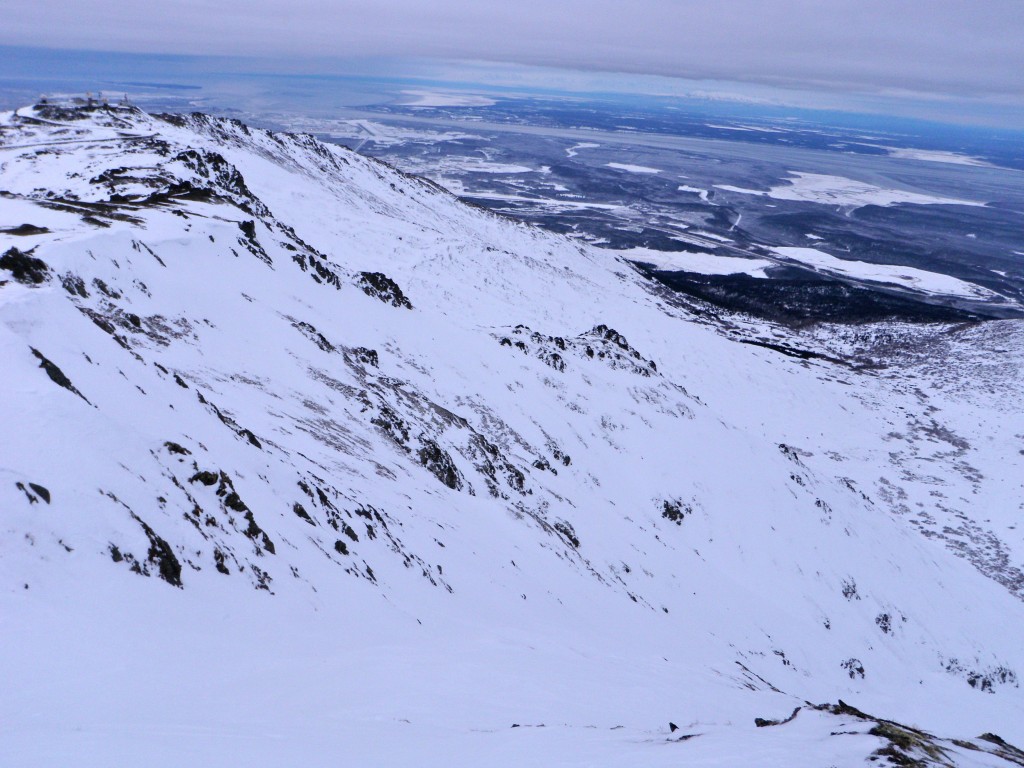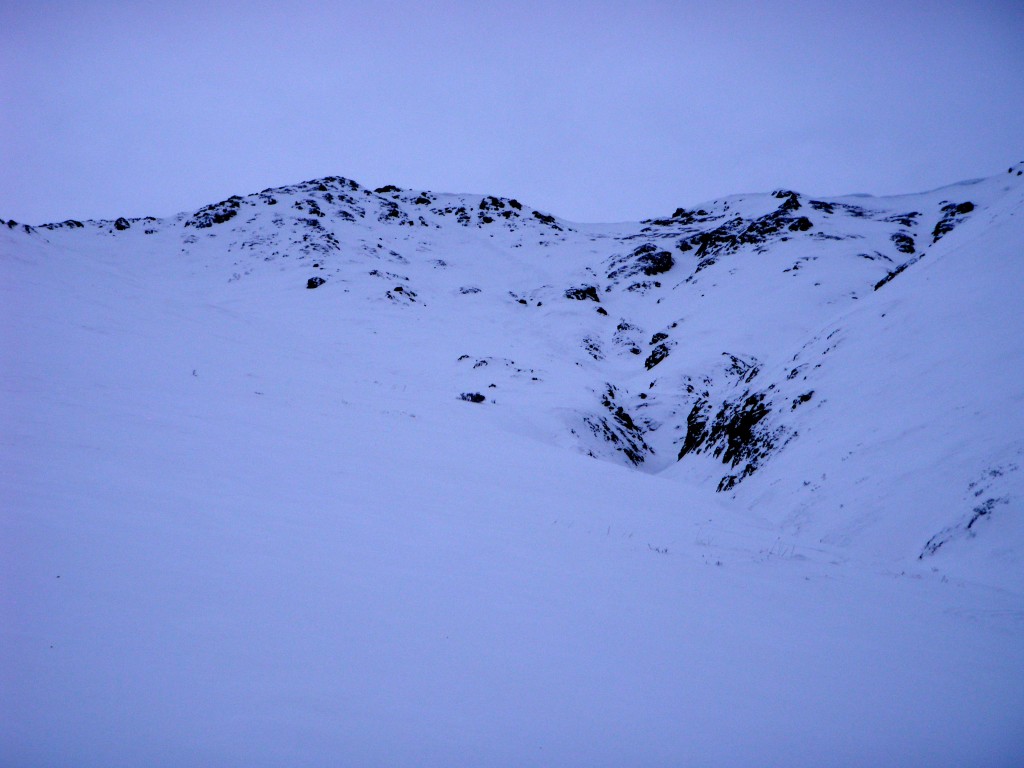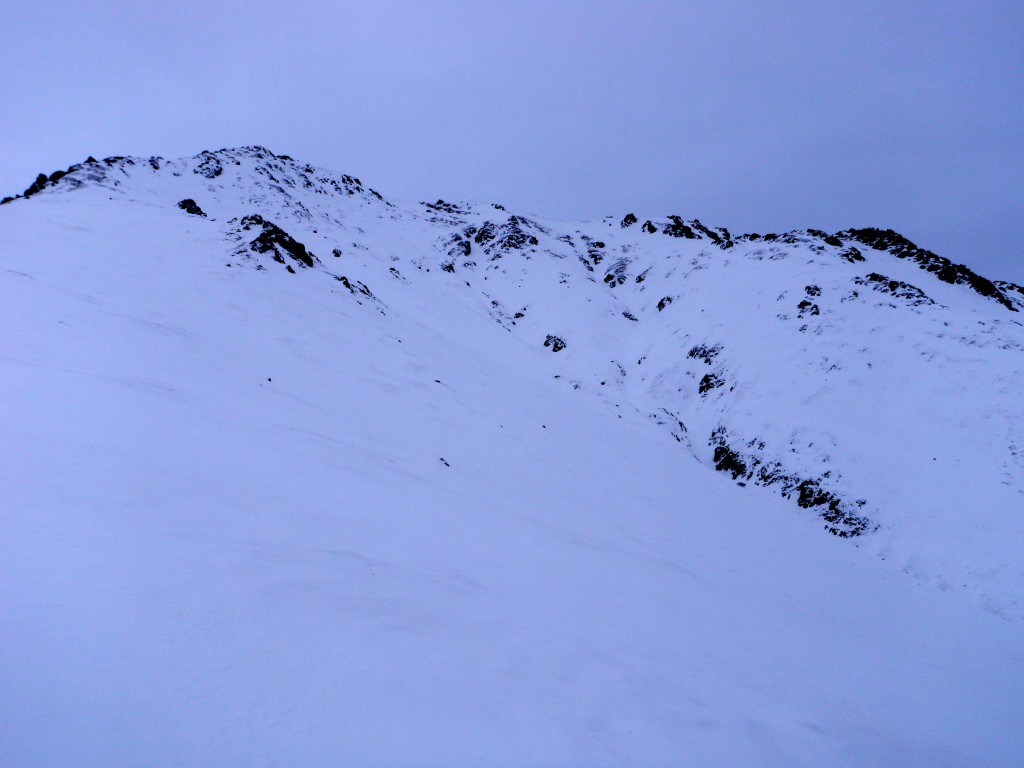 Coverage in the Nike north bowls: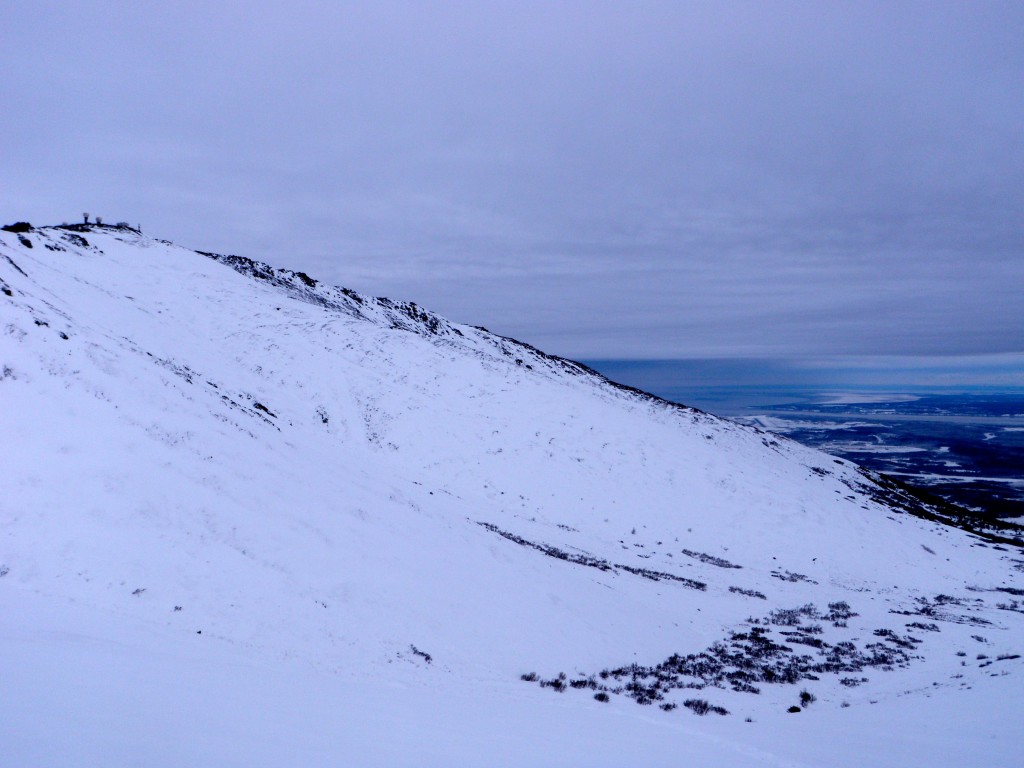 Coverage in Arctic Valley & northern Front Range with incoming freezing precip: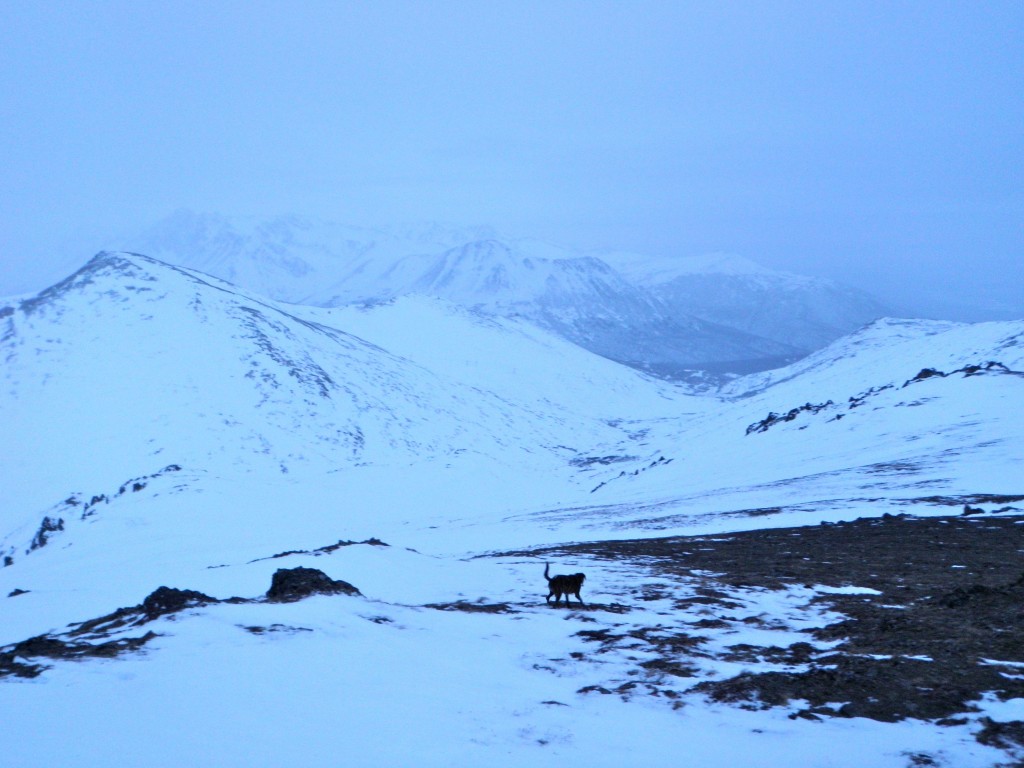 As always, we value your observations.  Please let us know what you find out there.  Your eyes and observations are one of the Anchorage Avalanche Center's most important resources!