Observations
*scroll down for South Fork Eagle River avalanche observations
Front Range: Peak 3-4
Red flags (obvious signs of instability):
Isolated areas of cracking wind slab
Wind blowing snow
Weather:
Alpine temps in the upper 20s with variable light-moderate wind with strong gusts (primarily easterly) and cloudy skies with some sunny breaks
Surface conditions:
Wet, wind packed snow to ~2500′
Moist, wind packed snow to 4000'+
Snowpack:
Peak 4 snowpit 4027′, 266* W aspect, 34* slope, 184cm height of snow, ECTP11Q2 @ 159cm (25cm from surface), 1F-4F (top to bottom) wind slab on very subtle crust.
Avalanche Observations
Eagle River: South Fork – Harp Mountain – 2 Bowls

HS-ASu-D2.5-R3-U, west aspect, ~35 degree slope, starting at ~4400′ and running ~2000′, 1 skier caught and carried ~1000′, 1 dog killed
Preliminary report of 2 Bowls human triggered wind slab avalanche that caught and carried one skier and killed one dog:
Headed to Hiland Valley for a quick night lap by headlamp. Planned to ski the lower angle bowl to the looker's left of the Harp summit. Shortly after starting our skin up the traditional left approach we encountered a huge debris field (at least D3) [forecaster note: avalanche estimated at D2.5] that filled and eliminated the normal left creek drainage. Debris was soft and rounded and we assumed it had run around/after the most recent storm cycle that closed Arctic Valley. Continued skinning up the debris path which widened above the terrain trap and filled most of the lower bowl. We could make out (by headlamp) that it came from the ridge on the looker's right side of Harp. Traversed the debris field to continue on up towards the left bowl but turned around due to snowpack conditions (dense ~1ft. slab on top of progressively less dense snow on top of large facets) and steepening terrain. Also left bowl looked to have slid at some point as well. On our way down we encountered a guy who reported the massive slide we encountered and assumed was old in fact took place around 6 pm this evening, was skier triggered and buried/killed a dog. He reported he helped look for the dog but they were unsuccessful. Both skiers involved were apparently fine.
From another witness that evening:
It was way gnarly to be able to experience this first hand, I was just putting on my boots next thing I know my car was in engulfed in a huge powder cloud. Some of the slabs were more than a foot thick, it ran probably 1000-1500 feet [forecaster note: estimated to have run ~2000′], debris pile was approximentaly 10 feet deep, both skiers did not take the ride [forecaster note: according to involved party the triggering human took a ~1000′ ride]; however, their dog did and was not found. RIP
Photos of the avalanche taken the next day (2/26/16):
This path is a repeat offender (there are 3-4 in this zone of Harp Mountain) and can relatively reliably be triggered when freshly wind loaded and unstable, usually initiating from from the rock outcrop trigger point protruding from the looker's right flank crown: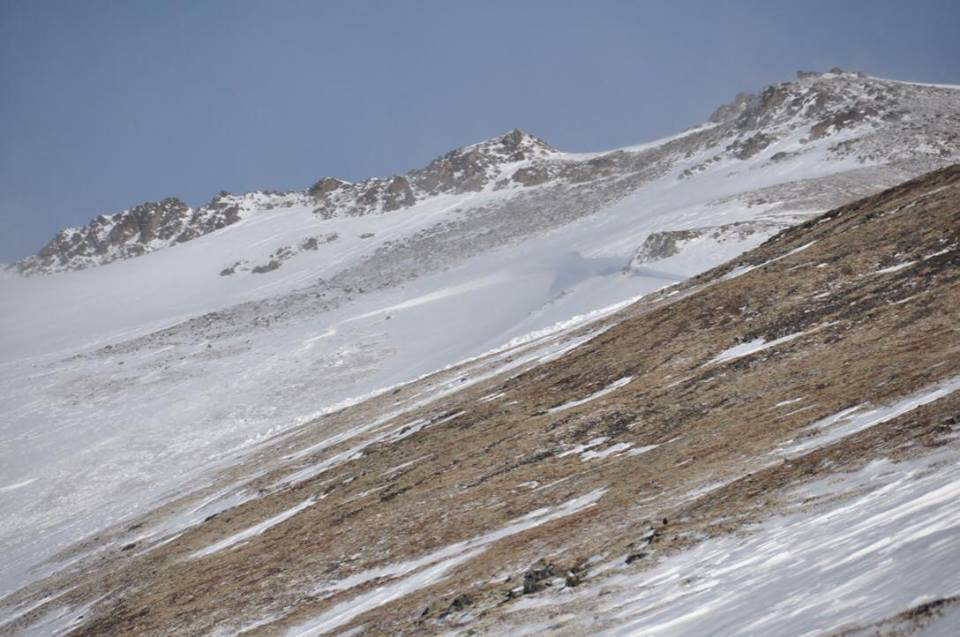 View down the path from lower on the ridge: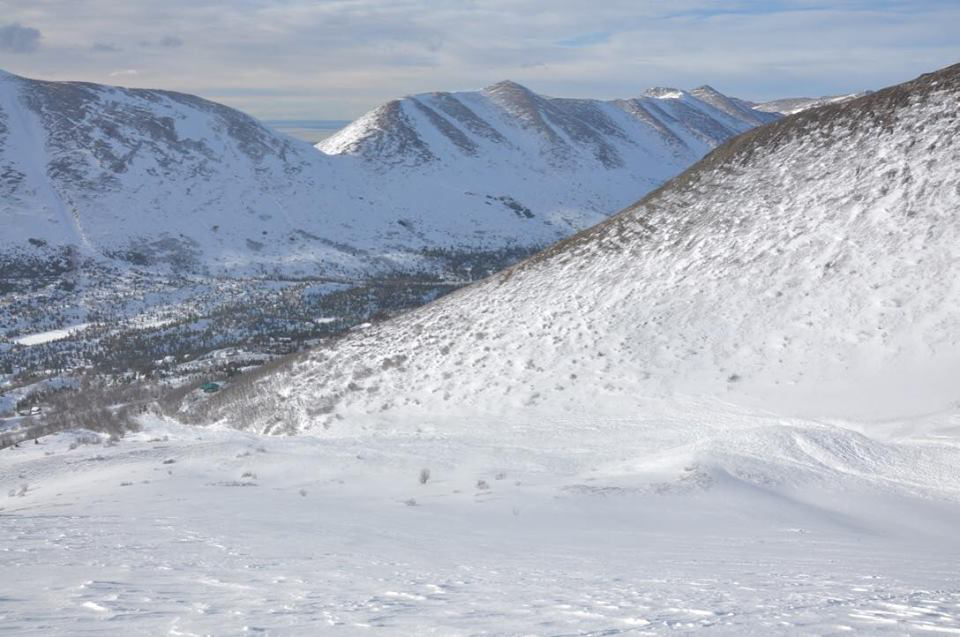 Debris field: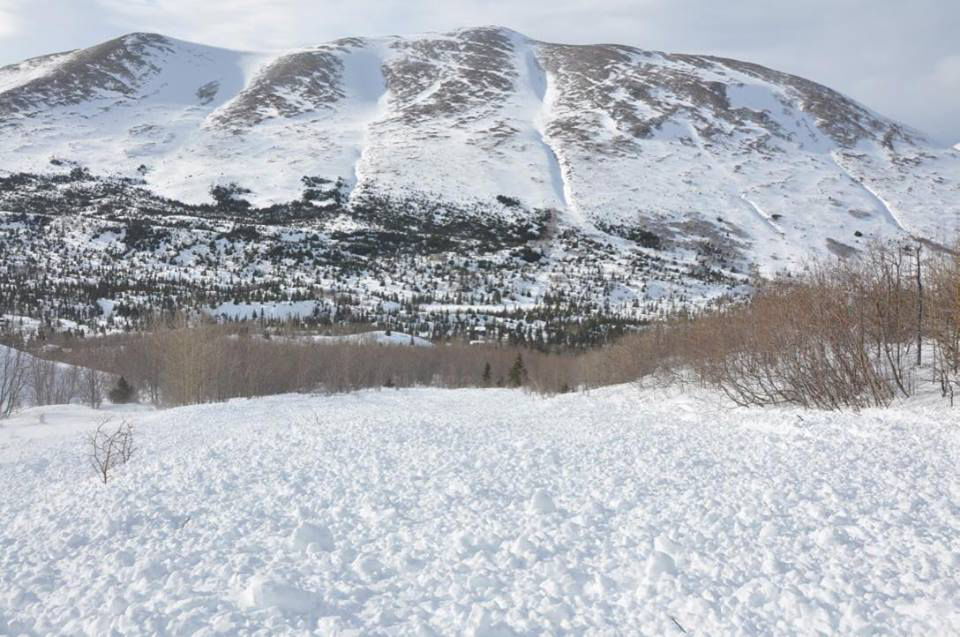 South Fork reference map thanks to & compliments of UK (this slide occurred in the Ostdick Path – 2 Bowls zone):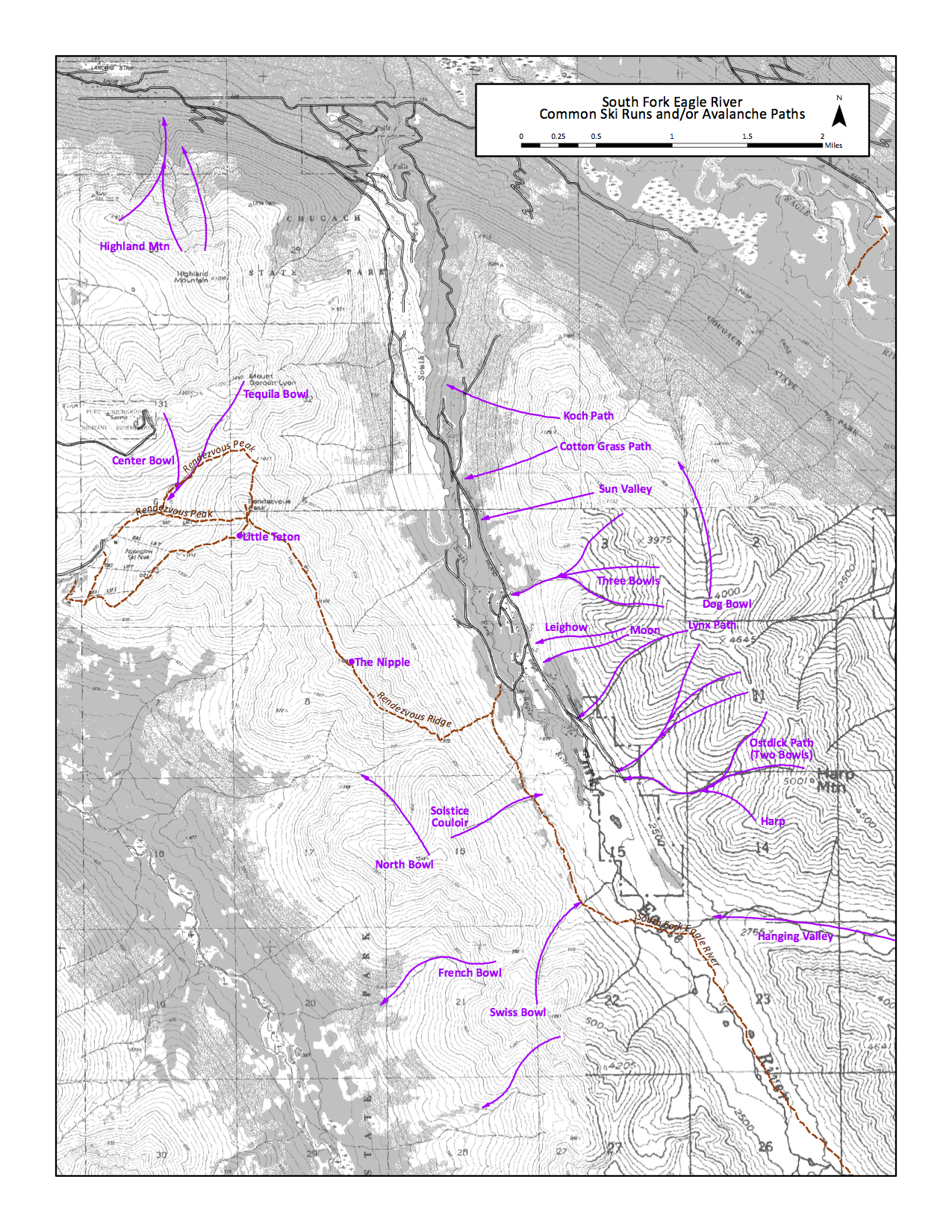 Observations from the involved party (from CNFAIC):
We had been skiing Harp Mountain regularly for the preceding several weeks in fine, stable conditions, and on Thursday we were hoping to catch what we'd come to perceive as a casual evening lap. The Arctic Valley weather station recorded consistent below freezing temperatures since the warming trend in town. Based on the weather data and our recent experience on Harp we wrongly committed to the notion that despite the recent sustained high winds, the snow might be fine.
We skinned around the fence at the end of Hiland Road to access the terrain just north of Back Bowl, and continued up the face. We were primarily focused on skinning up and skiing down before dark, and brushed off the marginal snow conditions as potentially frustrating but not dangerous. Intermittent boilerplate, breakable crust, and windblown powder characterized the snow surface. We switchbacked straight up the bowl, stopping just below the ridge. Adrian traversed south across a snow-free rib to set up for our descent while I ate a snack and waited north of the rib for his report.
Immediately after crossing the rib Adrian triggered a wind slab avalanche. The slab detached at a ~2-4 foot thick crown, and both he and his dog Susie became entrained in the debris. The slab propagated across the northeast facing slope along a ~1 km crown. I tried to maintain sight of Adrian in the debris as he slid ~1000 feet down and into the prominent terrain trap gully at the north margin of the west-facing bowl.
I pulled my skins off and made 2 or 3 turns onto the bed surface of the slide before I heard Adrian yelling: "I'm alive! I'm ok!". He was on the surface, uninjured, missing one ski and both poles when the avalanche stopped moving. Susie, Adrian's dog, had also been caught in the slide but was not accounted for.
I skied down to Adrian and we began switchbacking the debris field looking for Susie. We descended another ~1000 feet to the toe of the debris, which reached nearly to Hiland Rd. We switched our beacons to search during our descent on the off chance that skiers may have ascended our track behind us. When we returned to the road there was a new car and skin track merging with our own. We flagged down a car and Adrian, with residents of the house at the end of the road, contacted the state troopers and began preparing for a search. I skinned back up to start searching by headlamp. I encountered the driver of the car about 10 mintues from the road, setting up camp south of the avalanche path.
Susie was not recovered. All people were uninjured and accounted for and the report was closed with the troopers.
Avalanche details
[forecaster note: avalanche estimated to have started at ~4400′ with width ~200′ and length ~2000′]
| | | | | | |
| --- | --- | --- | --- | --- | --- |
| Trigger | Skier | Avalanche Type | Hard Slab | Aspect | West Northwest |
| Elevation | 4800ft | Slope Angle | 35deg | Crown Depth | 4ft |
| Width | 3000ft | Length | 5000ft | | |
Observer Comments
Isothermal snow at road. Windloading.
Weather
High winds, Temperature at or near freezing.