Observations – South Fork Eagle River – North Bowl area
Obvious signs of instability:
Touchy D1 wind slabs easily human triggered on upper elevation leeward N and NW aspect starting zones (see photos below of North Bowl ridge)
Cracking on recently to previously wind loaded leeward terrain with denser (4F+ to P) snow
Cracking in areas where the snowpack is thinner and persistent slab weaker
Moderate SE winds redistributing loose, dry snow from Sunday and wind loading leeward terrain (began mid day Friday)
Weather:
Partly cloudy to overcast skies with no precipitation
Moderate SE winds (drifting snow)
Temperatures in the upper 20s to low 30s
Surface conditions:
~2-3″ loose, dry snow from Sunday at the trailhead through mid elevations (3000′) in wind sheltered areas
~4-5″ loose, dry snow from Sunday in the upper elevations (3000'+) in wind sheltered areas
Moderate SE wind redistributing snow: thinning-scouring windward terrain and loading leeward terrain
Denser, deeper wind slabs and drifts developing on leeward terrain (4F+ to 1F+)
Some areas of exposed, old wind slab (P hardness)
Patches of exposed tundra and rock – especially on windward terrain
3mm+ standing, intact surface hoar in lower elevation wind sheltered areas
Surface hoar <3mm in mid to upper elevation areas (not much remained later in the day due to moderate winds dismantling it)
Discussion:
Similar to leeward (primarily northerly) terrain at Arctic Valley yesterday, South Fork is also rife with touchy upper elevation (3000'+) wind slabs on steeper (35+ degree) terrain.  Skinning along the North Bowl ridge cornice (with some stomping) initiated thin, but very touchy and widely propagating (~20-90′) wind slab releases.  I was able to get the entire starting zone below the length of the ridge to release easily.  These were thin and short-running, due to being fresh (began developing mid day Friday) and with the slope angle quickly mellowing, but concerning in regard to the example provided of what could happen in more consequential terrain.  Areas of consequence, like where the Arctic Valley pit was dug yesterday (click here to view that observation), are likely even more heavily loaded and sensitive now.  Such terrain could yield a dangerous D2 wind slab or D1 wind slab with enough speed, force, and volume to really hurt in terrain where a fall or loss of control would be disastrous.
*Keep in mind that as these wind slabs age and are hidden by forecast new snow Saturday, they will be more difficult to identify and may have a more stubborn tendency to release…luring you further onto the slab and breaking above you making them harder to manage and more difficult to escape.
Cracking and cornice release from skinning along the North Bowl ridge: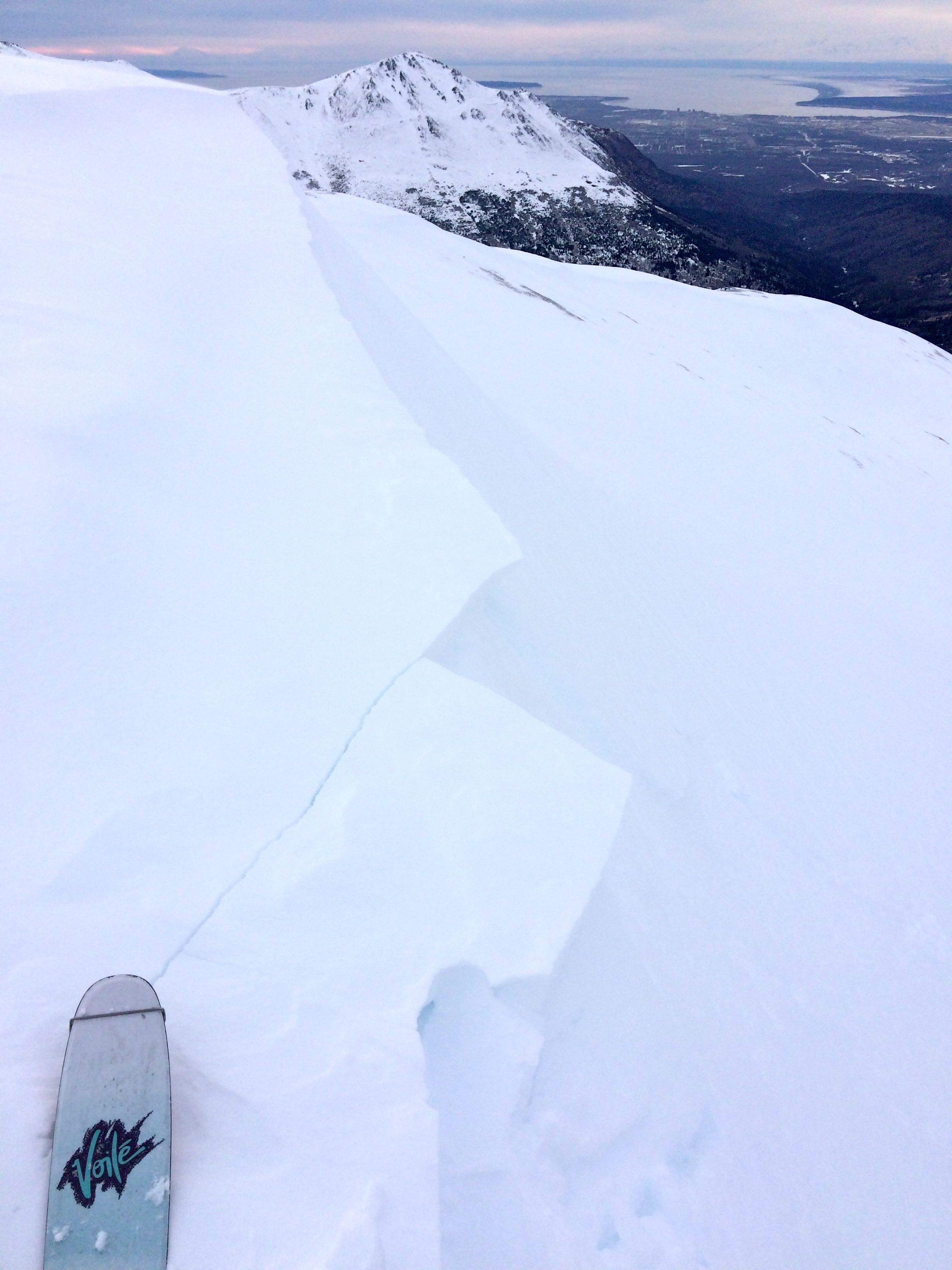 A smaller, thinner wind slab release below the leeward North Bowl ridge: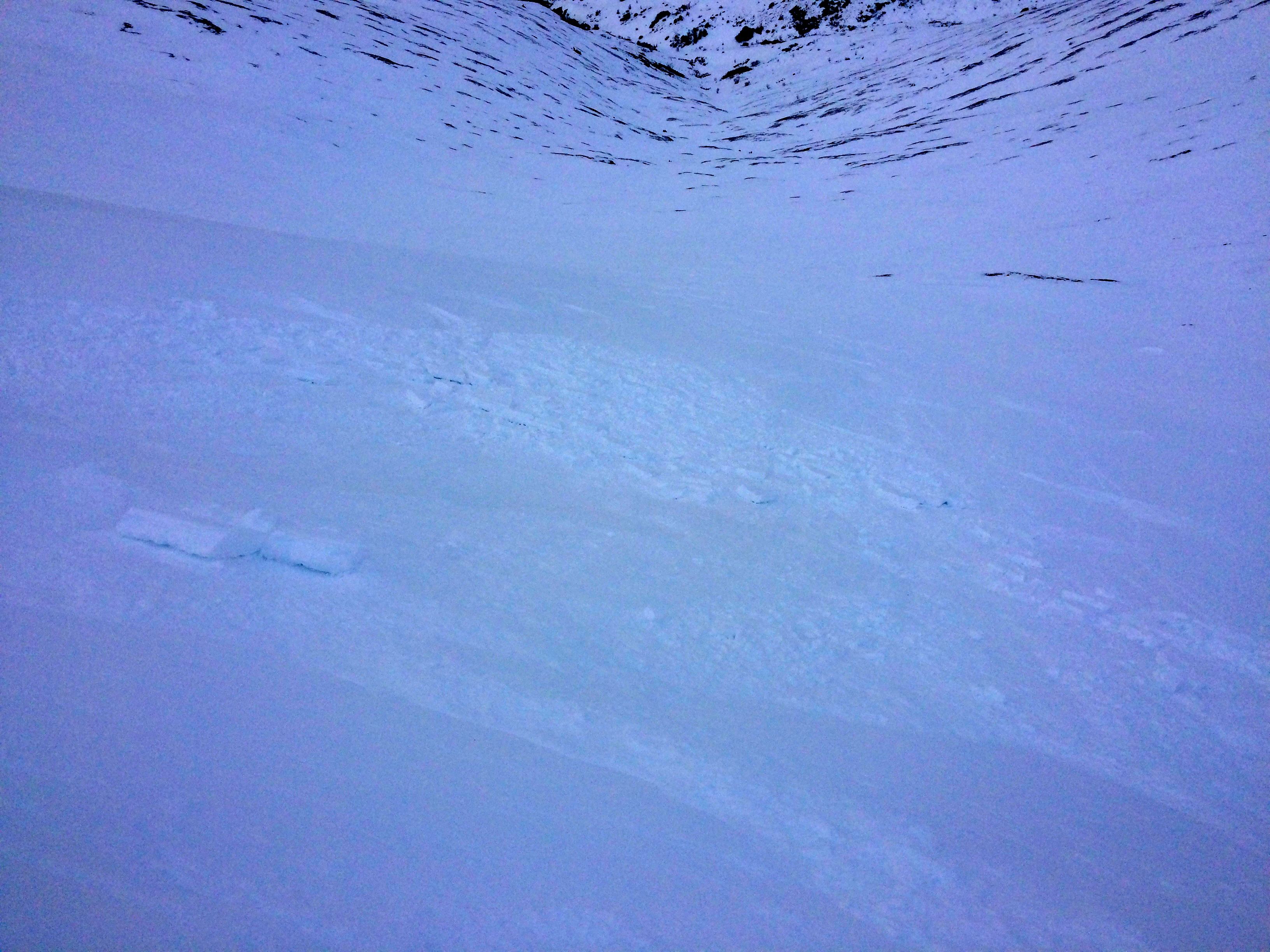 A deeper, more widely propagating wind slab release below the leeward North Bowl ridge: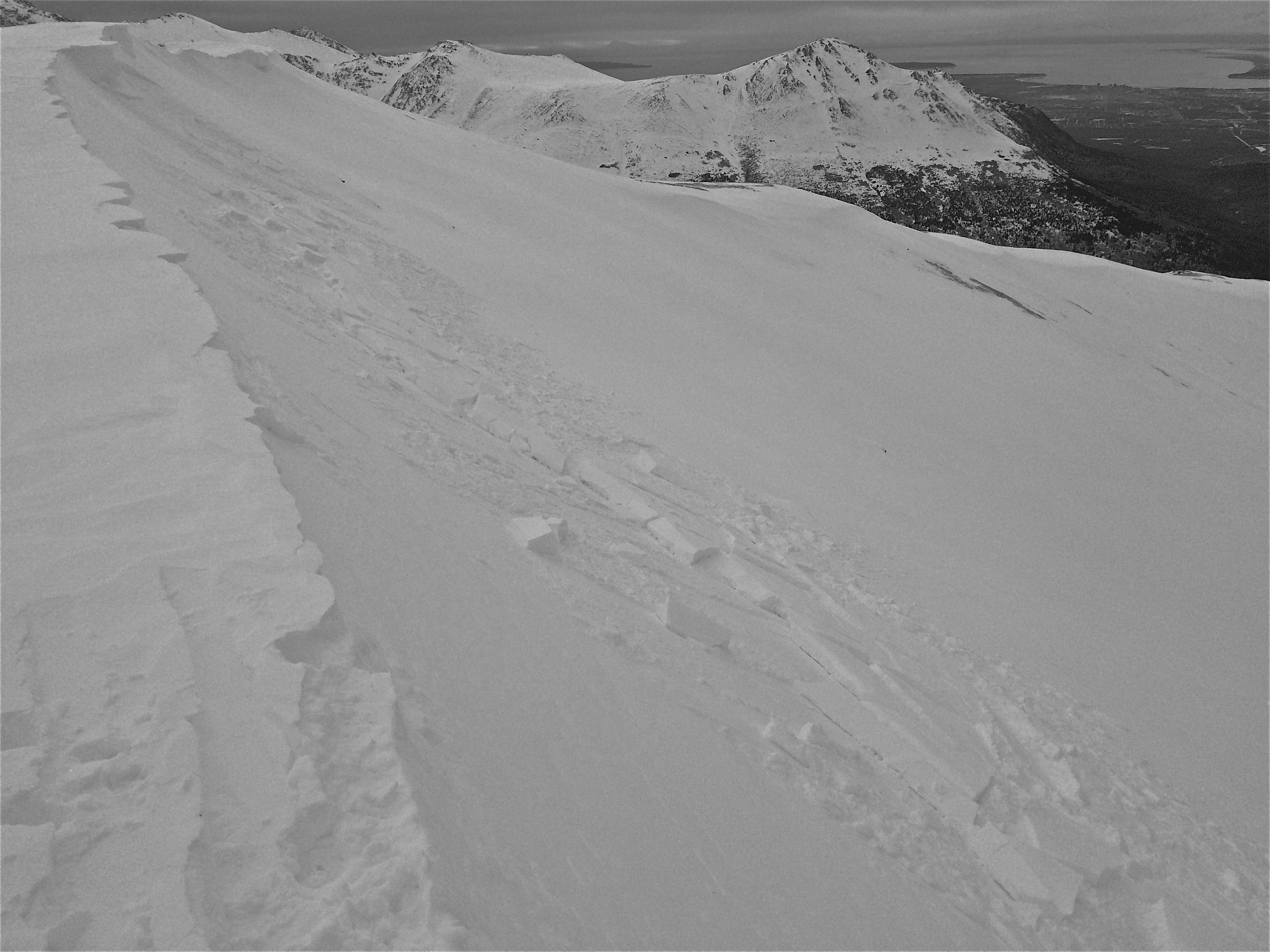 A closer look at the crown of one of the wind slab releases below the leeward North Bowl ridge: