Observations
South Fork Eagle River – Peak 1212 (North Bowl)
Red flags:
Wind loading (SE winds increasing and mixing down to lower elevations by late afternoon with visible pluming along ridges and near peaks)
Weather:
Overcast; calm-light SE wind picking up in the afternoon; temps in the mid 20s
Surface conditions:
Up to ~10″ soft, dry snow (with impressive surface hoar growth and faceting) on upper elevation (above 2500′) leeward terrain.  Windward terrain either blasted into very firm (P+) wind slab or scoured to rocks/tundra with only a dusting of snow.
Snowpack:
Snowpit above Hunter Pass on the typical approach to North Bowl (3145′, 10* N aspect, 30* slope, ECTX, 100cm HS) revealed layers of well-bonded wind slab that are increasingly faceted towards the ground: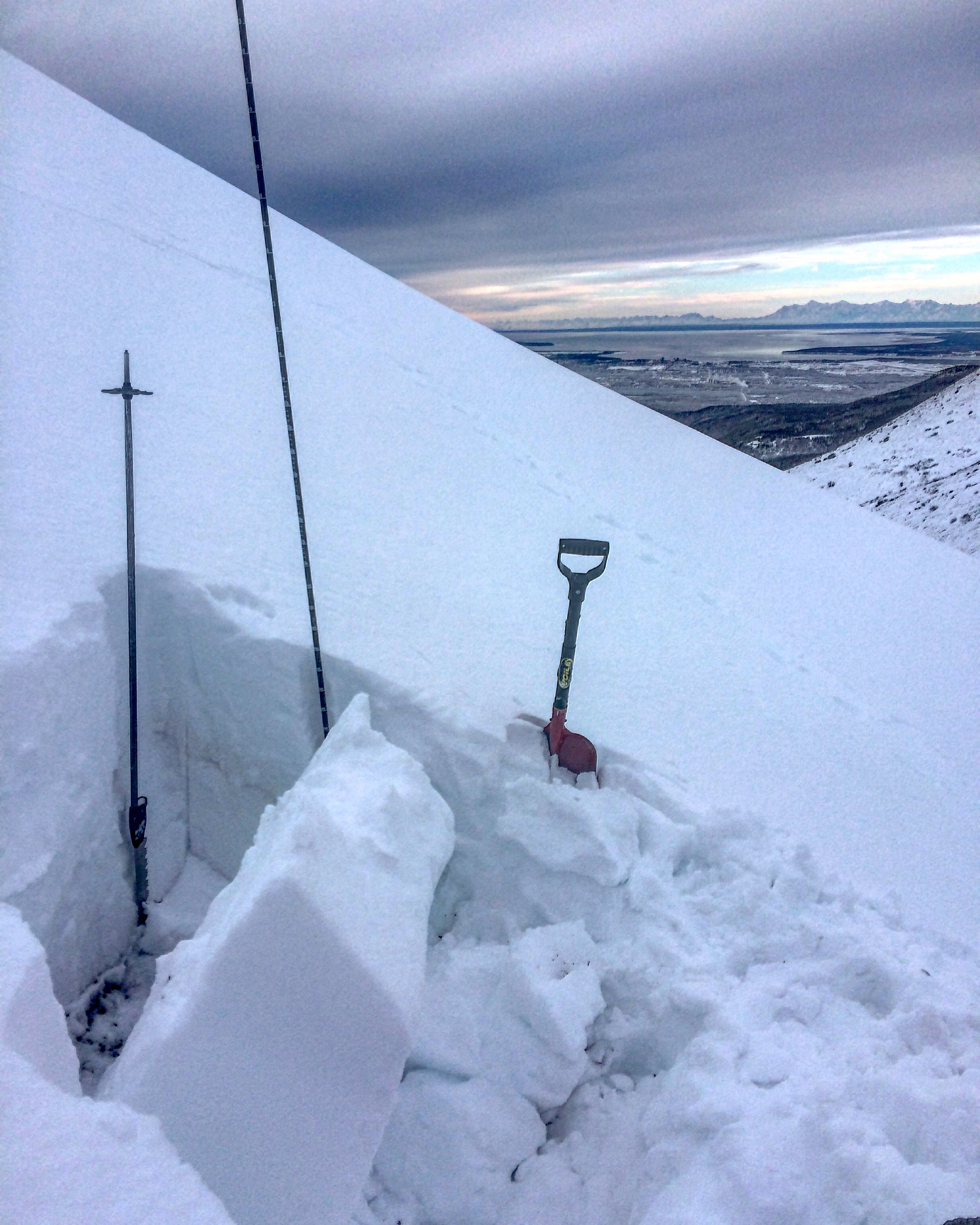 Snowpit just below the North Bowl ridge (3926′, 354* N aspect, 35* slope, ECTX, 175cm HS) revealed similar, but more complex, stratigraphy (the deeper, higher elevation snowpack had more heavily faceted layers mid-snowpack):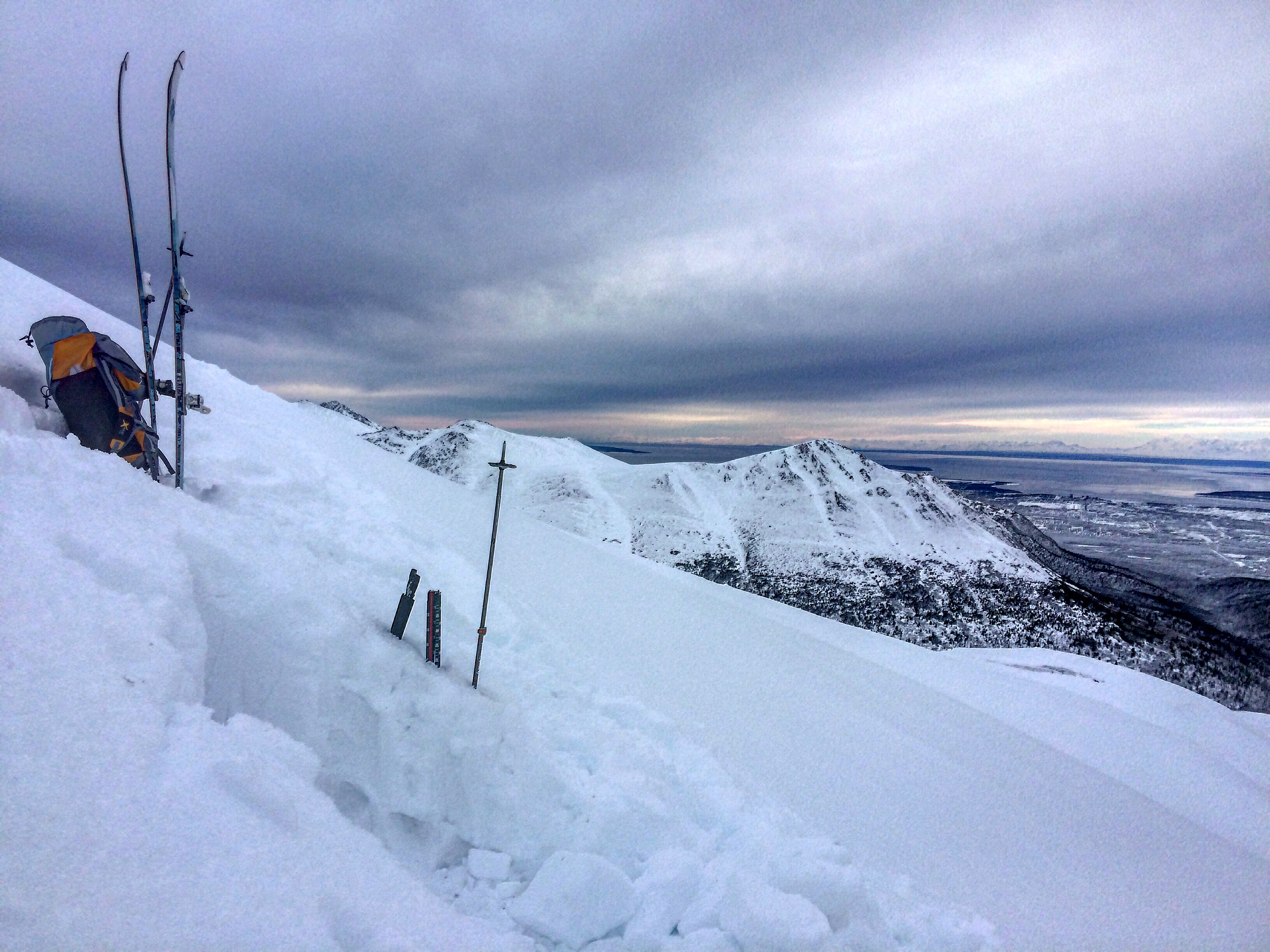 Despite steady temperatures in the 20s lately, surface hoar growth and near surface faceting has been impressive since the last bit of new snow early Thursday: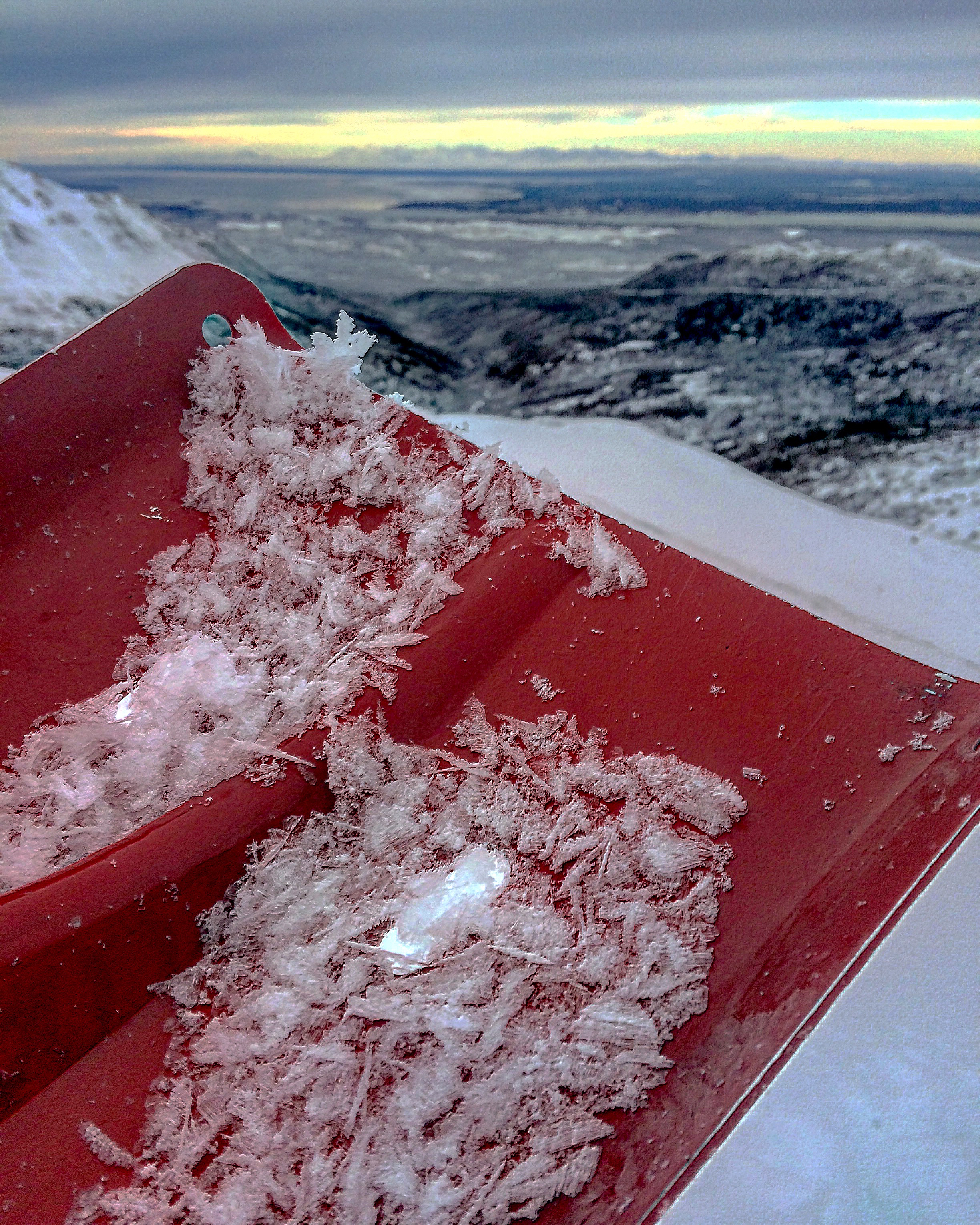 | | |
| --- | --- |
| Region: |  Front Range |
| Location: | Ptarmigan West Face |
| Observer: | |
| Date: | |
*The following observation was originally posted to CNFAIC.org.  Did you know that the CNFAIC is the only well-funded avalanche center in the state of AK?  It serves Turnagain Pass, primarily, and is dependent on support from the federal government and US Forest Service infrastructure.  The CNFAIC also receives a lot of money from the public.  Visit their site to learn more and donate.  Alaska has vast avalanche terrain, but only one well-funded avalanche center.  The Alaska Avalanche Information Center (AAIC) is trying to fill the voids, but we are a primarily volunteer effort and are a grassroots, non-profit 501(c)3 organization.  The AAIC is trying to develop a STATEWIDE network for avalanche information and education, and we currently operate avalanche centers for six regions: Anchorage (Chugach State Park), Hatcher Pass, Valdez, Cordova, Haines, and the Eastern Alaska Range.  Support STATEWIDE avalanche information by Alaskans for Alaskans by donating today!  Click the PayPal donate button on the right or visit AlaskaSnow.org!
Route & General Observations
Toured up standard route to the West Ridge of Ptarmigan. Skinned until around 4400′ and then stopped to transition to booting. While transitioning we decided to dig a quick pit. Didn't like what the pit said so we decided to bail & seek out something more mellow.
Red Flags
Obvious signs of instability
Observer Comments
There was a debris pile from an avalanche that occurred before the last snow . Couldn't see the crown but assume that it came off one of the gullies up high on the West face. While skinning up we had small collapses when skiing on far (skiers left) side of the gully where the snowpack was thinner.
*Forecaster comment: this avalanche occurred sometime during/after the New Year's wind event and was observed 1/7/16.  See AvaNet for location.
Weather
Gentle winds in the morning and steadily increasing to mid 20s by mid afternoon. Temps in the mid/upper 20s.
Snow Characteristics
Snow surface
Lots of wind-affected snow found in open areas near Ptarmigan Pass. As we got closer to the shielded west face we found ~6″ of powder on top of a firm base.
Snowpack
Present in some areas was a thin wind crust on top of the storm snow. Not enough to be worrisome where we were – but probably thicker and more reactive at higher elevations.
Dug a pit around 4400′ on a West facing slope right at the point where the route up the west ridge enters the rock bands. ETC11 with a clean shear about 2.5′ down. Probably same persistent slab responsible for 1/4/16 avalanche and close call (for more info click here and here).