Observations – South Fork Eagle River
Obvious signs of instability:
Collapsing in thinner areas of the snowpack (where there still is a snowpack) above Hunter Pass on the approach to North Bowl – melt-freeze/rain crust on top of facets to ground
Weather:
Light SE breeze with partly cloudy skies and temps in the upper 20s
Surface conditions:
Generally supportable, icy melt-freeze/rain crust with no ski or boot penetration
Thin breakable rain crust on top of dry wind packed snow on higher elevation leeward terrain like the upper several hundred feet of North Bowl
A lot of exposed ground, tundra, rocks, dirt, etc.
Discussion:
In an attempt to get a better handle on how the warm, wet, and windy January weather of late has affected the snowpack, the snowpack was profiled and assessed in areas that have been profiled and assessed relatively regularly this season.
The first pit at ~3400′ on the approach to North Bowl above Hunter Pass (location of 12/19/13 partial burial) has been significantly affected by the unseasonably warm and wet weather of late:
Higher, at ~3800′, the snowpack in North Bowl proper has been more resilient to the warm, wet weather:
It seems the meltdown, at least at the upper elevations has ended…but only after annhilating our backcountry snowpack.  The cool down has helped to stabilize avalanche problems, but the snowpack remains suspect with collapsing at the lower to mid elevations (~2000-3500′ where the snowpack generally consists of melt-freeze crust/slab on top of melt form facets to the ground) and easy failures in stability tests which also indicate propagation propensity.
At the upper elevations (above ~3500′) the snowpack withstood this nightmarish January weather without extensive melting and rain damage, but persistent slab problems with propagation propensity remain (facets around melt-freeze/rain crusts).
State of the Backcountry:
Looking up Ship Creek, deeper in the mountains the snowpack has been more resilient: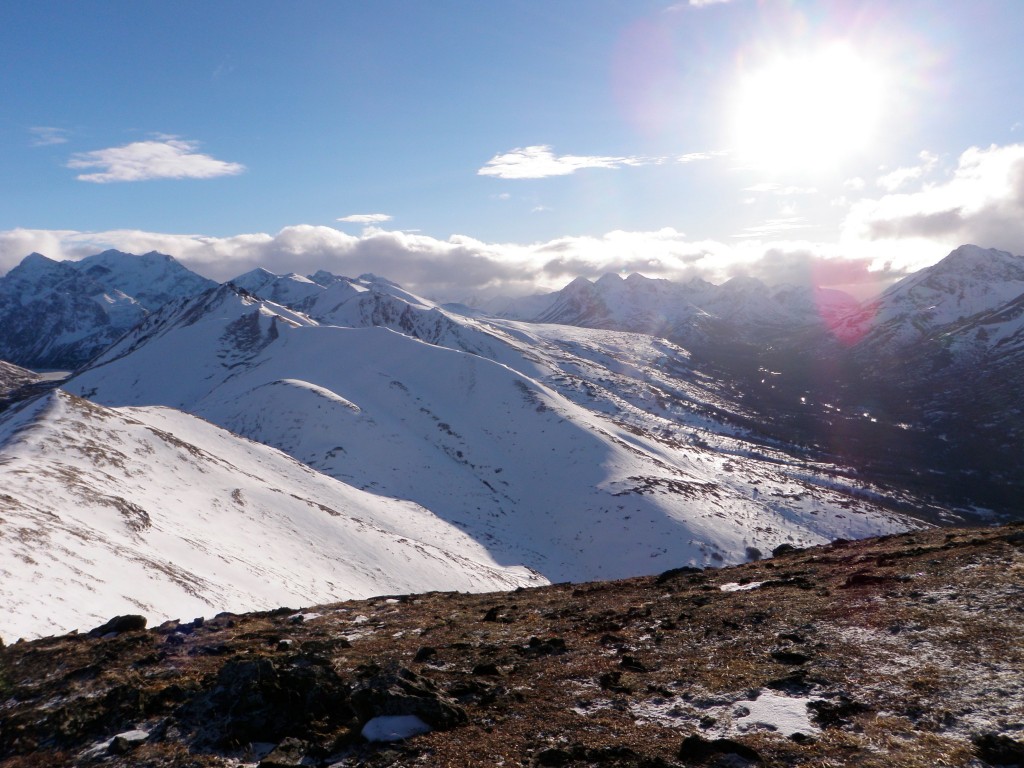 The warmest temperatures, wind, and sun have wreaked havoc on the westernmost Chugach snowpack (and South Fork Eagle River is in much better shape than many areas of the Front Range):
From this angle this debris pile looks unimpressive, but this D2.5 avalanche in the popular Solstice Run (NE facing gully from the top of Peak 1212) that likely failed due to wind loading up high and gathered momentum and mass entraining wet snow as it descended was large and deadly – mentioned in 1/19/14 obs: