Observations
Eagle River – South Fork:
Obvious signs of instability:
Several recent avalanches
Numerous collapses (whumphs)
Shooting cracks
Weather:
Partly cloudy
Steady, light SE wind (minor snow transport at times)
Alpine temps around 10*F
Surface conditions:
Generally 6-18″ light, low density powder (less on windward, more on leeward) from Saturday's precip on denser (1F) wind-packed layer
Snowpack:
Snowpit on the standard North Bowl approach via Hunter Pass: 3250′, 13* N aspect, 35* slope, ECTX, Q3 propagation outside test parameters 10cm above ground on thin faceted layer between 1F wind slabs, stratigraphy from ground: 0-1cm basal facets & depth hoar; 1-10cm 1F decomposing windslab, 10-12cm facets, 12-45cm 1F-P (firmer near surface) wind slab, 45-60cm F new snow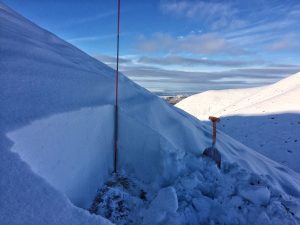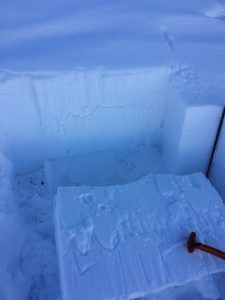 Solstice Gully snowpit: 3800′, 28* NE aspect, 29* slope, 85cm HS, ECTN7 down 15cm (very soft surface snow from Saturday on denser recent snow), ECTN10 down 30cm on density change within recent snow (thin, looser layer of decomposing stellar dendrites between denser layers), 2-3cm depth hoar and facet chains at ground propagated Q3 but not within test parameters:
A lot of whumphing at semi-vegetated mid elevations 2000-3000′ (Hunter Pass):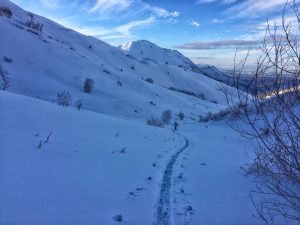 Shooting cracks resulted in a large persistent slab that completely cracked out in this area, but did not slide due to low slope angle: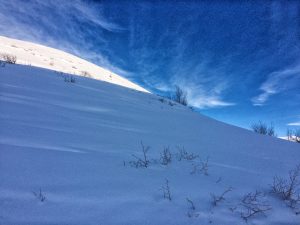 Many leeward sides of cross-loaded gullies (such as seen across the South Fork valley in the 3 Bowls-Harp area) produced persistent slab avalanches recently (somewhat filled back in with new snow – see map for approximate location of identified avalanches):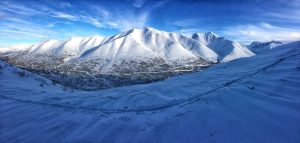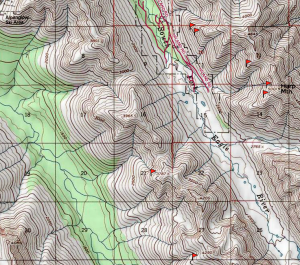 Arctic Valley backcountry (west of Toklat Creek):
The below observation is sourced from the Chugach National Forest Avalanche Information Center's observations page.  It has been edited by the Anchorage Avalanche Center.
Obvious signs of instability:
E aspect above the tubing hill / parking lot: LOTS of collapsing (whumphing) and shooting cracks. Shallow snowpack in this more exposed area.  Approach to Gordon Lyon – Rendezvous saddle: MASSIVE shooting cracks and continuous whumphing.
Observer Comments:
First run up E aspect above the tubing hill / parking lot, got continuous whumphing and cracking around skis.
Then headed up valley toward the Gordon Lyon-Rendezvous saddle, but then decided to head up the slope directly E of the radar site, because it looked appealing to be in the sun. As soon as we started working our way up the S ridge of the slope, I got a huge whumph followed by MASSIVE shooting cracks at about 3200 ft. The cracks went for 30-40 meters, wrapping around a corner. The crack did not originate from my ski tips, it cracked about 15 meters above me and about 10 meters below me (i.e. where the crown and stauchwall would be if it had slid). See photos. Dug into the shooting crack, the crack went down to the basal facets in the vegetation.
Traveled about another 50 meters, got another new set of 30-40 meter shooting cracks.
Turned around, got another new set of 30-40 meter shooting cracks.
While skinning back down valley, we observed a skier at Arctic Valley plunge into the creek gully, sending out massive shooting cracks behind him. Also saw another spot where a skier at Arctic Valley triggered shooting cracks on the creek wall while traversing above it. Neither slope slid.
Unable to produce any avalanches on small test slopes, just storm snow sluffing.
Weather
Clear to scattered clouds. Calm to light wind from the E. -6.5C @ 11:30 AM. HST = 25cm.
Snow surface
HST = 20-25cm. Very low density! Skiers at Arctic Valley were sending up huge rooster tails. Visible wind effect on SE aspects.
Snowpack
Depths are extremely variable, ranging from HS=~30 cm to ~100cm. General structure is F-4F snow recent snow, over 1F-P wind slab, over 4F-F basal facets (completely rotten sugar snow).
Dug a pit on a SSE aspect @ 2900 ft elevation. HS=95cm. Got CT17 SC down 65cm on basal facets, ECTN3 down 25cm (storm snow), ECTN6 down 35 cm (new snow on top of 1 F wind slab), ECTP26 SC down 70cm on 2-3mm basal facets.
Bisected shooting cracks to see failure layer. In all cases shooting cracks went down to 2-3 mm basal facets in vegetation. Starting to see well developed cupping and striations in basal facets.
Some hand pits failed on isolation, at the basal facets. All were otherwise easy failures. Pole probing revealed an extremely spatially variable snowpack, with varying degrees of wind slab in the mid pack.
Front Range – Near Point:
Went up Near Point from Stuckagain.  Collapsing (whumphing) in the willows.  Above treeline: varied from creamy powder to rock hard sastrugi.  Plenty of snow.