Observed on Mt. Baldy in Eagle River:
West Aspect
2800ft Elevation
35 Degree Slope
36 Degrees F
Total snow pack depth: 80cm
Snowpack was pencil hard for the top 6 inches, then 1F hardness down to the facets
Did 3 tests, one CT and two ECTs:
CT: CT11, Q1 suddent planar, propagated at faceted base layer
ECT #1: ECT18, Q1 sudden planar, propagated at faceted base layer
ECT #2: failed upon isolation at faceted base layer, Q1 sudden planar
Went up Baldy 3/10/18 for a workout and to examine the snowpack on this highly trafficed hill in Eagle River. No avalanches/debris field were observed in the vacinity. No shooting cracks or whumphing. Snow pack had all the ingredients for an avalanche though. Although it was quite warm out the snow didn't seem too wet, it did show signs of recent melt freeze layers though.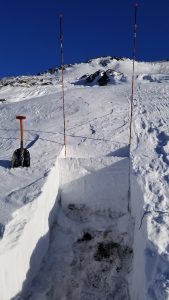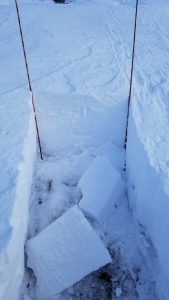 Rendezvous Peak – Eagle River:
Observed a debris on the east facing side of Rendezvous Peak in Eagle River, most likely naturally triggered since the area in which it occurred is rarely trafficked. Most likely occurred on 3/9 or 3/10 since I drive by this mountain every day and it wasn't there before then.