Western Chugach (Arctic Valley – Ship Creek – South Fork Eagle River):
| | |
| --- | --- |
| | A series of avalanche crowns and debris observed on NW aspects of "The Nipple" (aka Pointy Peak) on the Ship Creek side of this area that is typically accessed via the Upper South Fork Eagle River trailhead. Located 0.8 to 1.2 mi south of Rendezvous Peak at Arctic Valley Ski Area.  Observation made from the ridgetop just south of the ski area. No sign of skier/boarder tracks in area. Presumably SS-N-D2-R3-O persistent slabs likely triggered by new snow and wind loading from SE winds earlier this week and failing on the pervasive depth hoar near the ground. |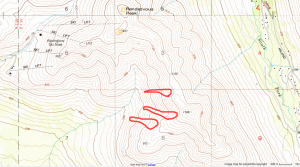 The new snow and wind loading earlier this week resulted in numerous natural, human, and remote triggered avalanches in the South Fork Eagle River and Ship Creek areas (see previous observations), including a full burial on Friday 3/16/18 in the prominent bowl just north of Harp Mountain that is relatively popular with snow riders, as seen in the center of this map near the 'x'.  The rider took a ~300′ ride and was buried upside down with one foot exposed above the snow surface.  Companion rescue was quick and the victim was dug out unharmed, but shaken.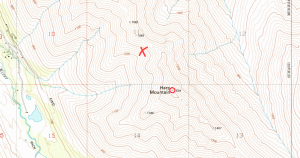 Photos of other natural avalanches in the South Fork Eagle River area below.
This is known as the Cotton Grass path:
These natural avalanches occurred in northerly gullies along the South Fork side of the ridge between Hunter Pass (above the Upper South Fork Eagle River trailhead) and Rendezvous Peak (eastern edge of Arctic Valley Ski Area) that were cross-loaded by strong SE winds this week:
The map below identifies avalanche paths, which are also common ski runs, in the South Fork Eagle River area.  Most of the paths on the east side of South Fork valley, have produced natural avalanches in the past week.  Many northerly gullies, cross-loaded by strong SE winds, between Hunter Pass and Rendevous Peak (on the west side of the South Fork valley) have also produced natural avalanche recently.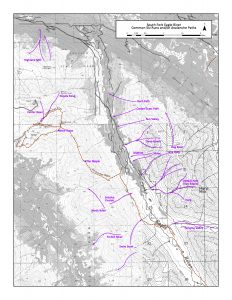 The South Fork Eagle River area snowpack, and presumably the snowpack in other areas of Chugach State Park to the north (i.e. North Fork Eagle River, Peters Creek, Eklutna, Knik), has been especially dangerous lately due to significant new snow and wind loading stressing a very weak base consisting of pervasive depth hoar near the ground (which developed from the early to mid season lack of snow that metamorphosed what snow there was into large facets and depth hoar).
The snowpack now generally consists of a thick slab from recent weeks' snow and wind overlying several inches of extremely weak and loose depth hoar at the ground.  Most human and natural avalanches lately have been ripping out near the ground and sending the entire season's snowpack downhill into large debris piles.
Humans have been remote triggering large (up to D2.5), dangerous, and potentially deadly persistent slab avalanches from up to a couple hundred yards (two football field lengths) away while traveling on completely flat terrain in valley bottoms – some on popular summer trails such as this remote triggered persistent slab Thursday in the Swiss Bowl area (avalanche path outlined in red on map, and remote triggered from 'x'):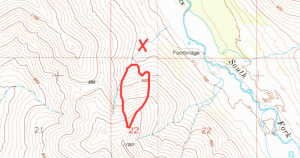 Warm temperatures are also weakening the snowpack and, combined with recent stress from snow and wind loading, making for dangerous avalanche conditions in the Western Chugach.  The snowpack will need ample time to adjust and reach a new equilibrium after temperatures cool and weather improves, which is forecast to happen beginning Monday.
As high pressure (sunny, clear, colder weather) builds over the area beginning Monday, we expect the snowpack to slowly begin to stabilize.  However, an increase in northerly winds accompanying this high pressure system could create fresh wind slabs and further stress the persistent slab problem.
As skies clear, warming from the sun will decrease stability on solar aspects.  Natural and human triggered avalanches will become more likely.  East aspects will get sun first: point releases and wet loose avalanches should be expected earlier in the day.  South aspects will be weakened by the sun as the day progresses, and bear the brunt of solar radiation: there's potential for wet loose and large/dangerous/deadly wet slab avalanches.  West aspects will have received enough sun by later in the day to initiate natural and human triggered wet loose, and potentially wet slab avalanches.
If you're traveling in areas below large avalanche paths on solar aspects (e.g. Falls Creek on Turnagain Arm) beware of the potential for naturally triggered avalanches to descend into lower elevation, even flat, terrain and cross popular summer trails.  Below is an example of a dangerous path above the Falls Creek trail (west facing solar aspect) that could be naturally triggered by solar radiation in the afternoon-evening and send potentially deadly debris across the Falls Creek trail and into the creek:
Moistening snow that becomes gloppy and less supportable, and small wet loose avalanches, are red flags that wet avalanche danger is increasing.