Observations
Eagle River – South Fork – Hiland Road:
Route:
We climbed up the Moon path and turned around halfway up due to instability. Skiing down we witnessed a natural avalanche in the adjacent Leighow path.
Obvious signs of instability (red flags):
Natural avalanche witnessed: HS-N-D1.5-R2 SW aspect from ~3500-3000′
Active wind loading S-WSW aspects
Shooting cracks
Weather:
Sunny, temps at around 0 degrees F, very windy on exposed terrain.
Surface condtions:
Wind crust on exposed terrain. Powder at lower elevations in gullies.
Snowpack:
Informal instability tests were done with ski poles and snowpits. We found the terrain to be too unstable for further travel.
Natural avalanche in the Leighow path (notice active wind loading SW to W aspects):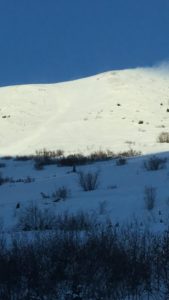 Turnaround point due to the prominence of hard slab and weak layer (notice active wind loading SW to W aspects):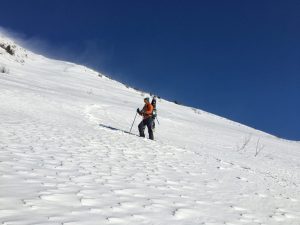 South Fork Eagle River area (Leighow and Moon paths are near center of Map):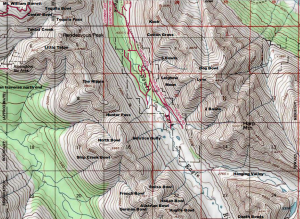 *An unedited version of this observation was originally submitted to the Chugach National Forest Avalanche Information Center, and listed as in the "Anchorage Front Range."  However, this area is not in the Chugach National Forest or the Front Range.  This avalanche occurred in the South Fork Eagle River (Hiland Road) area of Chugach State Park.