Observations
Turnagain Arm: Penguin
Three large avalanches occurred within the past week that covered much of the Penguin ridge summer trail with many feet of debris.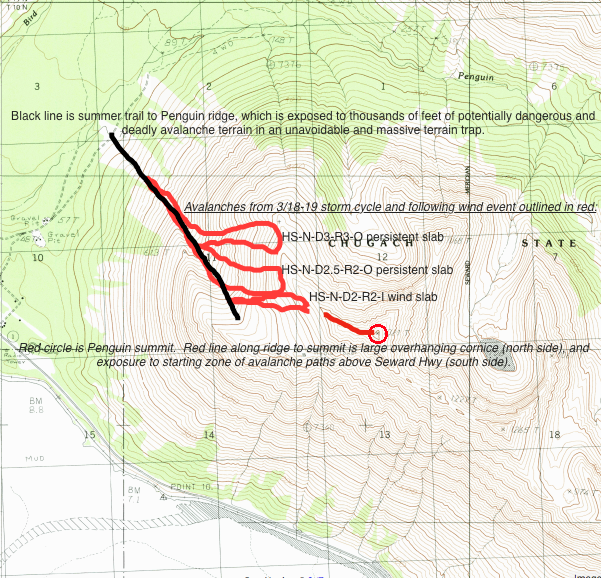 The largest of the three started at ~3300′ and ran to ~700′: HS-N-D3-R3-O persistent slab likely failing at depth hoar and faceted melt-freeze crust near ground.  This slide ripped out countless alders, hemlock, and gouged the landscape.  This is the typical path that generally avalanches multiple times through the season covering the Penguin ridge trail into and below the lower alpine bowl.  Sometimes this path sends debris to, and possibly across, the main Penguin Creek 4WD trail (where black line of summer trail starts from).  This year, possibly due to a thinner snowpack, it hasn't sent debris as low as it often does.  However, propagation at the start zone is much wider than usual: evidence of the persistent slab problem we've been dealing with this year from the lack of snow and extensive faceting and depth hoar development at the base of the snowpack.
Avalanche problems stemming from the weak base of depth hoar and faceted early season melt-freeze crust at the base of the snowpack near ground is further evidenced by a second widely propagating avalanche that sent debris into and filled the lower alpine bowl with several feet of debris.
A third, large wind slab occurred along the ridgeline above the upper alpine bowl.  It exhibited impressive propagation as well – likely a result of failure on a sun or radiation recrystallization crust.
The snow surface is highly variable with the lower elevations bearing a firm, icy, melt-freeze crust that had not been softened by Sunday evening despite intense sunshine all day.  The mid elevations consisted of basically un-skiable, hard, and icy avalanche debris.  The upper elevations were generally slide-for-life with boilerplate windboard and a punchy sun crust.  Only minimal sun softening had occurred by evening.  Small pockets of powder existed on less solar aspects and in more sheltered areas.
An extensive, very slick sun crust on upper elevation solar slopes is expected to provide a very weak, slick, and reactive interface for new snow and/or wind loading.
Lots of details in the videos below: